Yearly Archives:
2015
For all my DJs, here's a quick snapchat video I put together of Serato 1.8 DJ Tips & Tricks. They added 2 new features in this release with Mix in key and Pitch N' Time.  Both of these are fantastic features.  Whether you are a novice DJ or have been mixing for a while, these two tips will take your live DJ'ing to a new level. I'm heading to a Serato workshop tonight so hopefully, I'll pick up a few more things I can share with you all soon.
There's no doubt that Hotline Bling by Drake is one of the hottest songs out right now (thanks to the video). But the amount of Hotline Bling Covers that are out there are just as on fire. Just today, I heard a Justin Bieber version. Last week there was the Kehlani and Charlie Puth take. Even the first cover I heard by Disclosure and Sam Smith is epic. I've posted all 3 versions below. What's your favorite version? Have you heard a cover or remix that I should be aware of? Let me know!
I knew it wouldn't be long until we got him back as a Music Monday pick. Sorry by Justin Bieber is my 10/26/15 Music Monday selection. While his first single release off the new album, What Do You Mean, was a 125 Beat Per Minute (BPM) dance banger, this comes in at 100 BPM. What do this mean? Expect a ton of mashups and remixes both at this tempo and high energy dance tempos! Lyrically, the track is personal plea for his transgressions. Since I am hired as a wedding DJ a ton, one may wonder if I would play this at that type of an event. Absolutely I would! Of course, it would be later in the night. I think it has a catchy hook and will be another to climb the charts VERY quickly. Props to the Jack U guys for once again infusing those EDM sounds into this track.
It's been a whirlwind of a month but finally got a chance to slow down and publish my South Walton Fashion Week 2015 Official Spotify Playlist which includes about 90% of the material I used (the other 10% isn't on Spotify or are my own custom remixes). If you've never DJ'd a fashion show, let me give you some insight. Generally, you work with 1 designer for months and collaborate on a single show. SWFW is unlike anything you've ever seen. We had 31 runway shows over a 3 day period. I didn't get the luxury of having months to work with them – I literally had 3 hours the day before the show to see all 31 designer's pieces and then spent the remaining 21 hours coming up with the soundtrack for each designer's show (with some help from the designers of course). What was really interesting is how organic it became. A designer would hear something I'd play one night and want me to incorporate a certain sound or feel into their upcoming show so I'd go back and re-work their sets. ODESZA was by far the most popular artist with the designers that I played. There's something about that duo's work that just seemed to really fit the feel of the show. Anyway, I hope you enjoy. I'd love to get your feedback.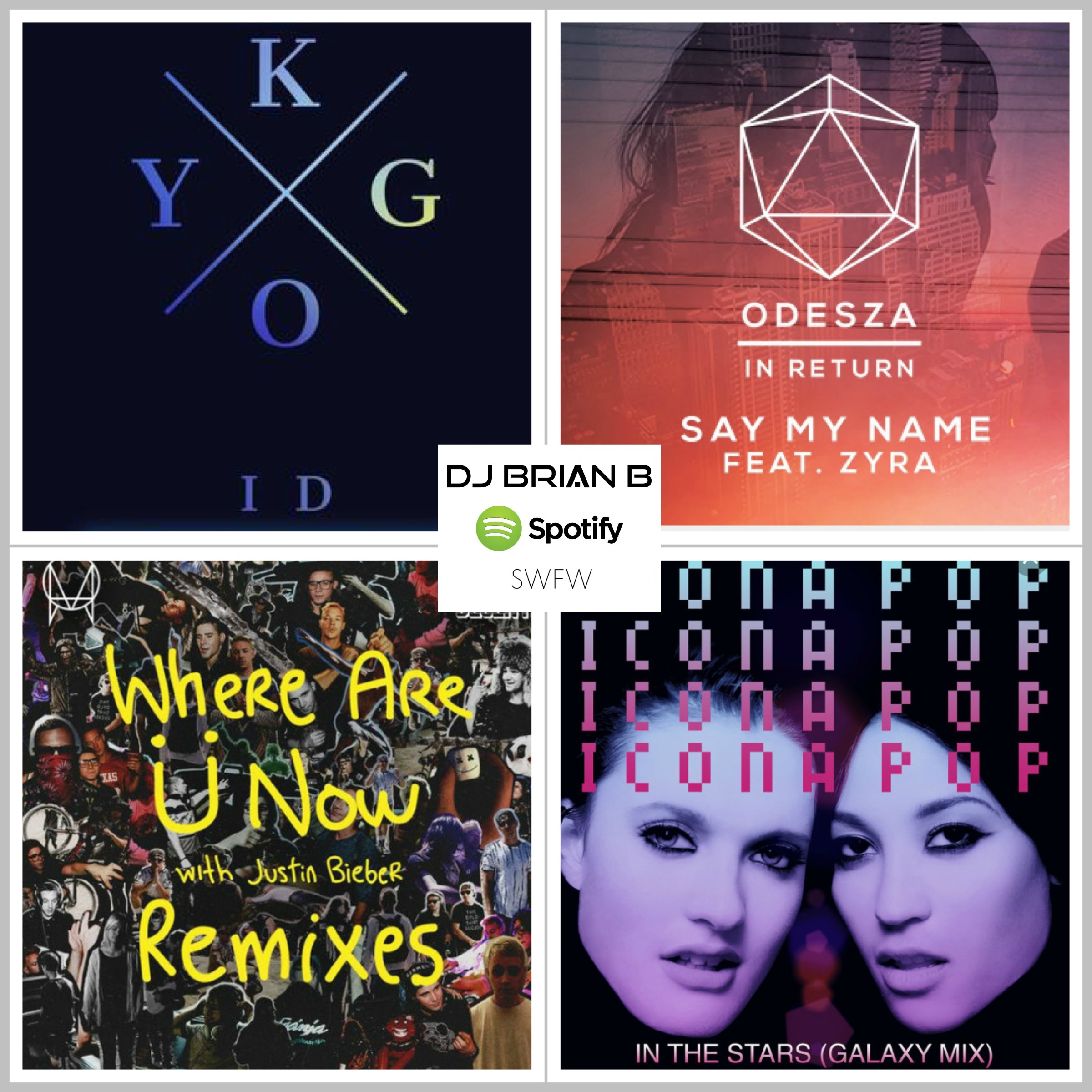 I know it's only October but the holidays are seriously JUST around the corner. Are you in need of a NYC Holiday Party DJ? While I typically am jet-setting around the country for my events that time of year, I would love to stay a little more local this holiday season. With the amount of tourists in town, don't risk bringing in somebody who doesn't live in Manhattan. The amount of last minute calls I get to cover for those DJs stuck in traffic trying to get into the City are too many to count.
Good event DJs are hard to find, especially when looking for someone who isn't going to come across as cheesy for your holiday party. While some will just play the standard and bland holiday tunes with a game or two thrown in and call it a day, I will work with you to make sure your event stands out and is talked about at the office water cooler the next week. No embarrassing cheesy line dances. If you've experienced a party with me already, you'll get that same non-stop dancing energy from the time open dancing starts until they make us close the doors. No matter the make-up of your company or wide age range in attendance, we'll make sure each guest has a great time. Having raffles or giveaway? Our custom "audio stingers" never disappoint. So whether you have 80 or 1000 people on your guest list, contact us and let's get your event on the calendar. We rock them all the same. With only 3 weekends in December prior to Christmas, the dates are going to fill up fast. Don't miss out!
It's almost here – South Walton Fashion Week (SWFW) starts THIS Thursday. As I'm about to head out there from NYC, I've been on the lookout for some tracks that will work well. One track I'm digging right now is Say My Name by Odesza. While the original version is not your mainstream dance floor hit track necessarily, the vibe of the musicality and the vocal are SO GOOD! I've been looking at a lot of this duo's work and I can guarantee a few of their tracks will get played on the runway for this fashion show. If you like this tune, a few other tracks I'd recommend of theirs are For Us, Bloom, White Lies, and Always This Late.  Maybe because it's late at night, but listen to these tunes with the light down and tell me you can't envision this on a runway.  Wish me luck! The official SWFW spotify list to be posted soon 🙂
Avicii made my Music Monday pick earlier this month. He's back again with an uptempo mainstream dance track called "Broken Arrows" with vocal assistance by Zac Brown. This will be released officially to radio tomorrow but makes it as my Music Monday pick for 9/28/15.
Here's a little secret about me: I'm a closet Zac Brown fan! I know his tracks don't all make the best dance floor fillers but the guy can write a good song! Team him up with one of my favorite producers, Avicii, and you get Broken Arrows. I think it may be a bit too progressive of a track for Top 40 radio but I think with some decent remixes (that will be sure to come it), this could be one to surprise you. So far, this and Pure Grinding are my favorite tracks released from his latest album.
This has been quite the start to the Fall season with a ton of potential dance floor fillers being released. Pure Grinding by Avicii makes it as my Music Monday pick for 9/3/15. It officially got released to radio a few weeks ago but still hasn't caught on with the mainstream crowd…yet!
I've been a huge Avicii supporter ever since he put out Levels. One of the things I've loved about him is that he constantly is changing up his sound; not just album to album but song to song. This one is down in the 104 BPM range (a stark contrast from his 130 range club bangers that he is known for). He takes some of the chorus lyrics from "100% Pure Love" by Crystal Waters but that's the only homage paid to that legendary track. This will be one of those underground songs that I will play at my shows but for it to be successful, it has to be placed perfectly at the right time of the night. Give it a listen! You think it has what it takes to climb on the Top 40 charts?
As we move out of the Summer season and head into Fall, it's only fitting that we get What Do You Mean by Justin Bieber dropped in our laps. I heard this track for the first time on the radio while driving in Las Vegas yesterday afternoon and all I can say, is wow, what a comeback track for Justin! The fact that he's been working with the Jack U duo means we should be getting an album full of dance floor fillers. Talk about a catchy hook! This track has it for sure. I've never been a huge "Belieber" fan but my wife has. She's already been begging me to get her the promo tracks ASAP (perks of being married to a DJ, I guess). This will be in heavy rotation for my events and mark my words – this will stay a while at #1 on the charts. What do you think? You like it? C'mon, no shame in your game for agreeing with me on this. This is my Music Monday pick for August 31st.
Well, Drake has done it again. My Music Monday pick for 8/31/15 is Hotline Bling by Drake. I'm usually not a down-tempo hip hop fan. I like stuff in the 100 to 115 BPM range (yes, I'm a HUGE 90s hip hop fan when everything fell into that range). This one is around 70 Beats per Minute (BPM) but the good news is I can fit it in my high energy sets by doubling the beat. Did I lose you on that? Drake once again gives us a fantastic hook and the instrumentation is so simplistic that his rapping really stands out. This guy has been putting out some club bangers recently and while recently he has been on a more "hard" hip hop flow – (i.e. Energy, Back to Back, etc.), this one completely flips the script with a more melodic chorus (similar to some of his older singles "Hold On We're Going Home" and "Best I Ever Had"). Anyway, I think this track will around a bit. Get ready to here this one A LOT!
Subscribe To Newsletter
Categories