Home
/ Posts tagged "Disc Jockey News"
Tag Archives:
Disc Jockey News
The Europe destinations are in full effect for the April 2018 Brian B Event Schedule. However, before that journey begins, I'll be back for our Disc Jockey News YouTube Show (I've been off the air for 3 weeks due to events). Then it's time for the New York Junior League's "Savor The Spring" event. I leave for the Pro Mobile Conference on Friday, April 13th and won't be back on US soil until April 29th. I've been looking forward to this particular month for quite some time. Once the Pro Mobile Conference ends (I'll be one of the keynote speakers and mixing one of the parties), my next official private event is the Berg/Ickes Destination Italy wedding about 2 hours south of Rome at the Abbazia San Pietro In Valle. Then it's off to the first of 4 Engage Summits for 2018 in Sardinia, Italy. I'll be mixing all the music for the main sessions as well as being the MC. The month closes out with the beginning of the Midwest DJs Live conference where I'll be not only one of the Keynote speakers but also mixing the opening night party. I'm still trying to lock in some nightlife events in Europe. If you have any connections in Belgium, Germany or Austria, please e-mail me.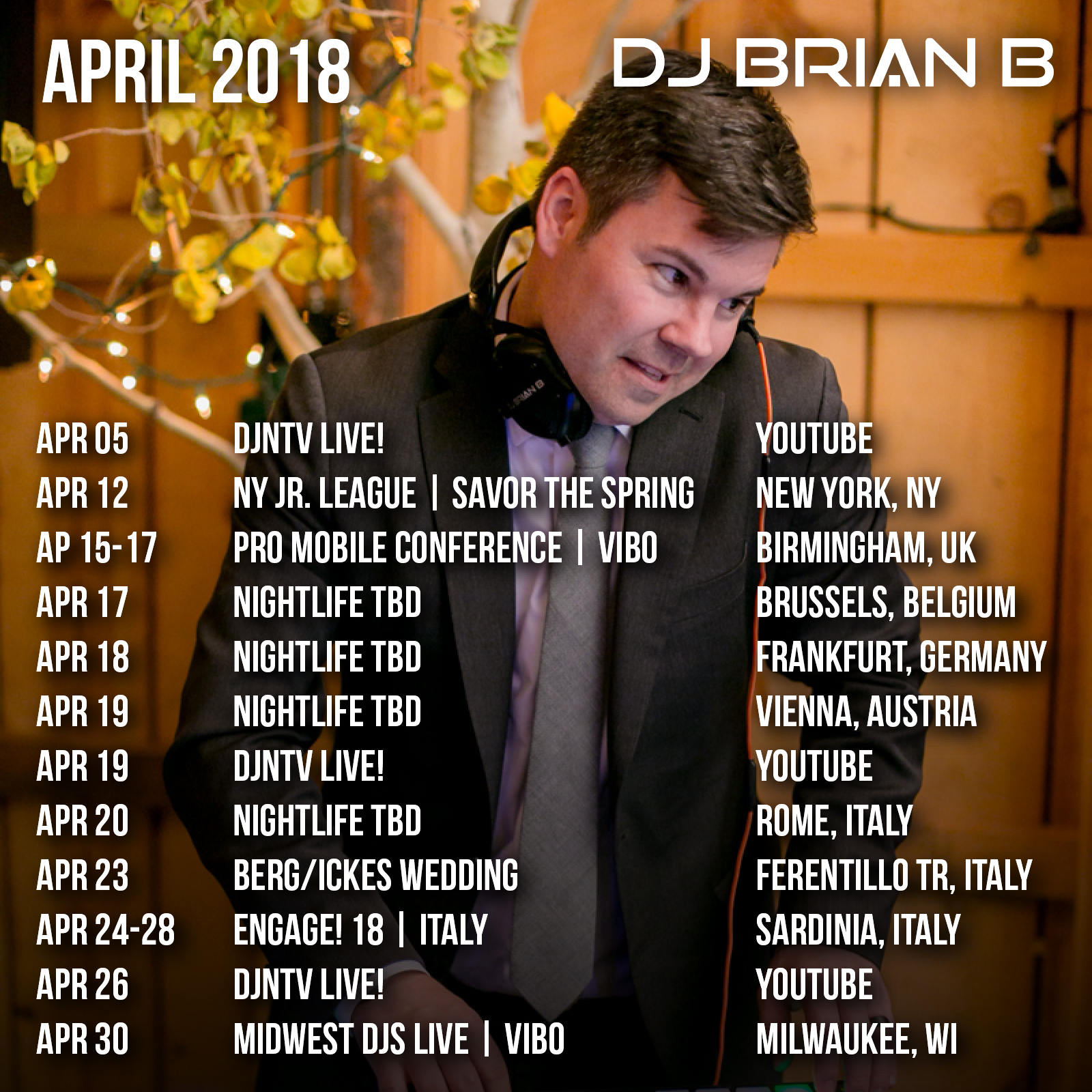 Posted in
Events
by
DJBrianB
| Tags:
A Riot Of Color
,
David Beahm Experiences
,
Destination Wedding
,
Disc Jockey News
,
John Gandy Events
,
Mobile Beat
,
SXSW
,
The Birthday Party Project
,
Wedding DJ
,
WIPA
,
YouTuber
I'm hoping Spring is around the corner because these cold temperatures are getting ridiculous out here in NYC. Good news, I've got a Turks & Caicos trip on the March 2018 Brian B Event Schedule. This month is chalk full of events. I'll be working with John Gandy Events for the first time in 2018. Other events include a return to the Norwood Club, Mobile Beat with VIBO, SXSW in Austin, Texas, The Birthday Party Project, a David Beahm Experiences event, WIPA, and of course Disc Jockey News TV (every Thursday at 9PM EST).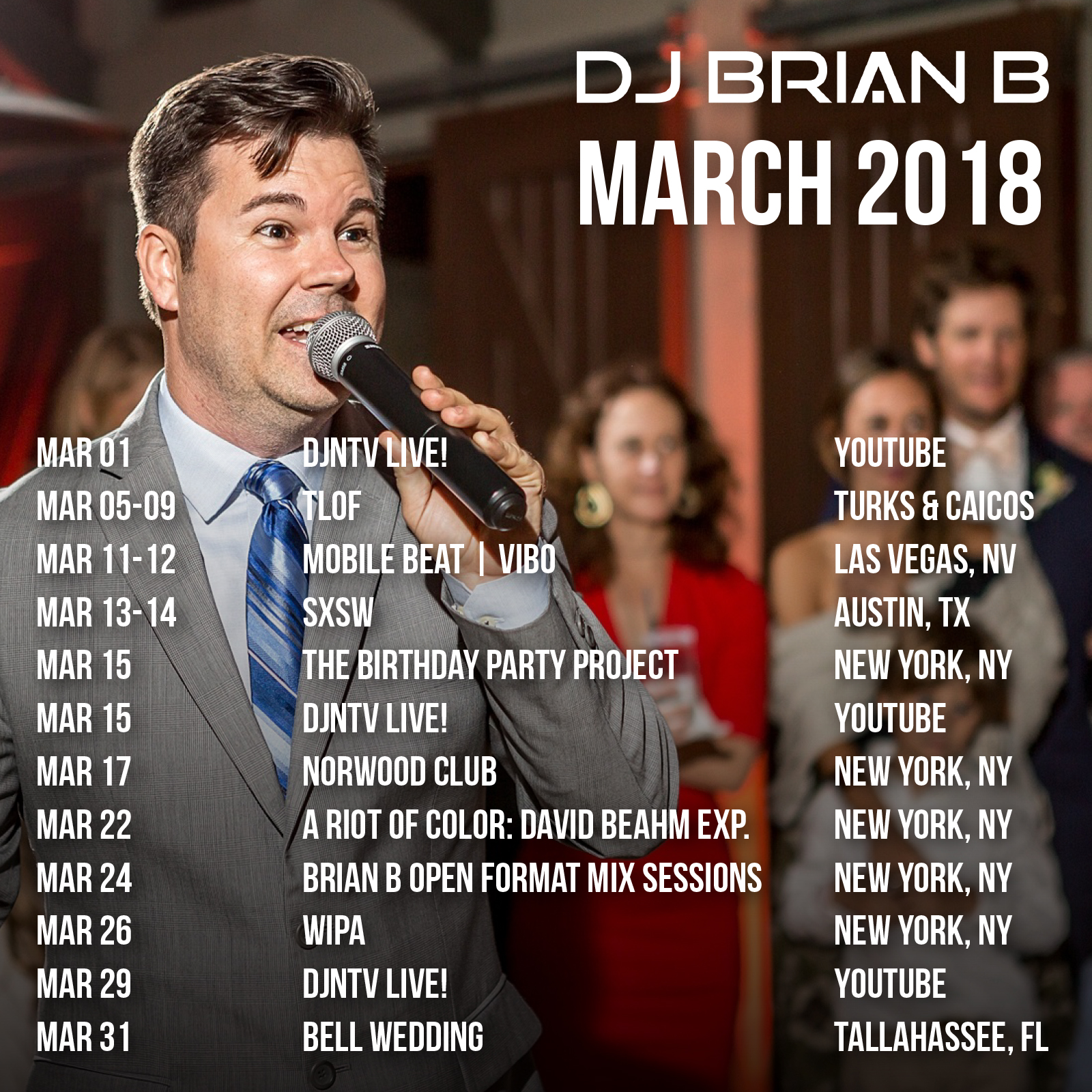 Hot off the presses ~ the February 2018 Brian B Event Schedule. I'm continuing my YouTube show with KC every Thursday night at 9PM EST. I'll be back at the Norwood Club in NYC early on in the month which is always a good time. I'll be playing LIVE at the Birthday Party project at all 3 NYC locations. I've got a corporate event with the American Bar Association as well a destination wedding to round out the month. Be sure to watch for a new mix to drop this month on my samples page.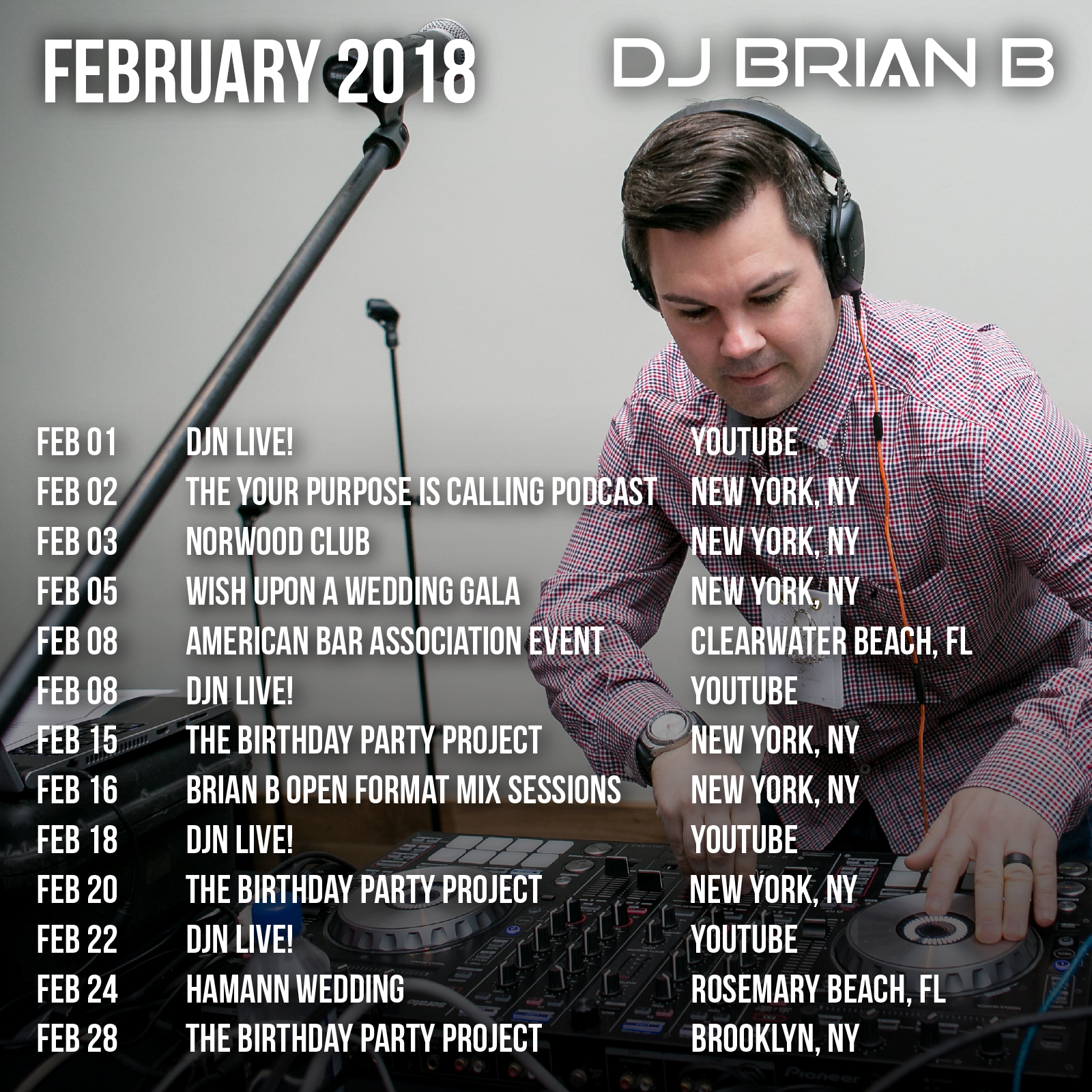 The official January 2018 Brian B Event Schedule is lock and loaded. Typically, the Winter is quiet in the DJ industry. I've got a little bit of everything going on – industry shows, corporate events, a wedding, a mix show, some non-profit events and the start of a weekly YouTube show for Disc Jockey News. No slow down in sight. Check my calendar here to see which ones are public events. I'd love to see you!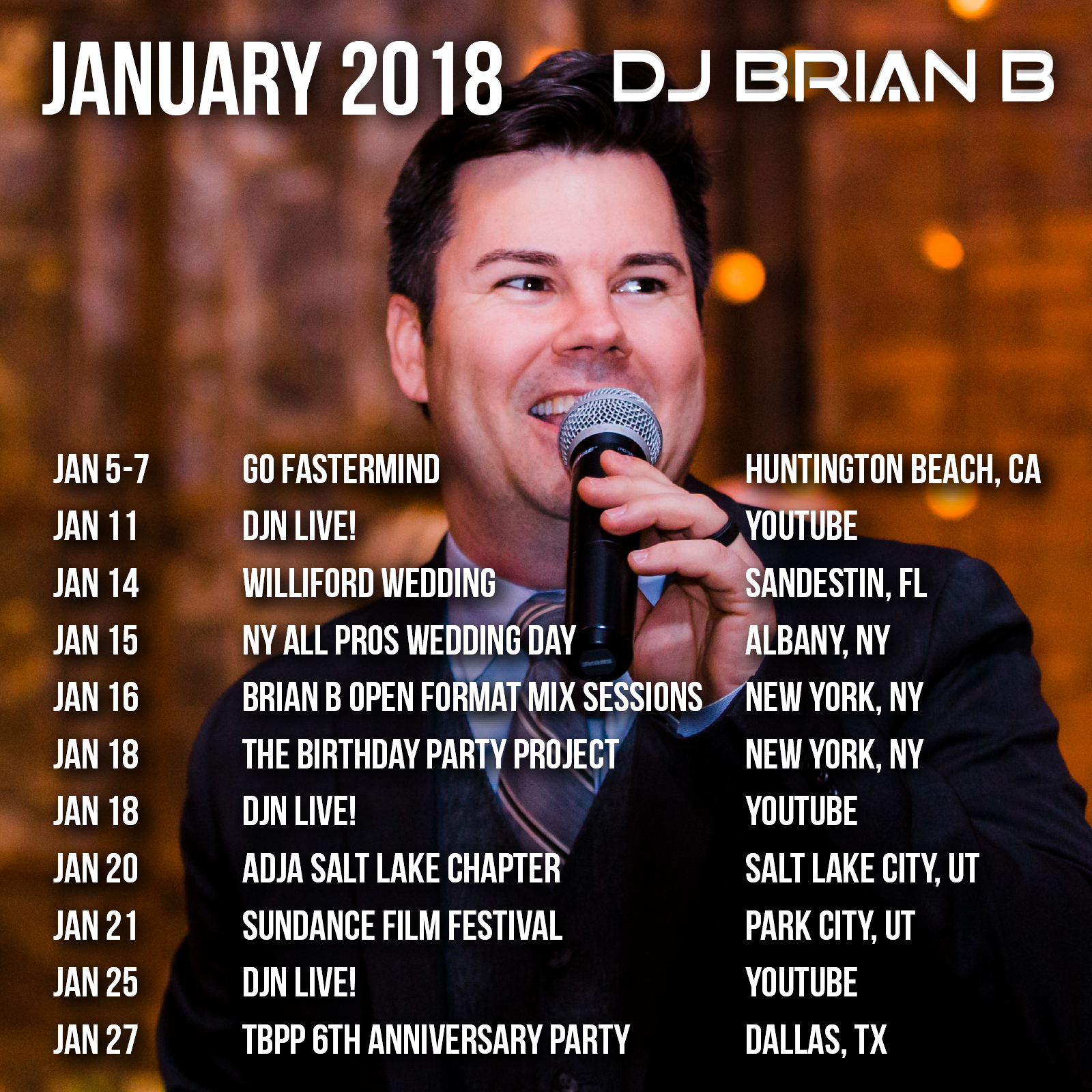 Subscribe To Newsletter
Categories