Home
/ Posts tagged "The Birthday Party Project"
Tag Archives:
The Birthday Party Project
Posted in
Events
by
DJBrianB
| Tags:
A Riot Of Color
,
David Beahm Experiences
,
Destination Wedding
,
Disc Jockey News
,
John Gandy Events
,
Mobile Beat
,
SXSW
,
The Birthday Party Project
,
Wedding DJ
,
WIPA
,
YouTuber
I'm hoping Spring is around the corner because these cold temperatures are getting ridiculous out here in NYC. Good news, I've got a Turks & Caicos trip on the March 2018 Brian B Event Schedule. This month is chalk full of events. I'll be working with John Gandy Events for the first time in 2018. Other events include a return to the Norwood Club, Mobile Beat with VIBO, SXSW in Austin, Texas, The Birthday Party Project, a David Beahm Experiences event, WIPA, and of course Disc Jockey News TV (every Thursday at 9PM EST).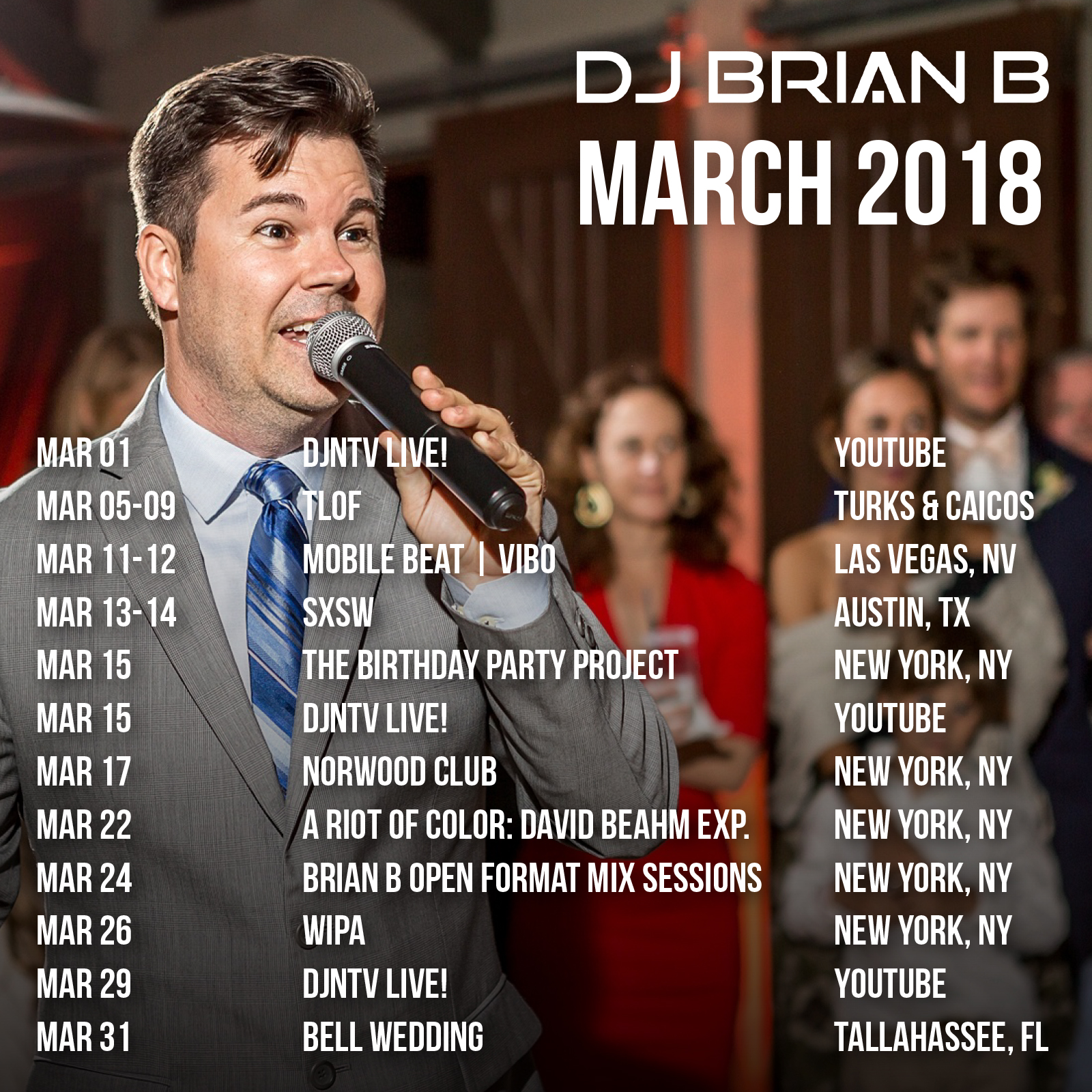 Hot off the presses ~ the February 2018 Brian B Event Schedule. I'm continuing my YouTube show with KC every Thursday night at 9PM EST. I'll be back at the Norwood Club in NYC early on in the month which is always a good time. I'll be playing LIVE at the Birthday Party project at all 3 NYC locations. I've got a corporate event with the American Bar Association as well a destination wedding to round out the month. Be sure to watch for a new mix to drop this month on my samples page.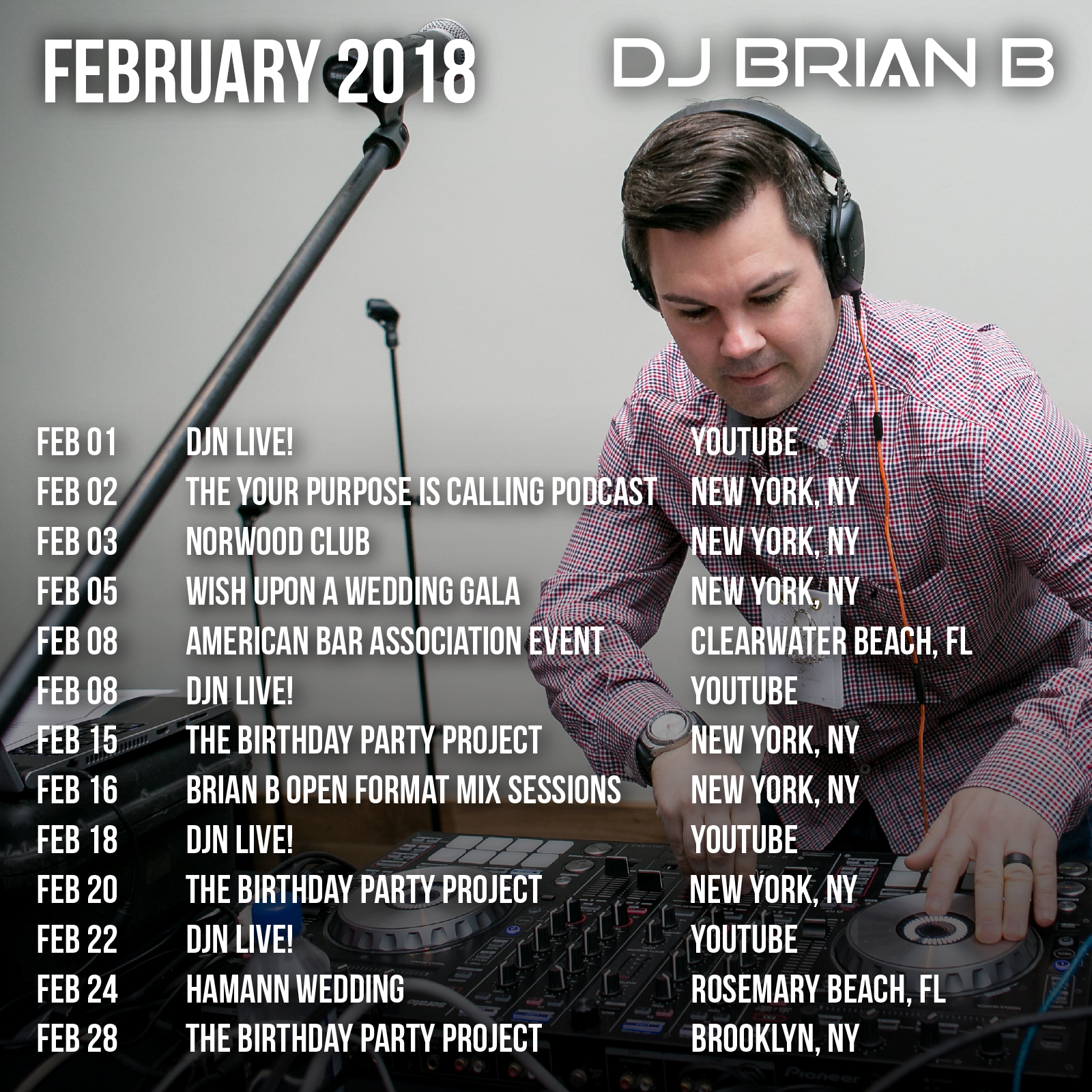 The official January 2018 Brian B Event Schedule is lock and loaded. Typically, the Winter is quiet in the DJ industry. I've got a little bit of everything going on – industry shows, corporate events, a wedding, a mix show, some non-profit events and the start of a weekly YouTube show for Disc Jockey News. No slow down in sight. Check my calendar here to see which ones are public events. I'd love to see you!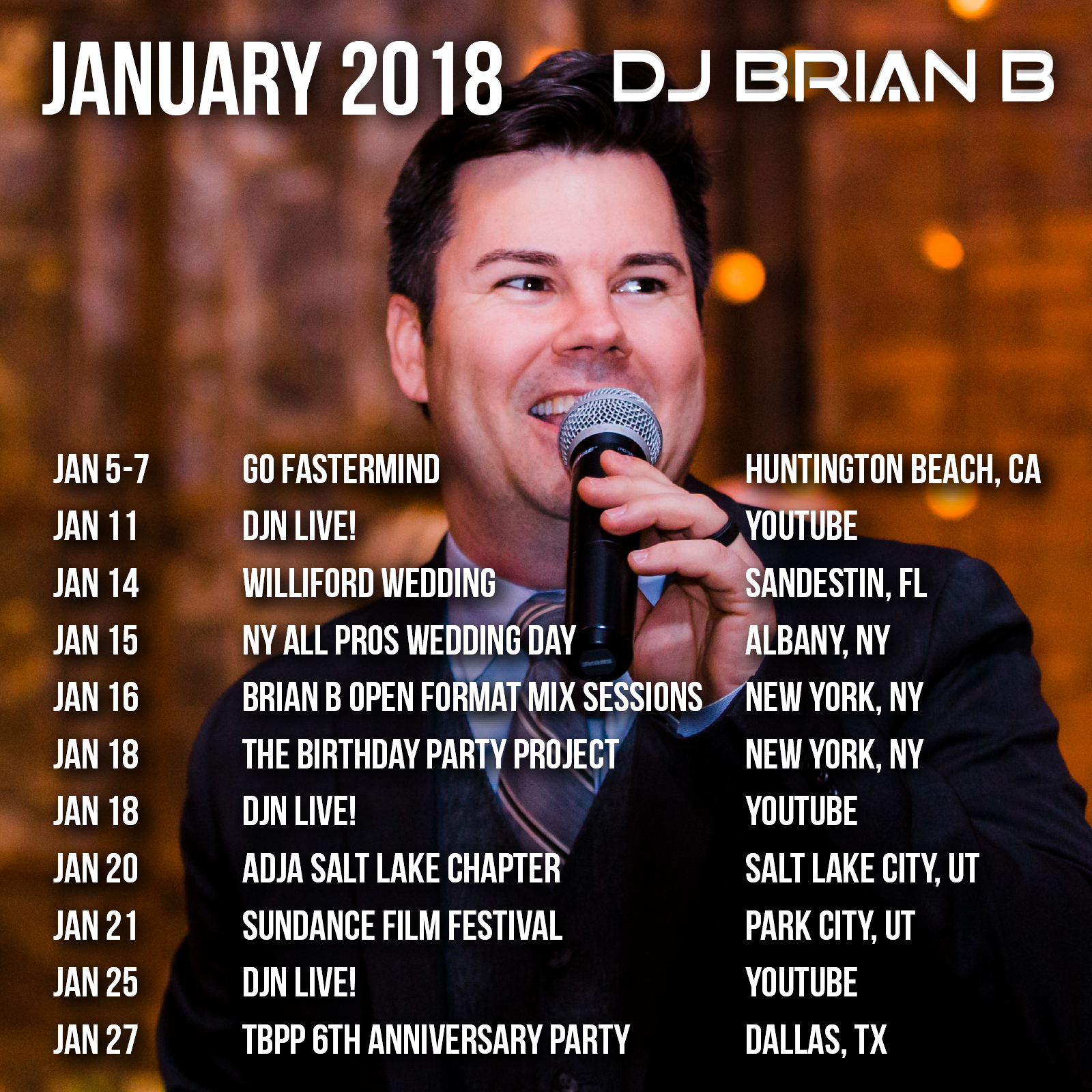 The DJ Brian B Official August 2016 schedule is inked!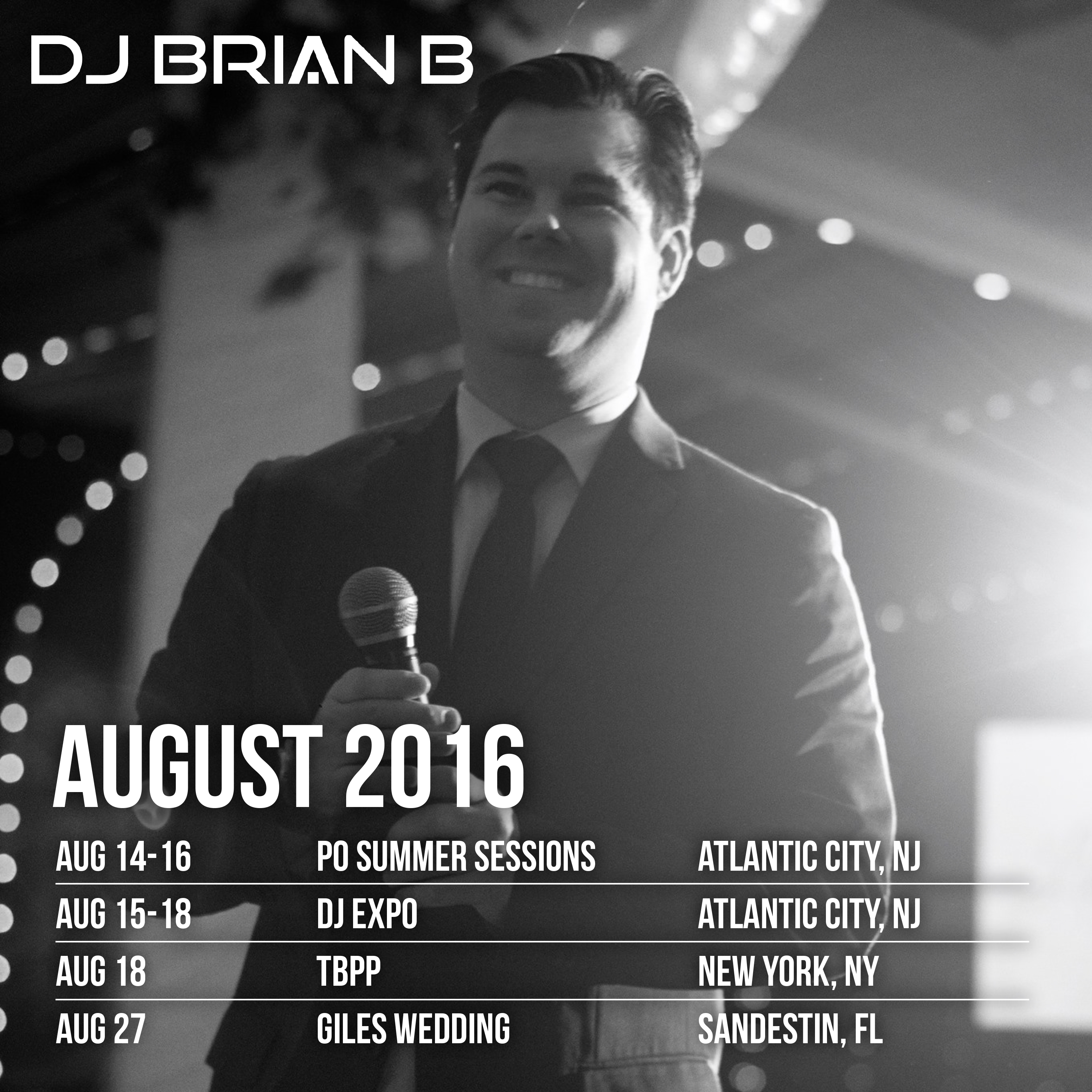 In all of my regular markets, August is generally too hot for outdoor events. So it's corporate event season indoors until the end of the month.
On tap this month, I start with the Promo Only Summer Sessions, an industry conference for mixshow radio DJs. It gives us a glimpse of some of the upcoming musical acts soon to break in radio. Cary Vance and the folks at Promo Only Promotions do a fantastic job with this one.
Then it's the DJ Expo near the AC boardwalk which is geared for the private event and club DJs. I've been attending that show since 1997 – 19 years! It was one of my first industry shows I ever went to. This year is special because I'll actually be speaking for the first time. I've put a ton of time into my presentation which I've titled "The Client Experience Matters". It was important to me to put my hat in the ring as a presenter and give back to the industry that has done so much for me.
I get back to New York and will be volunteering for The Birthday Party Project. Last month was an incredible experience and I'm looking forward to increasing my presence at as many of these as I can. If you're in NYC, join me!
I conclude the month with the Giles Wedding at the Sandestin Golf & Beach Resort in Sandestin, FL. The bride and I have been going back and forth on things for a few weeks now and I'm really looking forward to this luxury wedding. The B-Boy Productions, Inc. crew will be handling the majority of the event and I will be unveiling my latest DJ set-up. So pumped to show it off.
Subscribe To Newsletter
Categories