DJ Brian B – Bio
My days and nights now consist of traveling, dj'ing and studio work. It's a crazy thing … one night I'll be in San Diego, CA rockin' a huge private event where everyone is partying and dancing like crazy; the next night I'll be back home in my New York City apartment, laptop in front of me, listening to new promo music or working on an edit for a track or a new mix-set. Then the next morning I'm on a flight at 6AM (where I can catch up on my sleep) as I'm headed to Destin, FL for another show. I have a well-rounded experience every week."
While his age proves he's still a young man, DJ Brian B is an industry veteran having recently passed the 15-year mark. A Southern California native from Orange County, DJ Brian B got his start DJ'ing after performing in local cover bands as a vocalist/keyboardist straight out of high school. A local bar owner gave him an opportunity to DJ their first foray into the nightclub scene and DJ Brian B seized the moment. His Saturday night dance party became so popular that the bar moved their stable Friday night programming to Thursdays and made the open format dance parties a Friday/Saturday night weekend event. Other clubs in the area started booking DJ Brian B and he eventually had to hire and train 2-3 DJs to fill the demand.
Pioneer Electronics (DJ equipment manufacturer) took notice and DJ Brian B began demonstrating all their Pro Audio products at various tradeshows and private showcases. This eventually caught the eye of Hollywood and soon DJ Brian B started mixing celebrity private bashes. The list of high-profile clients include Elton John, P Diddy, Snoop Dogg, Gwyneth Paltrow, Tony Hawk, Jim Carrey, ESPN X Games, and the Dr. Phil Show to name a few.
He moved to Florida in 2006 and there began to travel across the country to DJ big nightclubs in Las Vegas, Miami, New York and even produced his own live syndicated mix-shows on the radio. Eventually however, "private events" is where he found his niche and a passion for them was born. From corporate parties, to fashion shows, to bar mitzvahs to weddings, Brian took his mixing skill-set and delivered party experiences unlike any other. "There's something about private events that make it more personal for me," he says. "Usually they are a once-in-a-lifetime party (wedding reception) and I get an opportunity to be a part of something they will remember forever. That gives what I do purpose and goes beyond just mixing music."
Speaking of music, DJ Brian B has always been a multi-genre DJ. Whereas a lot of DJs stick to one or two formats, he's never been that type of DJ. Ever since he started, DJ Brian B has always played all types of music. It stems from growing up in a musical household where Earth Wind & Fire, James Brown, Depeche Mode and Madonna records were always heard through their home stereo system.
The 'what is your DJ style' or 'what kind of DJ are you' questions come often and my answer is always, 'I'm a DJ.' I go for whatever vibe the client is looking for and I feel out the room and work quickly to get them where they need to be. I've always been an open format type of DJ where I can bounce around between retro classics, pop hits, hip hop, rock, reggae, house to whatever moves the crowd. To me, that's a DJ. Give me a list of music and I'll figure out how to mix them all, no matter the genre."
So what are his secrets? To him, being a great DJ is all about reading a crowd. It's a talent that comes over time and not something that downloading the iTunes top 25 singles will give you. He has done so many kinds of things as a DJ that his sets always have something for anybody and everybody. He's also big about interacting with his crowd. As he puts it, "I love taking my audience on this musical journey of 'highs and lows' within the music, where you see them literally joining you during the drum rolls and swaying with the digital sweeping effects until you get to that climax of music and they are right there with you the whole time! It's something that never gets old no matter how many times you see it happen."
Present day, DJ Brian B resides in New York, NY and is being booked and performing for every event imaginable all over the United States. He continues to keep his finger on the pulse of the latest musical trends – creating his own custom mixes, DJ'ing both private and public events, and now offering production services. With an infectious laugh and a zest for life (and not a lot of sleep while jet-setting around the country), DJ Brian B is a favorite with everyone from party goers to event planners to club owners.
It may sound cliché, but he truly sees music as the universal language that brings people together. While his posted online mixes give you a glimpse of his talent, it's his live performances that separate him from the rest. He's a live performer, first and foremost, and will be rockin' crowds till the day he dies.
The biggest compliment I tend to get over and over again is a person coming up to me at the end of an event saying, 'I've never been to a party as good as this where you played literally every style of music without losing anyone. I don't even dance and you had me dancing.'"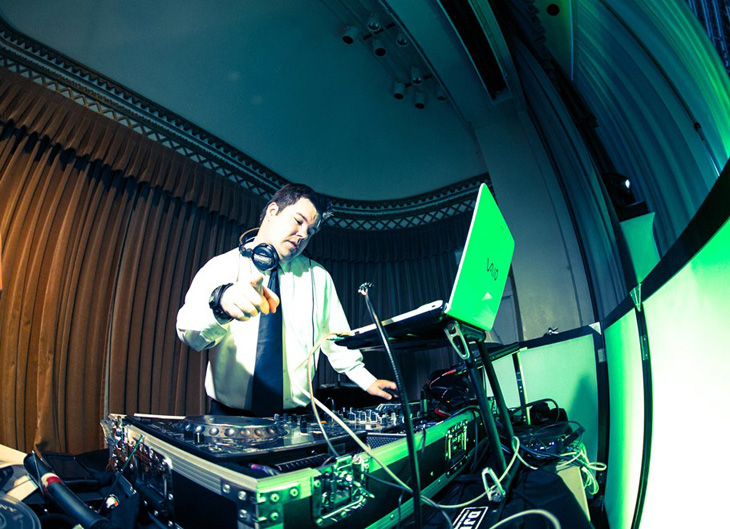 Partial Client List:
Aflac
American Cancer Society
Avantgarde Salon & Spa
Bud Bowl
Dr. Phil Mcgraw
Elton John
ESPN X Games
Gwyneth Paltrow
Intel Corporation
Jim Carrey
Kate Spade
Ketel One
Kid Rock
Lifetime Television
Long Beach Grand Prix
MAC Cosmetics
March of Dimes
Mattie Kelly Arts Foundation
NBC Gravity Games
North America Hairdresser Awards (NAHA)
Northwest Airlines (now Delta)
OC Performing Arts Center
P. Diddy
Paul Mitchell
Pioneer Electronics USA, Inc.
Quicken Loans
Rowland Publishing
Snoop Dogg
Sony Pictures
The Color Run
Tony Hawk
US Open
Virgin Entertainment
Vivid Vodka
Walt Disney World
Press Photos
Members of the media can grab high-res images of DJ Brian B in action here »
Our Clients Say …
I cannot say enough great things about DJ Brian B. He did my sister's wedding; so when I was planning mine a year later, I knew we had to have him. He's professional, easy to work with, and when it's time to party, he knows exactly what he's doing. We gave him a few song requests prior to the wedding, and he took it from there, and our reception was exactly what we wanted…a non-stop dance party for all ages…and we had all ages…from my 1-year-old cousin to my 98-year-old great grandmother! And although we told him it was fine to take requests, no one needed to request anything because he played great song after great song. He is a "real" DJ, and he's really good, so there's no down time between songs, because he is actually mixing them. And when it's time for him to MC, he's just as great…not cheesy at all, just the perfect combination of fun and professional. I'm still getting compliments on how much fun the wedding was and comments like "Who was your dj?! I want to get married again just so I can have him do my wedding! He was awesome!" And he truly was. Had we hired a different DJ/MC (which was never even an option), or even a wedding band (which is what most people here do), I know it would not have been as amazing as it was. If you need an MC/DJ for any type of event, hire DJ Brian B and you will not be disappointed!"
Ashley Bowman St Francisville, LA (event date: October 24, 2015)
Brian B is great to work with and will bring your event's energy to the next level!
Leigha Inman / Rowland Publishing {on behalf of Emerald Coast Magazine's "Top Salon" Event} (event date: April 8, 2016) – Destin, FL
Our wedding planner recommended DJ Brian B to us and we couldn't have been happier. He's based on the east coast but he regularly travels to Miami, LA and maybe Chicago if I remember correctly. Brian was great at articulating what he wanted from us ahead of time, and has a very easy do-it-yourself client portal. We didn't always have a song in mind for a specific moment (i.e. after ceremony song), but Brian took our style direction and filled in with what he thought would work, and it always did. It was like he was in our head. We also had a couple calls with him to discuss our style, our guest dynamics and what we're hoping to get out of him. What we most loved about Brian was that he didn't just create a playlist and press play. His songs transitioned seamlessly and he has so many tricks up his sleeve to take traditional wedding music and add a modern touch. We were worried about getting our guests on the dance floor but he did a great job getting everyone engaged and we danced the night away. He made the night fly and we weren't ready to go when the venue started kicking us out. Great job Brian and thank you!
Natalie Stratton (event date: May 14, 2016) – Silverado Canyon, CA