NYC DJ, Brian B, is Your Best Choice For Luxury Destination Weddings, Private, and Corporate Events
The hardest working man in the DJ industry, DJ Brian B prides himself as being the most experienced and fresh DJ in the luxury entertainment destination market…an industry veteran who maintains a youthful and fresh approach to the world of audio and video.
With regional office locations in Los Angeles, Florida, and of course, New York City, you can be rest assured that DJ Brian B will bring you the very best in personalized, high quality service that will result in a dynamic and party-filled live DJ event experience, regardless of where that event is taking place. Memories are only as good as you dance to them.
Latest News
During Italy Engage! 17, the music heard as attendees walked in to the main sessions, between speakers and in route to the breaks was intentionally curated and mixed live in the room by yours truly.
I took the location, the season/time of year and the speaker's presentation topics all into consideration as I came up with the summit's soundtrack. I've posted it all on Spotify for your listening pleasure. Click here to be transported to Venice, Italy. Enjoy!
I was the Austin Wedding DJ for a former planner and friend of mine who was recently got married in Texas. Humbled by these kind words. I love to travel and DJ private events – especially weddings. Thanks Jen for the amazing review! Can't wait to see you and Tim in this next stage of life as parents! Want to see more of my reviews? Go here. #weddingwednesday #djlife #traveldj #luxurywedding #texaswedding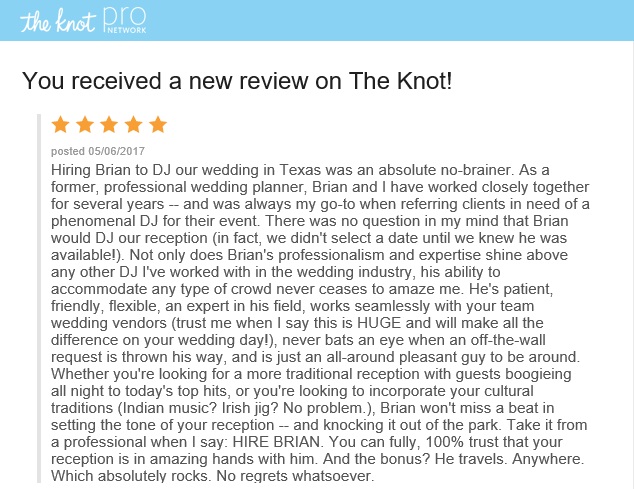 It's that time of year. I'm working on my official DJ Brian B holiday playlist on my Spotify and want your input. What are your favorite holiday tracks of the season? They can be old or new. Comment below or send me a note on my social networks. I'll check them out and if I like them, they just may make the cut into my annual holiday playlist.