Home
/ Posts tagged "Wedding"
Tag Archives:
Wedding
Somewhat mild winter weather so far in 2020. Let's hope it continues. I kick February 2020 off by DJ'ing a party in association with The Knot and Brittany Snow in NYC. Then it's the annual Valentine's Love Party with Marcia Selden Catering. From there, I head down to Longboat Key, Florida for my first wedding of 2020. I head back to Bloomingdale's on 59th Street for their annual wedding event. It's a Latin themed flair and open to the public. Come join me there – it's always a good time. My monthly Birthday Party Project Spotify playlist is live and ready to go – the theme this month is Emoji. I close out the month with a speaking engagement in Philadelphia with The Bridal Masterclass. Quite the mix of events this month – just the way I like it.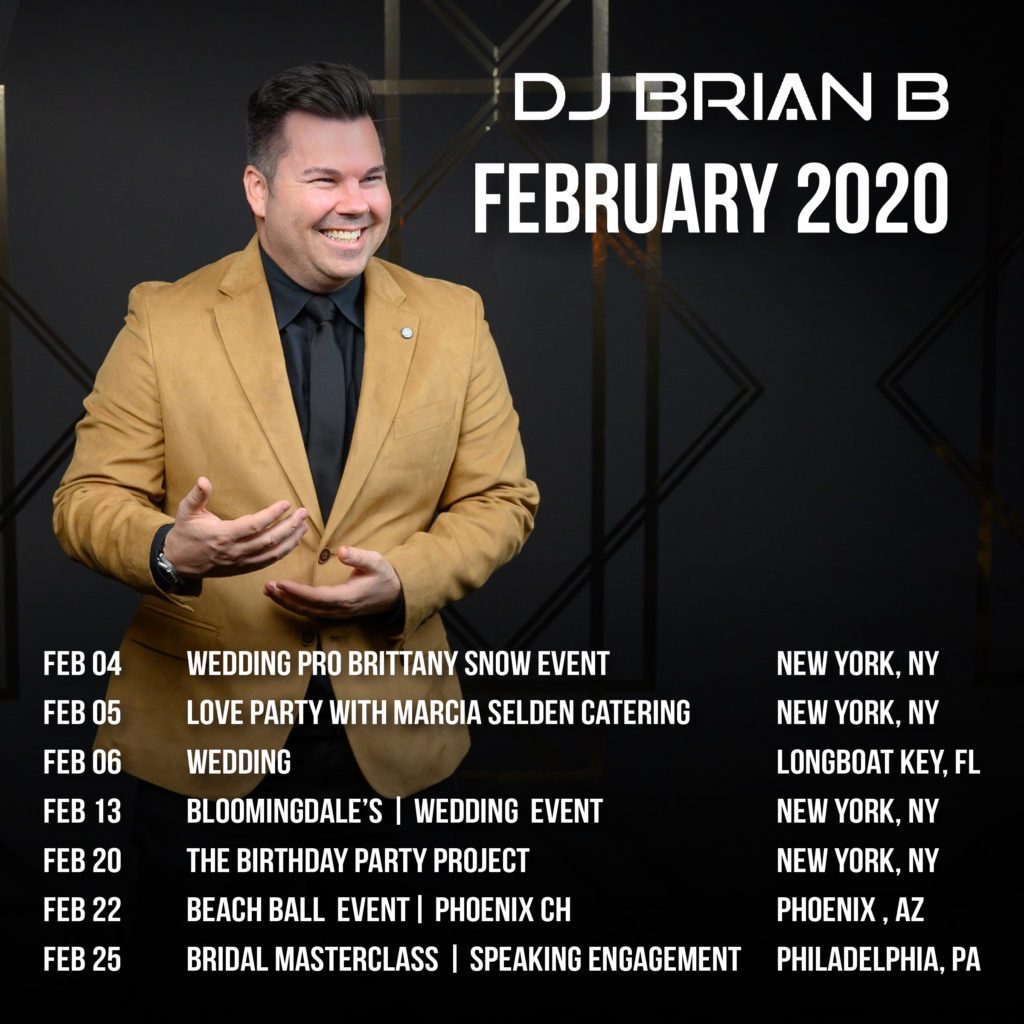 After a whirlwind of an October, it'll be nice to have a little bit of a breather in November. With that here's my November 2016 Schedule.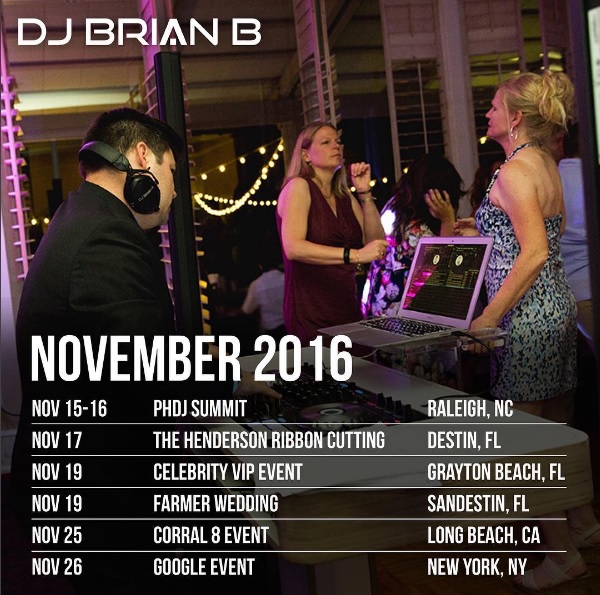 I'll be heading to Raleigh for 2.0 of the PHDJ Summit. This is with some of the finest DJs in the country and we'll be sharing some things to help each other out. I love getting a chance to do this. From there, I'll be headed to Destin, FL to entertain at The Henderson Beach Resort's ribbon cutting. Staying in the panhandle, I'll be the headliner for the Farmer wedding in Sandestin. Once it ends, I'm off to a celebrity VIP event late night. Obviously, I have to keep this under wraps until it's over. The annual Corral 8 holiday event in SoCal kicks off my holiday party season. This non-profit does a ton for kids and I'm always grateful to be asked back year after year. Then I jet back to NYC for a Google Event.
In between all of that, I plan on working on a mix to be released later in the month. It's been a minute since I put something out there so I'm due! Hope to see you at a party soon.
The official DJ Brian B October 2016 Schedule is inked! I kick it off tomorrow and I couldn't be more ready to crush some events.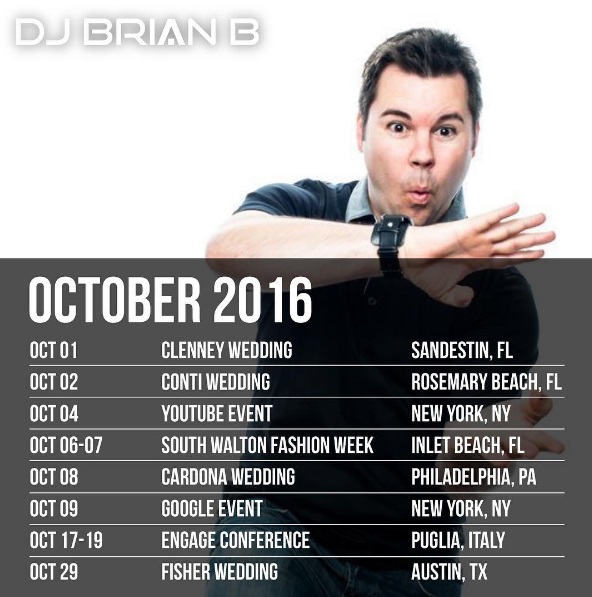 This always ends up being the busiest month of the year for me. For a lot of the country, the humidity is OVER (praise God!) and the weather is perfect. Tons of weddings outside, a few corporate events, South Walton Fashion Week (which is open to the public) and the Engage Conference in Italy! Let's get this month started already.
The DJ Brian B Official August 2016 schedule is inked!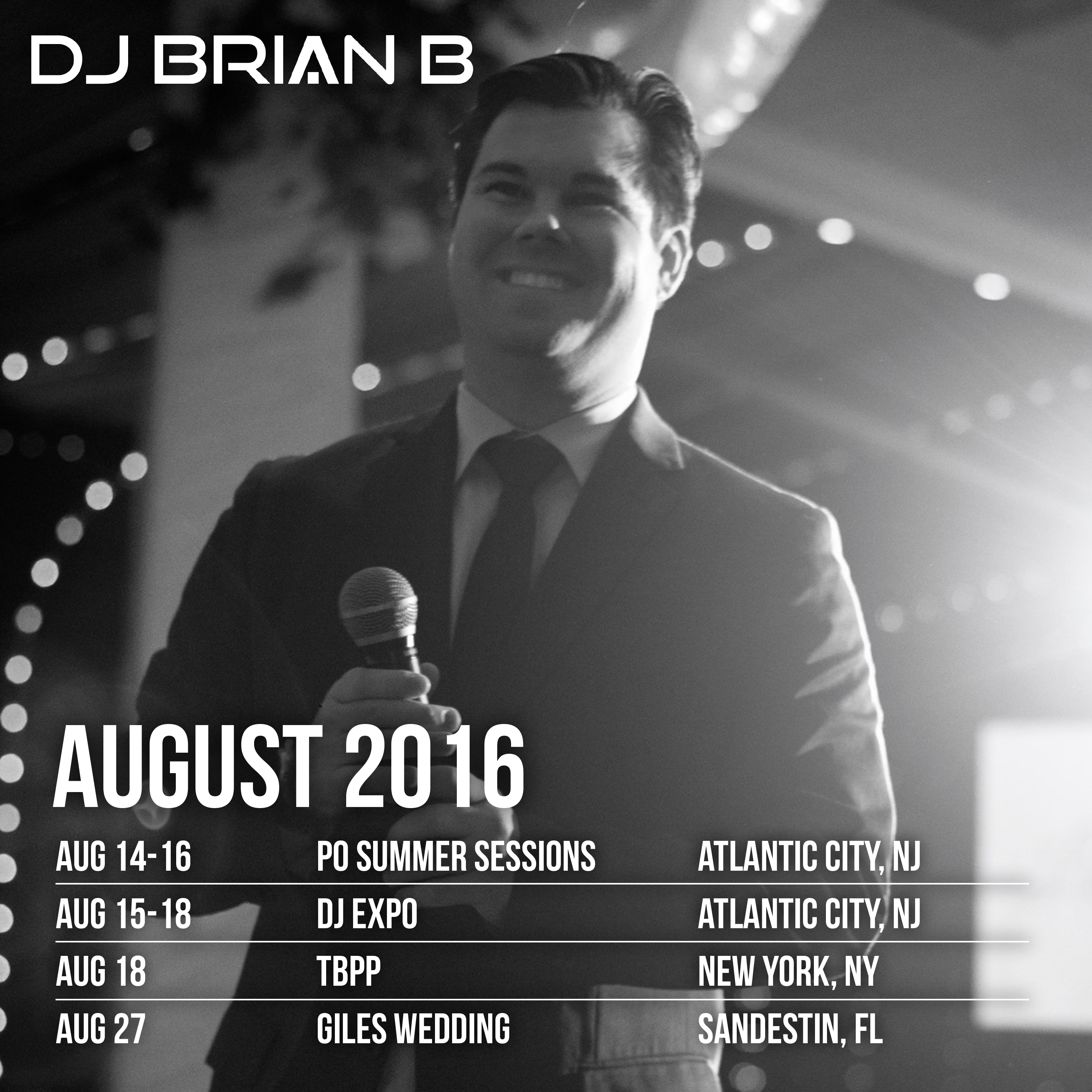 In all of my regular markets, August is generally too hot for outdoor events. So it's corporate event season indoors until the end of the month.
On tap this month, I start with the Promo Only Summer Sessions, an industry conference for mixshow radio DJs. It gives us a glimpse of some of the upcoming musical acts soon to break in radio. Cary Vance and the folks at Promo Only Promotions do a fantastic job with this one.
Then it's the DJ Expo near the AC boardwalk which is geared for the private event and club DJs. I've been attending that show since 1997 – 19 years! It was one of my first industry shows I ever went to. This year is special because I'll actually be speaking for the first time. I've put a ton of time into my presentation which I've titled "The Client Experience Matters". It was important to me to put my hat in the ring as a presenter and give back to the industry that has done so much for me.
I get back to New York and will be volunteering for The Birthday Party Project. Last month was an incredible experience and I'm looking forward to increasing my presence at as many of these as I can. If you're in NYC, join me!
I conclude the month with the Giles Wedding at the Sandestin Golf & Beach Resort in Sandestin, FL. The bride and I have been going back and forth on things for a few weeks now and I'm really looking forward to this luxury wedding. The B-Boy Productions, Inc. crew will be handling the majority of the event and I will be unveiling my latest DJ set-up. So pumped to show it off.
I don't know why I was looking so serious but I appreciate the DJ Brian B official Instagram wedding love I received from some guests at my wedding this past weekend at the Queens County Farm Museum.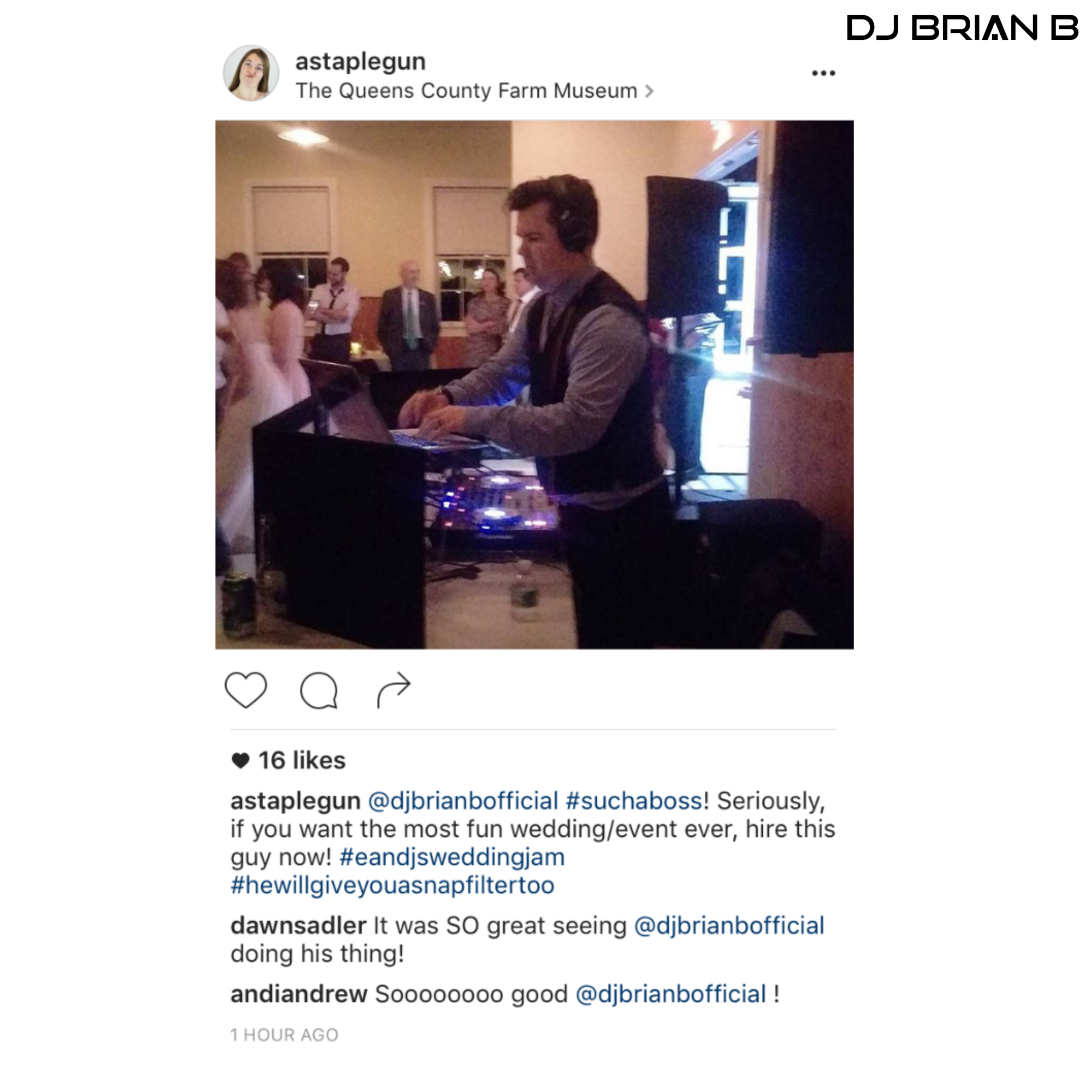 When your couple chooses Justin Timberlake's "Can't Stop the Feeling" as the exit song to their CEREMONY, that's a good indication that the night is going to be off the hook.  It did not disappoint.  From the first song of cocktail hour through the last song of the night, this crowd was amped! Seriously, one of the best crowds of the year.  They genuinely had a lot of love for the bride and groom and they wanted to make sure this was a party for the ages.  Non-stop dancing the entire night.
The DJ Brian B June 2016 schedule is officially inked.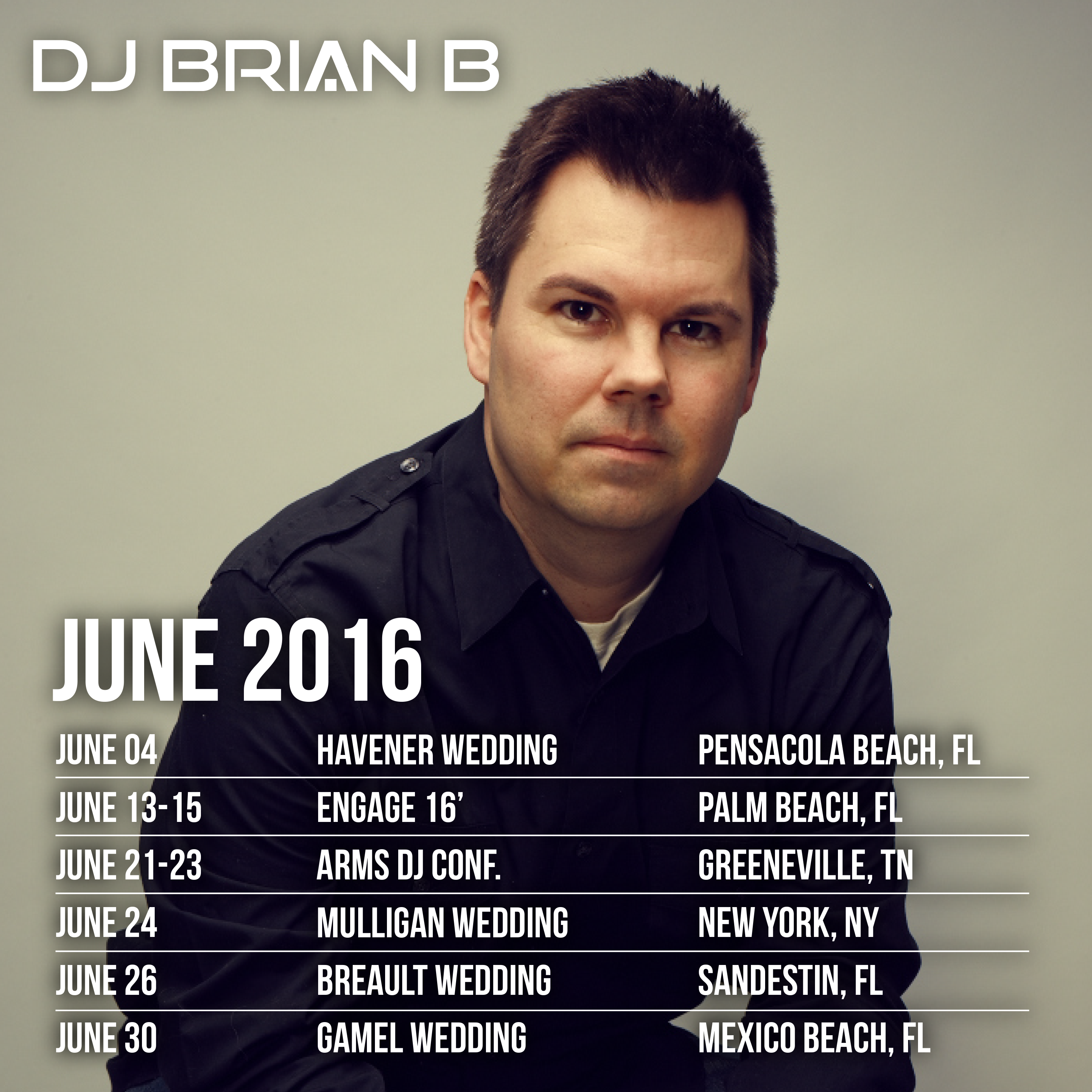 In between some fantastic weddings, I typically use the summer months to network and refocus for the 2nd half of the way.  Going the Engage Conference is always a highlight of my year (I'm a 2 baller this year!).  This is the best of the best in the wedding industry and not only do I get to reconnect with some fantastic industry folks, but I know I'll have some fantastic takeaways.  This will be my first time to the Arms DJ Conference.  I'm looking forward to this mid-america conference.  Hope to see you on a stop soon!
So one of my DJ crew, DJ Shawn Frady, has a bride this weekend who requested this wedding song, When I'm With You by Ben Rector. I had never heard of this track or artist before. Wow, I was blown away both musically and lyrically with this one. I've posted the "lyrics" version of this song because I think they are that good.  The bride also picked another track by this artist which was also fantastic. If you haven't heard of this artist, put him on your radar for sure.
Subscribe To Newsletter
Categories