Home
/ Posts tagged "The Birthday Party Project"
Tag Archives:
The Birthday Party Project
March 2020 starts with my first international trip of the year – Dubai for the Engage Summits where I'm the resident DJ for the main sessions. I'll also be headlining the Welcome Party literally in front of the Burj Khalifa. I've never been to Dubai so looking forward to this experience. From there, I'm headed straight to Florida for a wedding with John Gandy Events and then I'll be headlining the Shoreline 15 year Anniversary Party. I return to SXSW for the fourth year in a row. Then it's off to SoCal for the DK Housewarming weekend in Palm Springs. The Birthday Party Project March theme is "Art". The Spotify playlist is live. Then I close out the month with a wedding in Atlanta, GA. Let's get this thing started!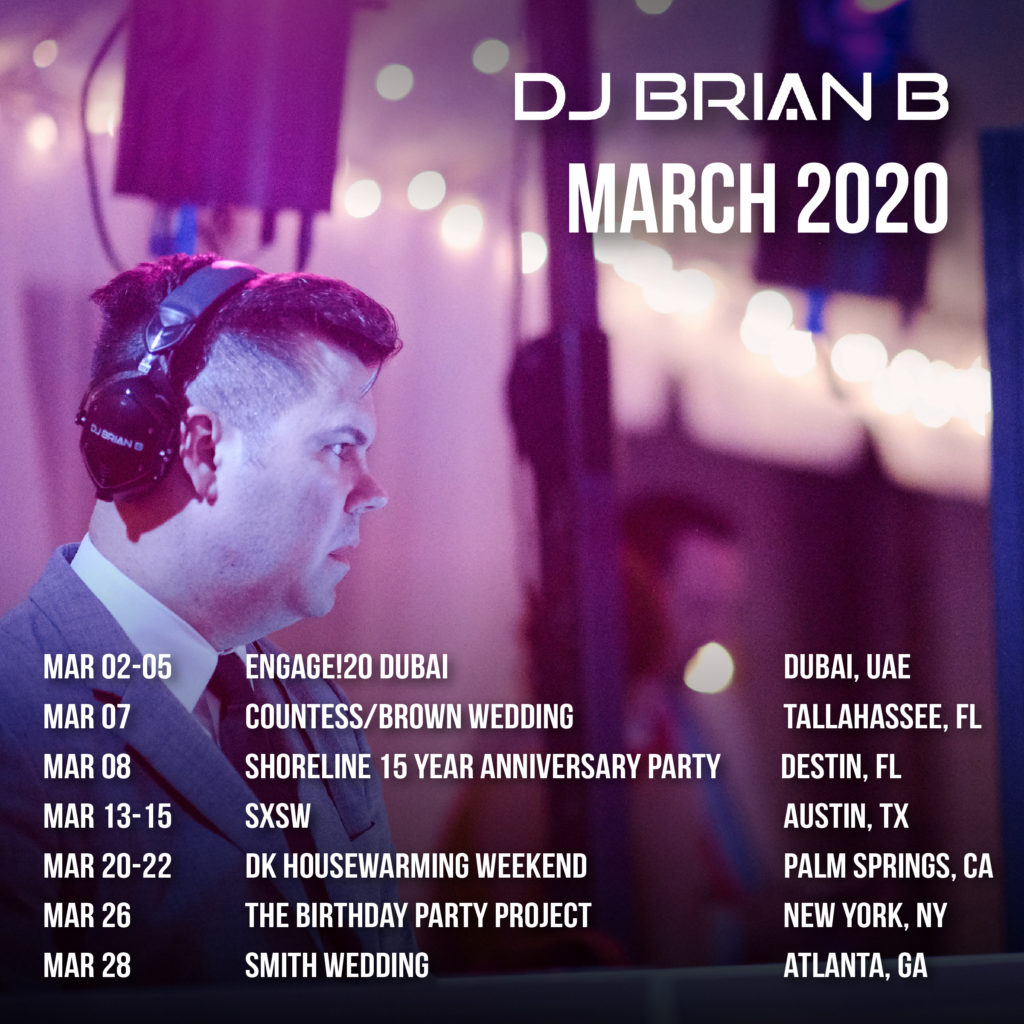 Somewhat mild winter weather so far in 2020. Let's hope it continues. I kick February 2020 off by DJ'ing a party in association with The Knot and Brittany Snow in NYC. Then it's the annual Valentine's Love Party with Marcia Selden Catering. From there, I head down to Longboat Key, Florida for my first wedding of 2020. I head back to Bloomingdale's on 59th Street for their annual wedding event. It's a Latin themed flair and open to the public. Come join me there – it's always a good time. My monthly Birthday Party Project Spotify playlist is live and ready to go – the theme this month is Emoji. I close out the month with a speaking engagement in Philadelphia with The Bridal Masterclass. Quite the mix of events this month – just the way I like it.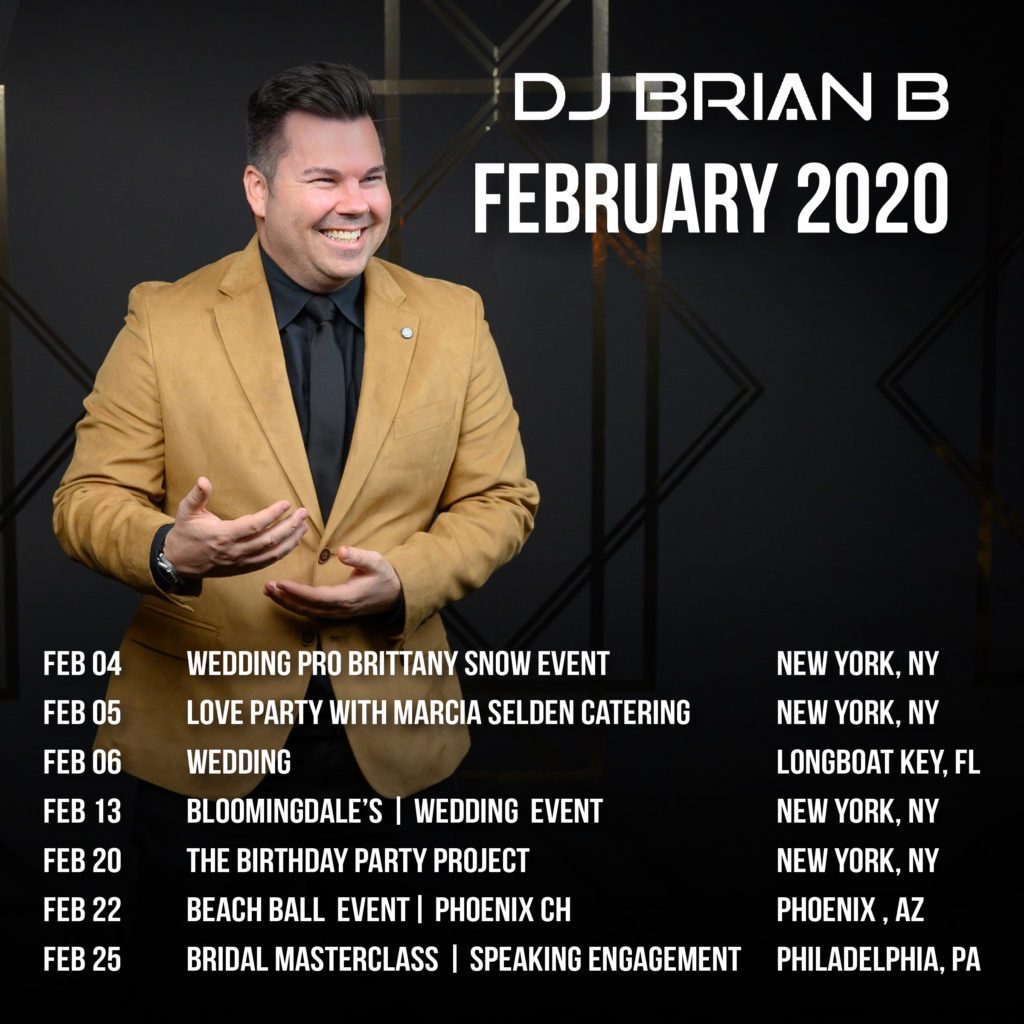 January is always an interesting month in my yearly schedule. Weddings don't typically kick in until February so it's generally a mix of corporate and social events. I'll be headlining the Hustle and Flow Welcome party in Orlando then it's up to the panhandle for a non-profit event. From there, I'm headed to Anaheim for the NAMM Show. I'll be hanging with the Pioneer DJ crew as well as recording a podcast episode for A Tribe Called Dad at the Electro-Voice booth. That weekend, I go up to West Hollywood for a private event with Simply Troy being held inside Tao. The following week I'll be the keynote speaker at the inaugural Chicago DJ Association meeting. Then I close out the month with The Birthday Party Project's 8th birthday in Dallas. Hope to see some of my friends across the US.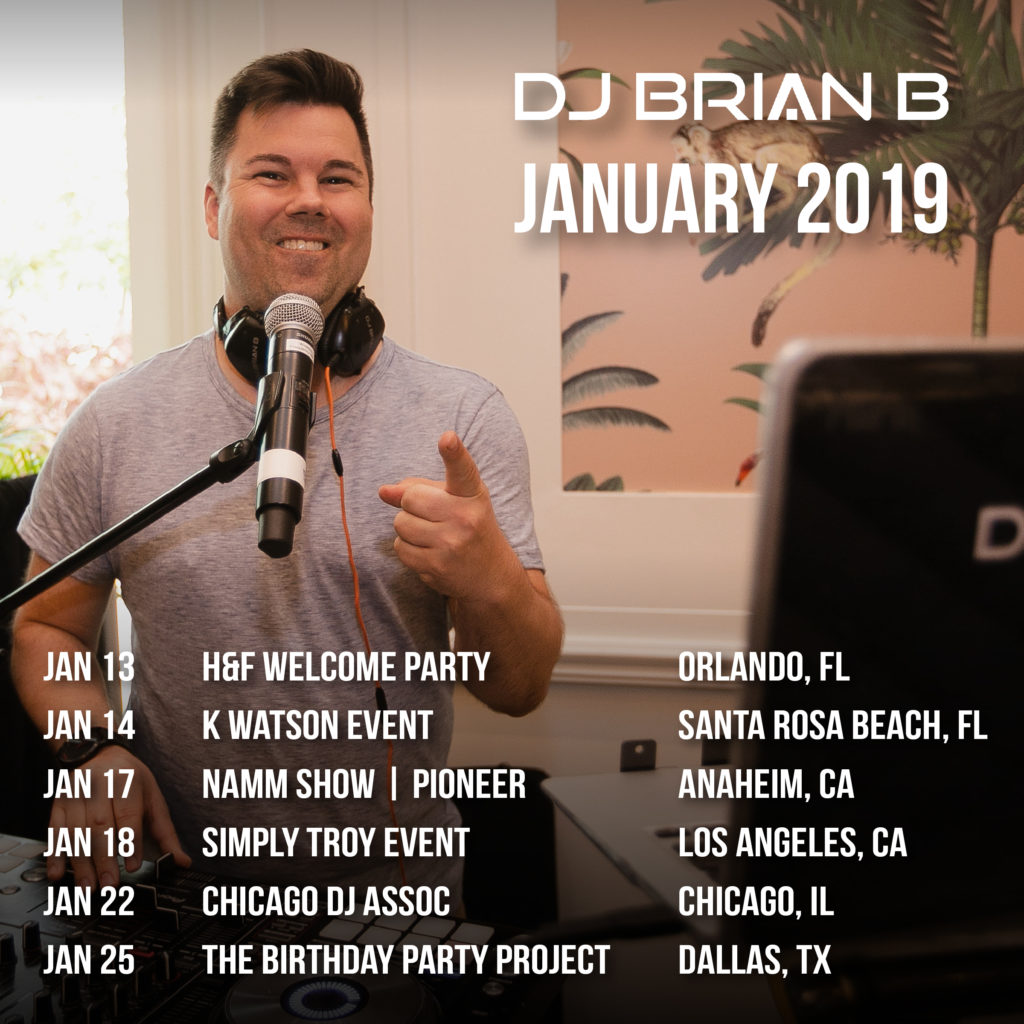 This past weekend I was able to be a part of the Birthday Party Project Turns 7 event held at the Bomb Factory in Dallas, Texas. To help with the festivities, I put together a pre-party mix. Knowing a lot of the party-goers are a part of the event industry, this couldn't be just a playlist. It needed to be fresh and have a DJ Brian B spin to it. A lot of the latest tracks trending on the charts with a large focus on Ariana Grande who has been killing it lately. Click on to the samples page of this site to snag a listen and if you're feeling it, please leave a comment AND favorite the mix. Thanks in advance!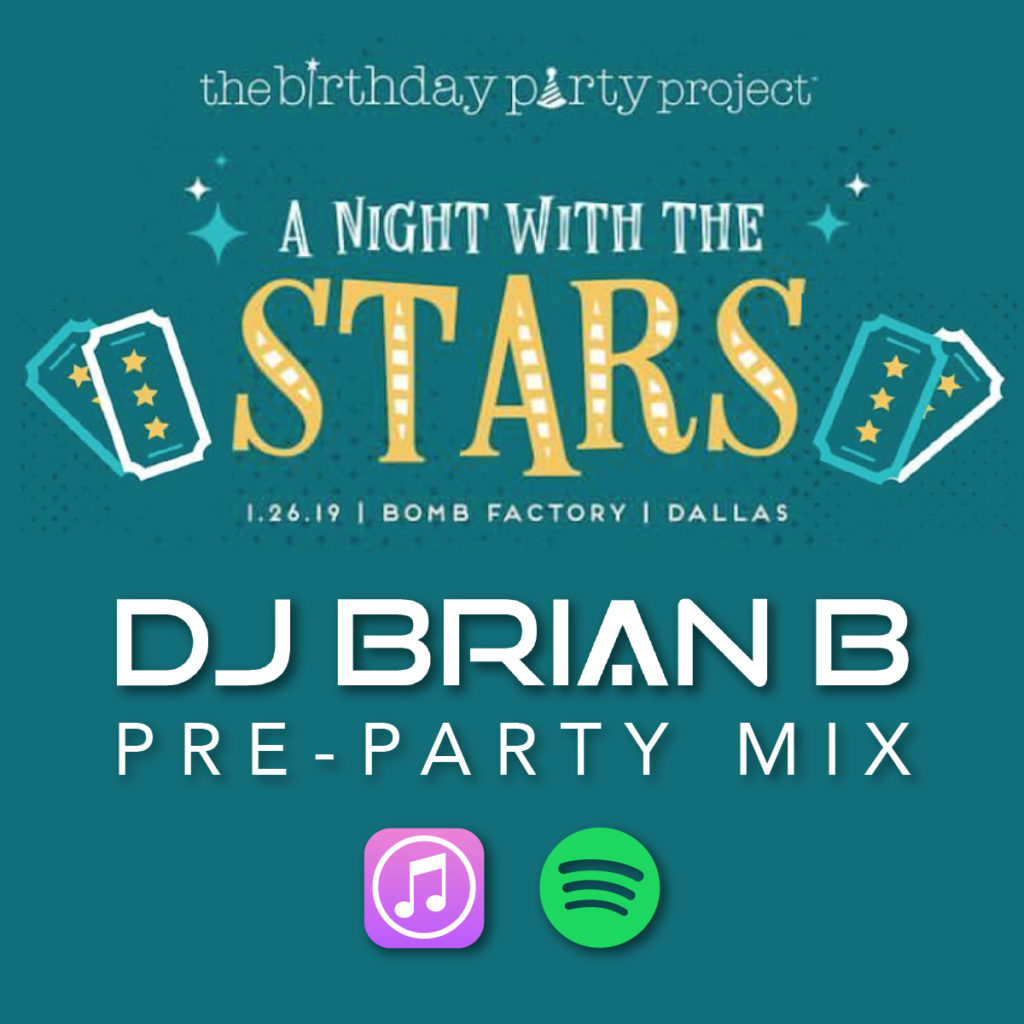 No rest for the weary – just the way I like it. Here's my DJ Brian B January 2019 Schedule. It may seem a bit light on the event side but that just means I've got some projects in the works that will soon be released (hint: podcast, new mixes, video series, etc.) as well as being able to connect with some of the my colleagues, site visits and writing for some industry publications.
As far as events, I'm flying back now from St Barths where I spent 2 weeks for Festive performing for a ton of super exclusive VIP parties (sorry, I'm under a NDA) and some public resort events for Le Sereno. Then I leave tomorrow morning for Naples, FL to DJ a wedding at the Ritz Carlton. Next week I'll be at Bloomindale's for the annual wedding event at the 59th Street flagship store. I've got another wedding in Monticello FL and then corporate and non-profit events the rest of the month. As always, be sure to check my schedule here as new events pop up all the time within the month.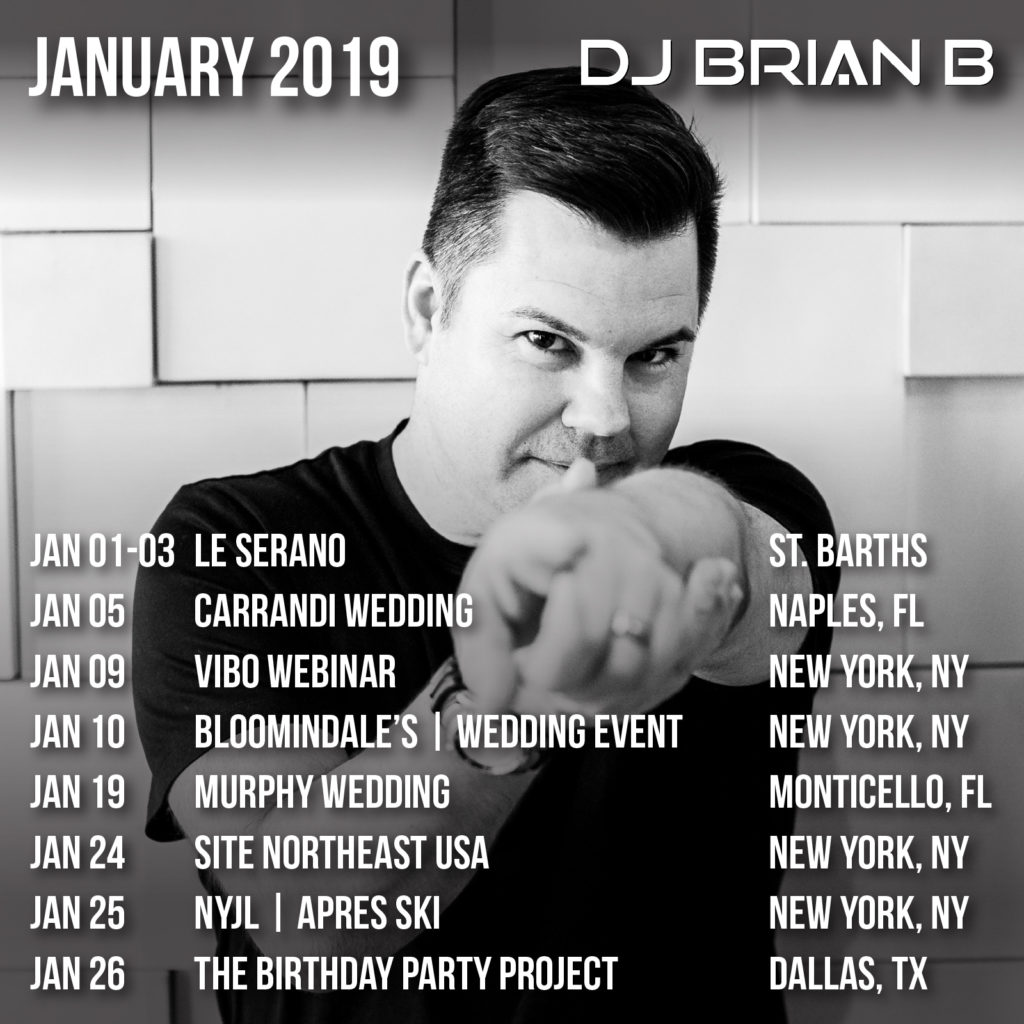 Posted in
Events
by
DJBrianB
| Tags:
Corporate Events
,
DJ Brian B
,
FL Wedding
,
Four Seasons Resort and Club Dallas at Las Colinas
,
Jacqueline Events
,
Nassau Inn
,
NJ Wedding
,
Norwood
,
Studio 241
,
The Birthday Party Project
,
The Knot Pro Workshop
,
The White Room
,
Wedding DJ
Some fantastic events on tap in the September 2018 DJ Brian B Schedule as we head into the Fall.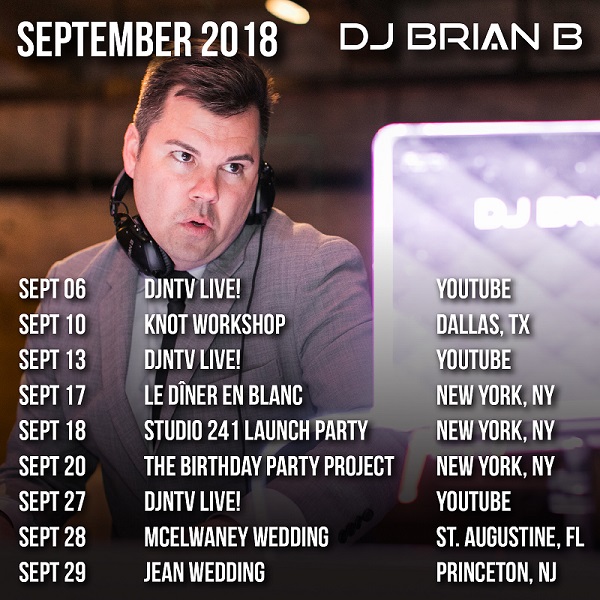 I start with the Knot Pro Workshop in Dallas, TX at the Four Seasons Resort and Club Dallas at Las Colinas. The event is being planned by Jacqueline Events. Then it's time to prep for 6,000 New Yorkers who will be partying at the infamous Le Dîner en Blanc – New York event. If you aren't familiar with this, you need to be. It's one of the most unique events I've ever been a part of. Following that is the Studio 241 Launch Party at the Norwood Club. The monthly "Birthday Party Project" is on September 20th. I finish the month with 2 weddings – one at the White Room in St. Augustine, FL and the very next night I'll be at the Nassau Inn in Princeton, NJ.
Posted in
Events
by
DJBrianB
| Tags:
A Riot Of Color
,
David Beahm Experiences
,
Destination Wedding
,
Disc Jockey News
,
John Gandy Events
,
Mobile Beat
,
SXSW
,
The Birthday Party Project
,
Wedding DJ
,
WIPA
,
YouTuber
I'm hoping Spring is around the corner because these cold temperatures are getting ridiculous out here in NYC. Good news, I've got a Turks & Caicos trip on the March 2018 Brian B Event Schedule. This month is chalk full of events. I'll be working with John Gandy Events for the first time in 2018. Other events include a return to the Norwood Club, Mobile Beat with VIBO, SXSW in Austin, Texas, The Birthday Party Project, a David Beahm Experiences event, WIPA, and of course Disc Jockey News TV (every Thursday at 9PM EST).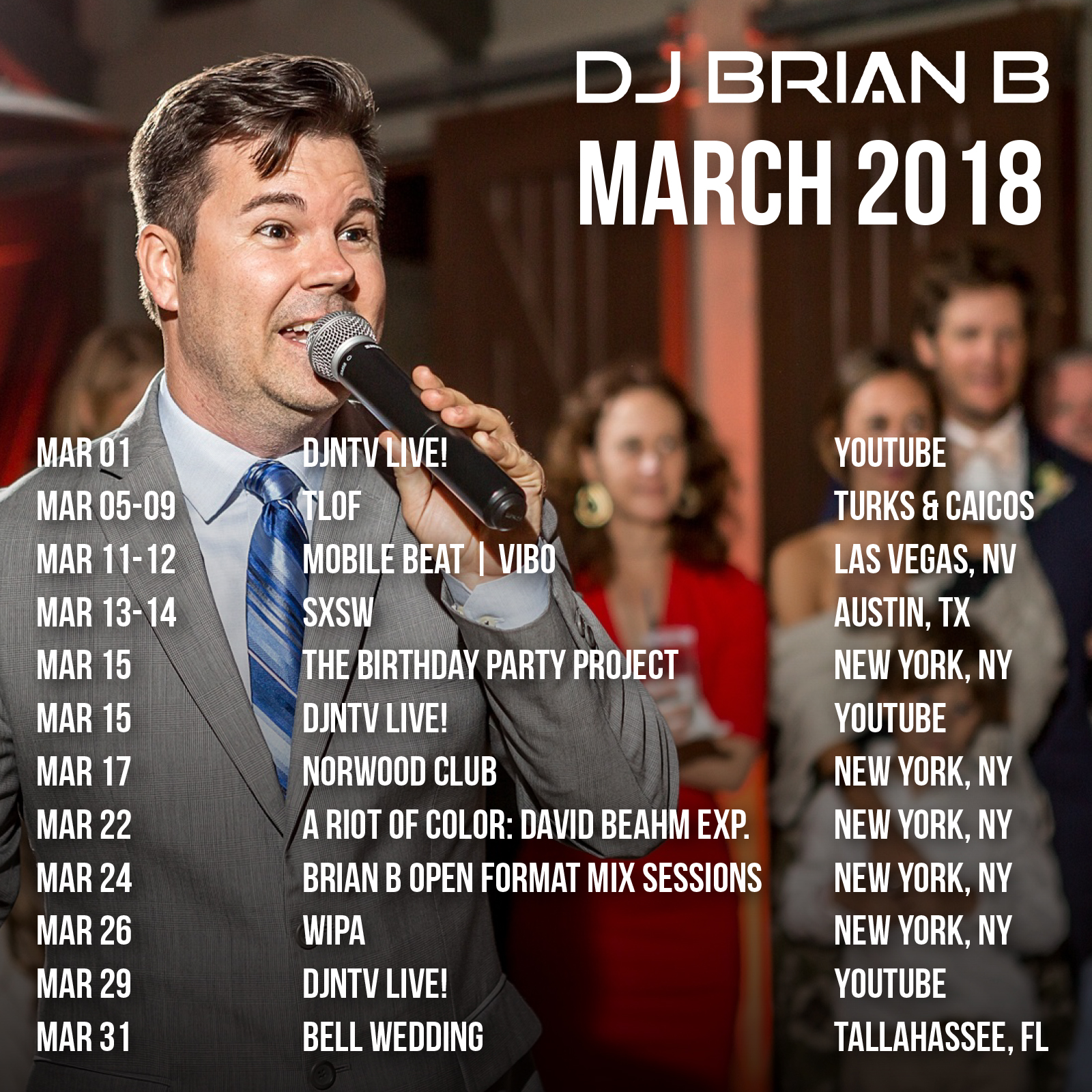 Hot off the presses ~ the February 2018 Brian B Event Schedule. I'm continuing my YouTube show with KC every Thursday night at 9PM EST. I'll be back at the Norwood Club in NYC early on in the month which is always a good time. I'll be playing LIVE at the Birthday Party project at all 3 NYC locations. I've got a corporate event with the American Bar Association as well a destination wedding to round out the month. Be sure to watch for a new mix to drop this month on my samples page.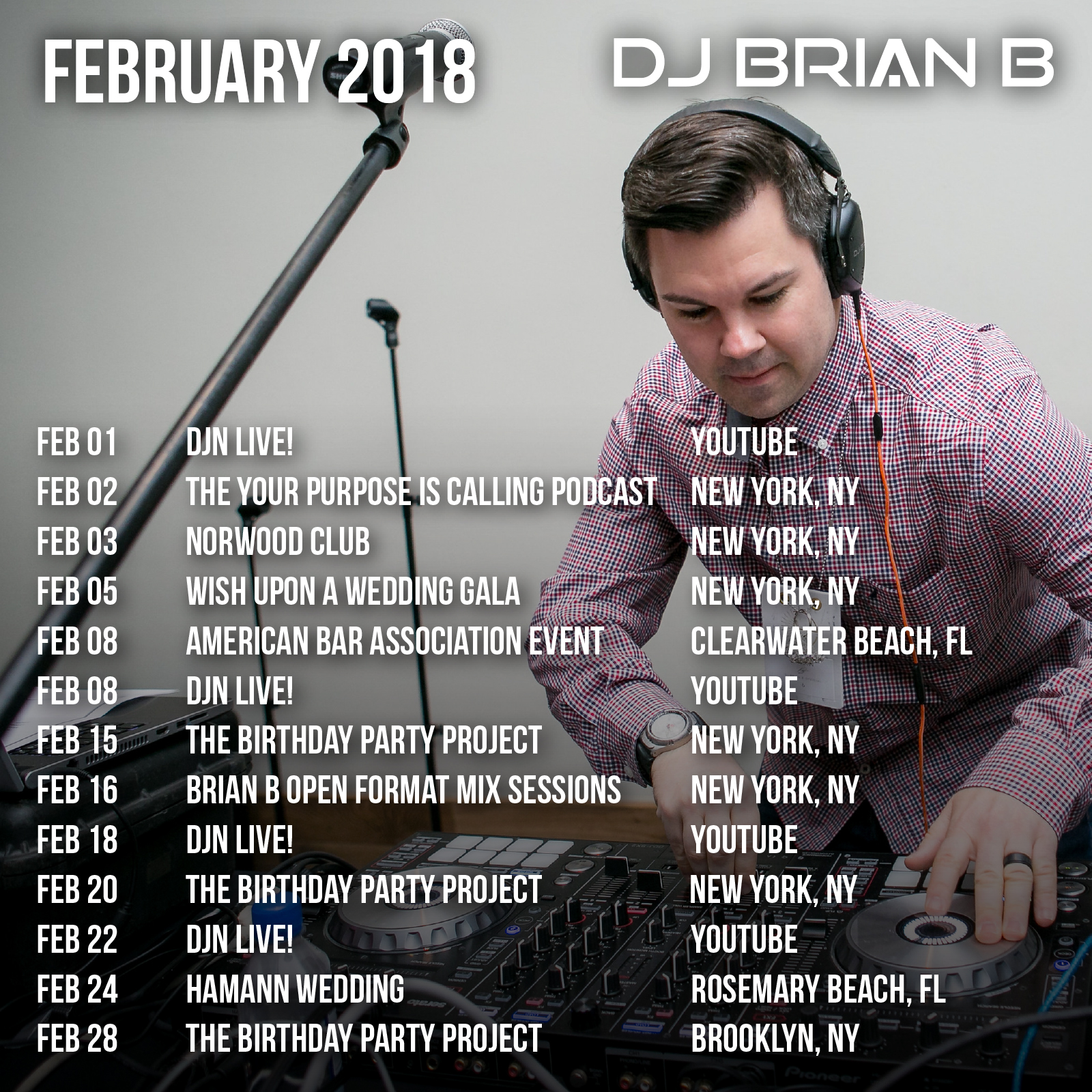 The official January 2018 Brian B Event Schedule is lock and loaded. Typically, the Winter is quiet in the DJ industry. I've got a little bit of everything going on – industry shows, corporate events, a wedding, a mix show, some non-profit events and the start of a weekly YouTube show for Disc Jockey News. No slow down in sight. Check my calendar here to see which ones are public events. I'd love to see you!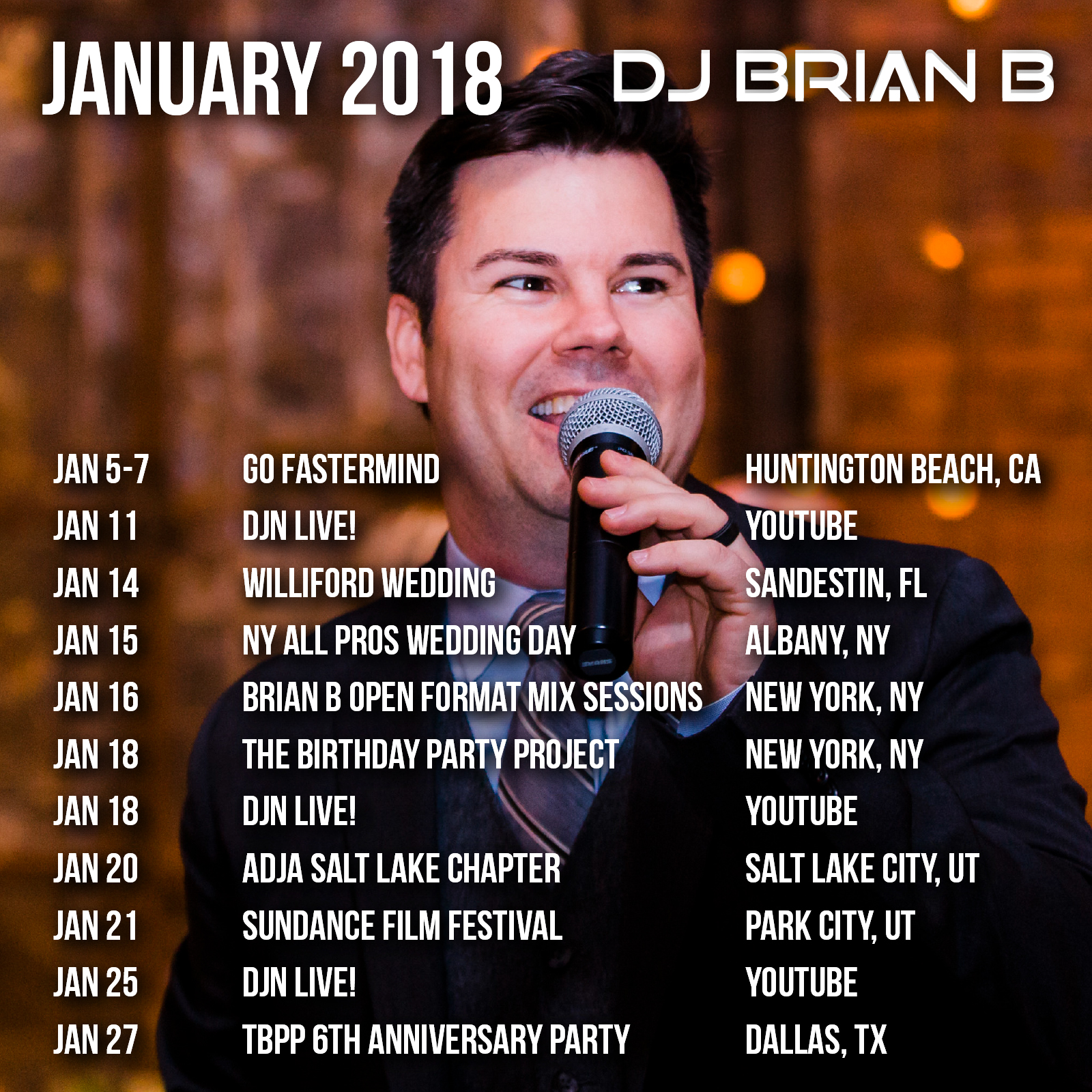 The DJ Brian B Official August 2016 schedule is inked!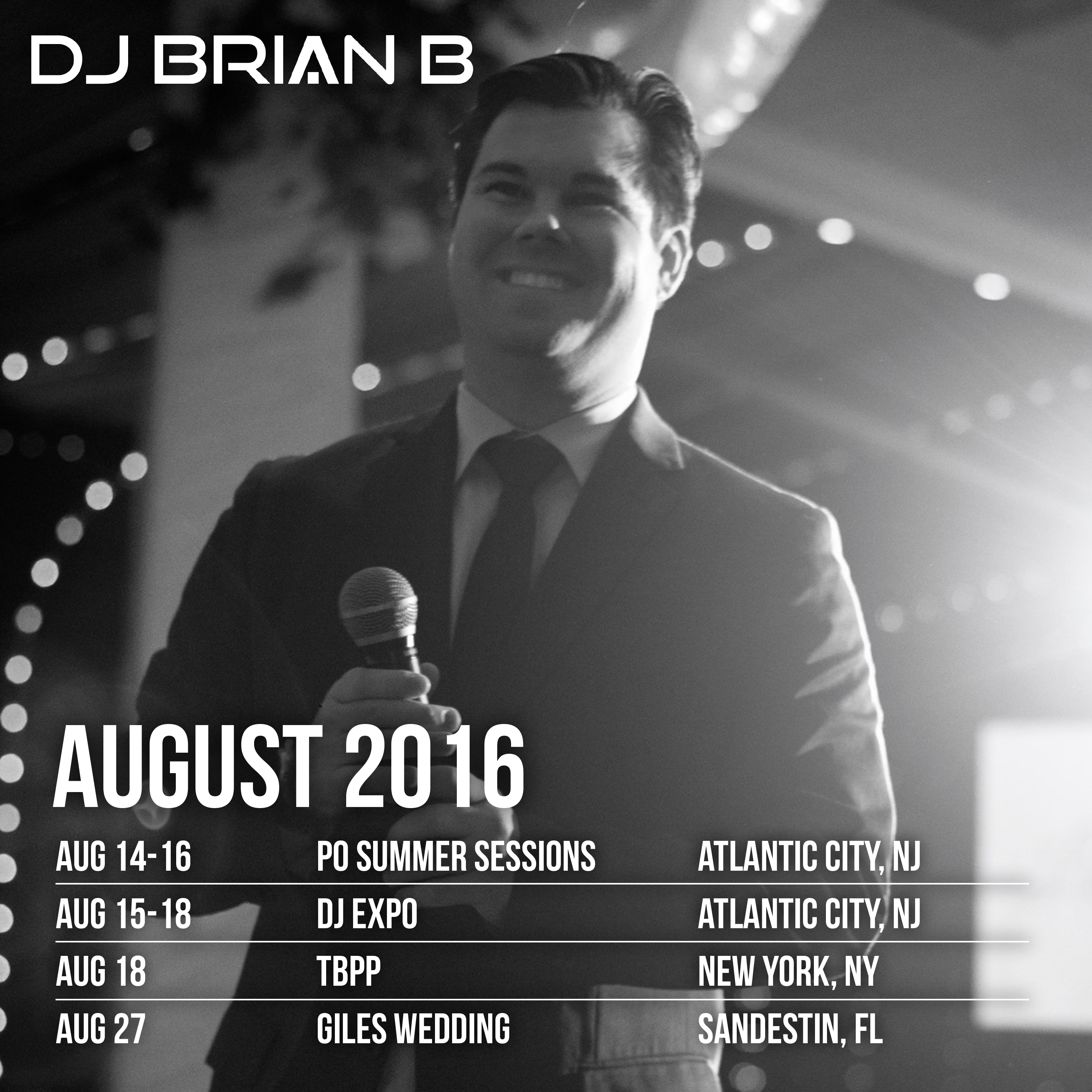 In all of my regular markets, August is generally too hot for outdoor events. So it's corporate event season indoors until the end of the month.
On tap this month, I start with the Promo Only Summer Sessions, an industry conference for mixshow radio DJs. It gives us a glimpse of some of the upcoming musical acts soon to break in radio. Cary Vance and the folks at Promo Only Promotions do a fantastic job with this one.
Then it's the DJ Expo near the AC boardwalk which is geared for the private event and club DJs. I've been attending that show since 1997 – 19 years! It was one of my first industry shows I ever went to. This year is special because I'll actually be speaking for the first time. I've put a ton of time into my presentation which I've titled "The Client Experience Matters". It was important to me to put my hat in the ring as a presenter and give back to the industry that has done so much for me.
I get back to New York and will be volunteering for The Birthday Party Project. Last month was an incredible experience and I'm looking forward to increasing my presence at as many of these as I can. If you're in NYC, join me!
I conclude the month with the Giles Wedding at the Sandestin Golf & Beach Resort in Sandestin, FL. The bride and I have been going back and forth on things for a few weeks now and I'm really looking forward to this luxury wedding. The B-Boy Productions, Inc. crew will be handling the majority of the event and I will be unveiling my latest DJ set-up. So pumped to show it off.
Subscribe To Newsletter
Categories