Home
/ Articles posted by DJBrianB
Author Archives: DJBrianB
Well, I got through my March 8th event before our world turned upside down. The rest of the events for March, April and most of May have now been postponed. This is an unprecedented time and we all have two choices – mope around feeling depressed or do something about it! I'm a glass half full type guy so I chose the latter. I don't do a ton of public events these days but April you get a chance to see and dance with me all month long….from the comfort of you own home. I'm LIVE-STREAMING! To keep it interesting, I'm flipping the format regularly. Go to my schedule page and there will be clickable links for the different set dates/times/locations OR….just follow me on IG or The BOOK and change your notifications to get pinged when I go live. We'll get through this people. Music is a powerful thing. Stay safe, keep the faith and I'll see you online.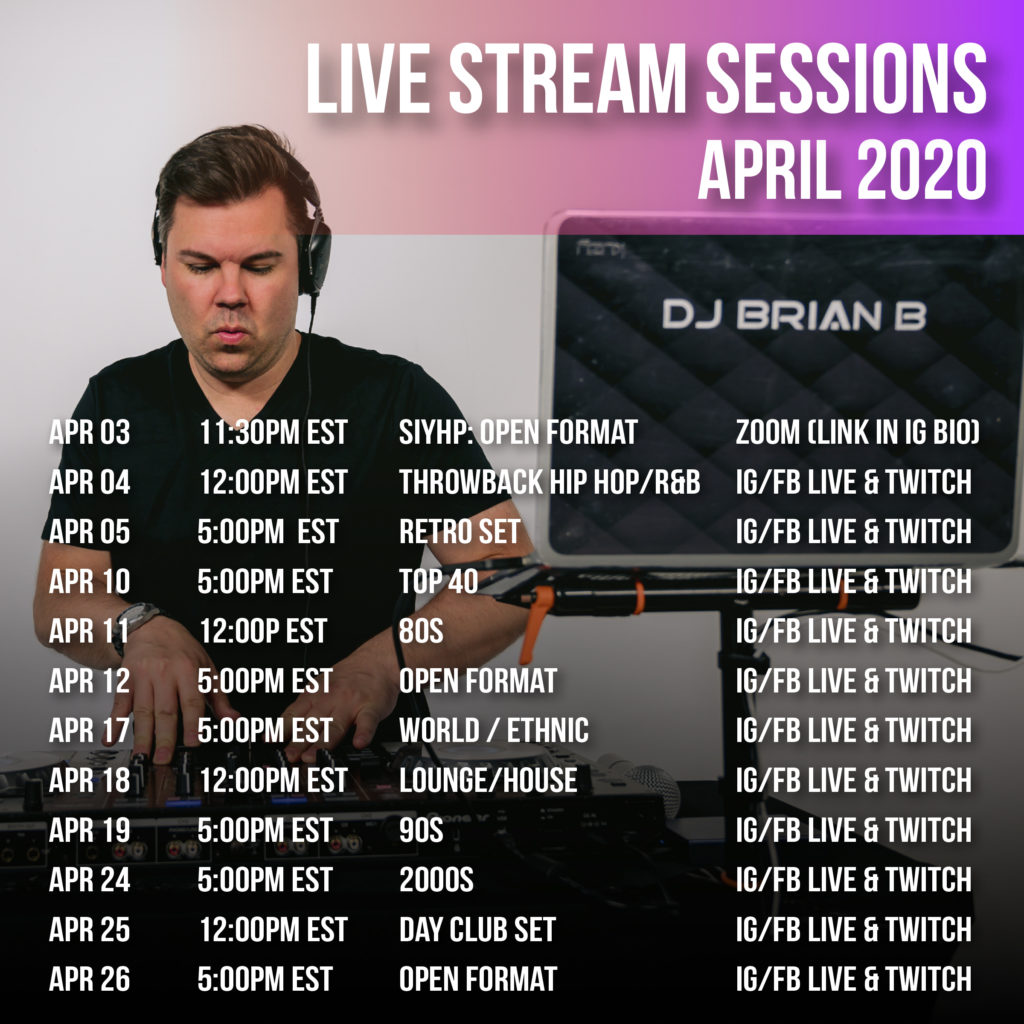 March 2020 starts with my first international trip of the year – Dubai for the Engage Summits where I'm the resident DJ for the main sessions. I'll also be headlining the Welcome Party literally in front of the Burj Khalifa. I've never been to Dubai so looking forward to this experience. From there, I'm headed straight to Florida for a wedding with John Gandy Events and then I'll be headlining the Shoreline 15 year Anniversary Party. I return to SXSW for the fourth year in a row. Then it's off to SoCal for the DK Housewarming weekend in Palm Springs. The Birthday Party Project March theme is "Art". The Spotify playlist is live. Then I close out the month with a wedding in Atlanta, GA. Let's get this thing started!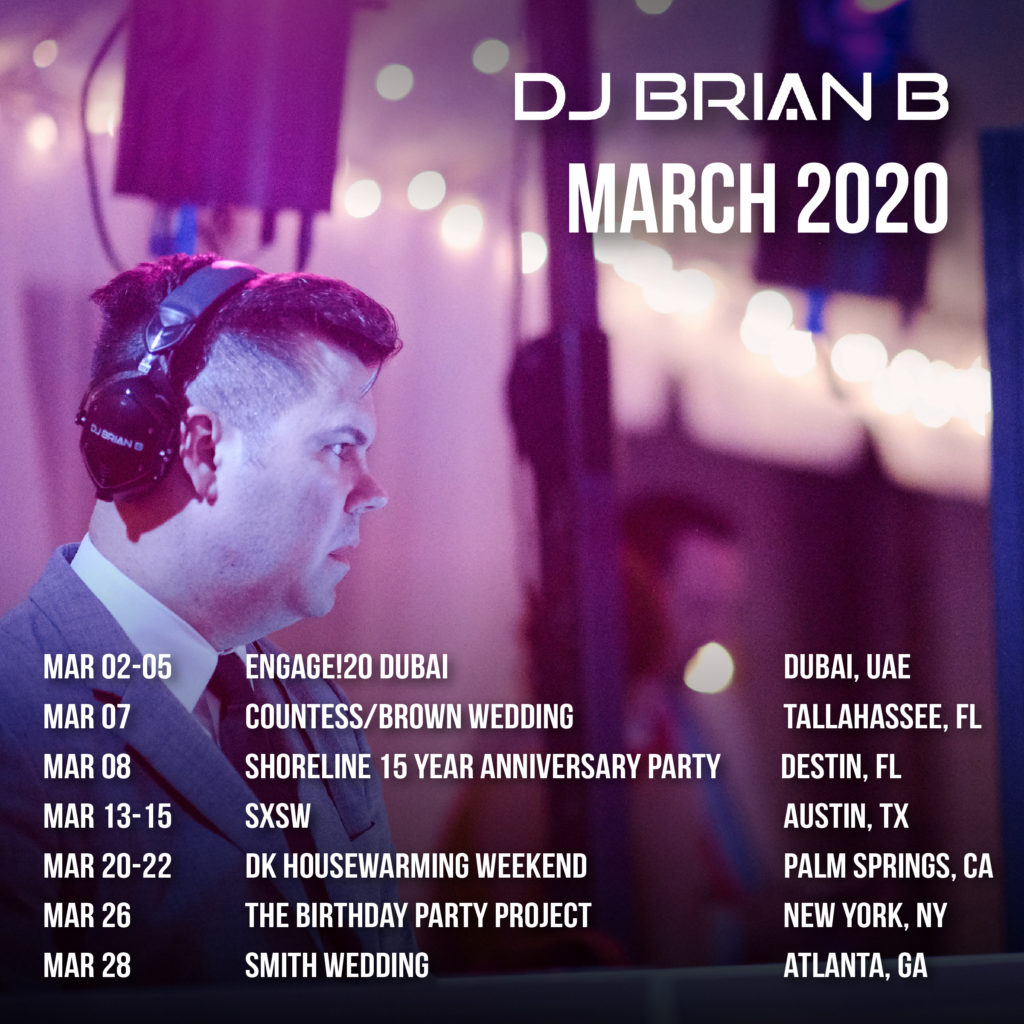 Somewhat mild winter weather so far in 2020. Let's hope it continues. I kick February 2020 off by DJ'ing a party in association with The Knot and Brittany Snow in NYC. Then it's the annual Valentine's Love Party with Marcia Selden Catering. From there, I head down to Longboat Key, Florida for my first wedding of 2020. I head back to Bloomingdale's on 59th Street for their annual wedding event. It's a Latin themed flair and open to the public. Come join me there – it's always a good time. My monthly Birthday Party Project Spotify playlist is live and ready to go – the theme this month is Emoji. I close out the month with a speaking engagement in Philadelphia with The Bridal Masterclass. Quite the mix of events this month – just the way I like it.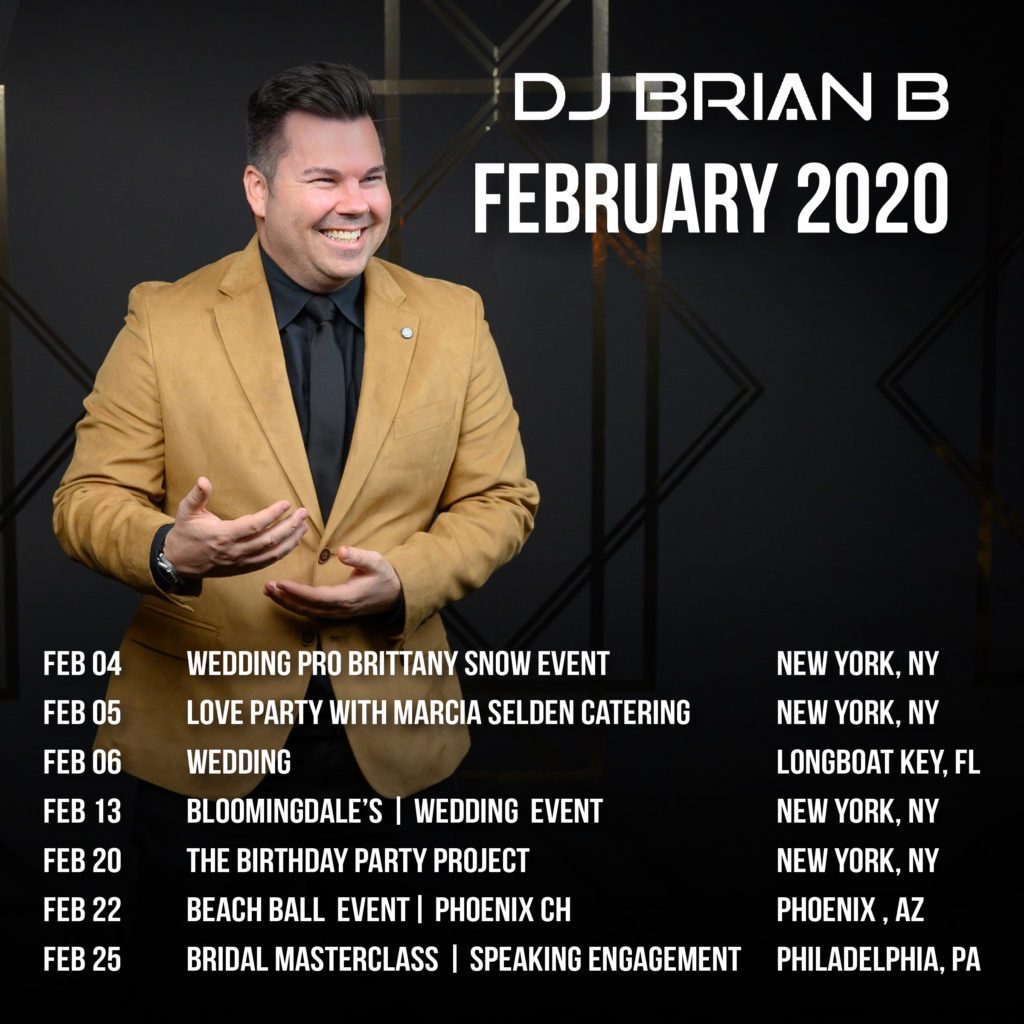 January is always an interesting month in my yearly schedule. Weddings don't typically kick in until February so it's generally a mix of corporate and social events. I'll be headlining the Hustle and Flow Welcome party in Orlando then it's up to the panhandle for a non-profit event. From there, I'm headed to Anaheim for the NAMM Show. I'll be hanging with the Pioneer DJ crew as well as recording a podcast episode for A Tribe Called Dad at the Electro-Voice booth. That weekend, I go up to West Hollywood for a private event with Simply Troy being held inside Tao. The following week I'll be the keynote speaker at the inaugural Chicago DJ Association meeting. Then I close out the month with The Birthday Party Project's 8th birthday in Dallas. Hope to see some of my friends across the US.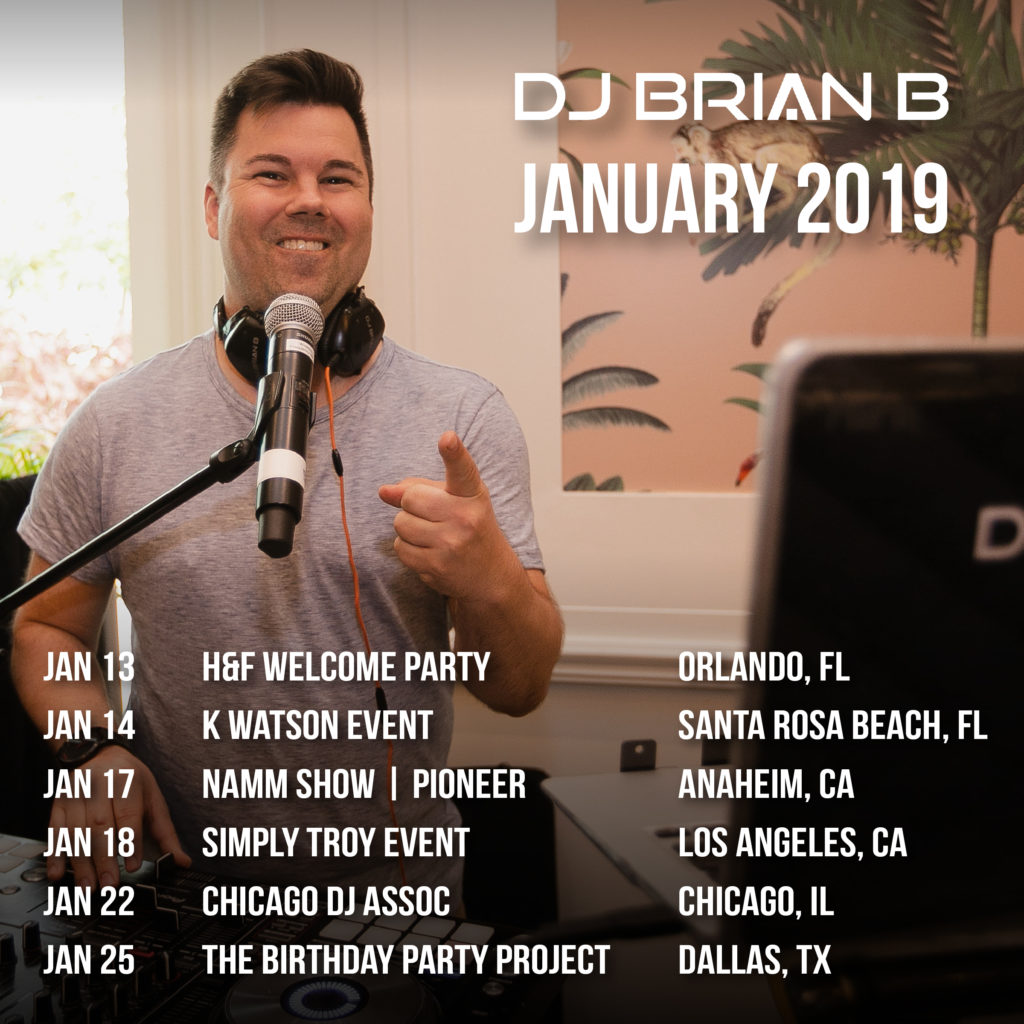 This past weekend I was able to be a part of the Birthday Party Project Turns 7 event held at the Bomb Factory in Dallas, Texas. To help with the festivities, I put together a pre-party mix. Knowing a lot of the party-goers are a part of the event industry, this couldn't be just a playlist. It needed to be fresh and have a DJ Brian B spin to it. A lot of the latest tracks trending on the charts with a large focus on Ariana Grande who has been killing it lately. Click on to the samples page of this site to snag a listen and if you're feeling it, please leave a comment AND favorite the mix. Thanks in advance!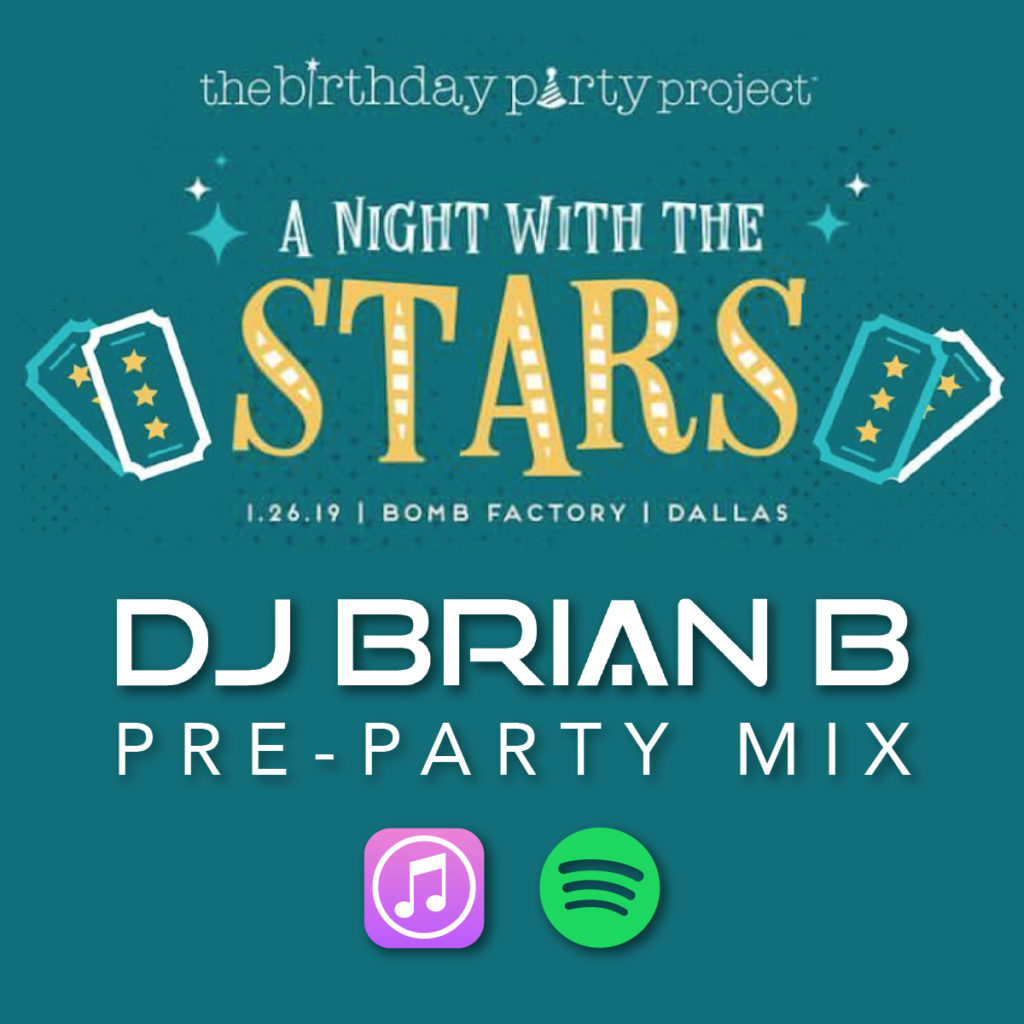 In an effort to help with those who travel (especially DJs), I'm starting a new series of posts with videos giving out some advice on things I've learned in my years on the road – the series is called "Travel Tips with DJ Brian B". Everything from apps I use to tricks to maximize your budget to what and how I pack and beyond will be covered here. In this first video, I break down what bags I use and why as well as how I pack those bags. Check it out here.
In an effort to give back to the DJ Community, I'm hosting monthly webinar style series with various successful colleagues in the DJ industry for the Disc Jockey News. This month the series is Hiring and Retaining DJ Staff. My co-host for this January series is none other than Chris Romero from Cutmaster Music out of Albuquerque, New Mexico. We'll be covering the following topics:
episode 1: When is the right time to hire
episode 2: Where to find candidates
episode 3: What to look for in staff members
episode 4: How to set-up the interview
episode 5: Interview questions to ask
episode 6: First Interview – things to look for and Second interviews – what do these look like
episode 7: training overview
episode 8: Employee manual and company training materials
episode 9: Retaining staff
episode 10: Incentives for staff advancement
episode 11: Evaluating staff
episode 12: How to remove a staff member
We just dropped the first 4 episodes today. We'll have 4 more next week and then conclude the series with the final 4 at the end of the month. You can view the entire playlist here.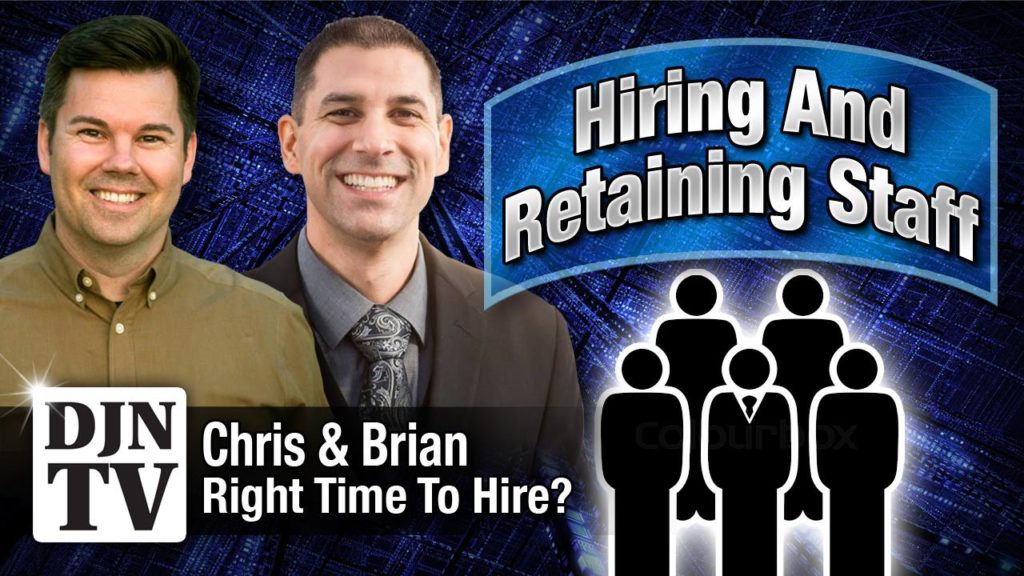 At the end of 2018, I had an incredible opportunity to partner with Le Sereno Hotel in St Barths and play during Festive for some VIP events (both public and private). Over the course of the next few weeks, I'm going to release a few volumes of my "St Barths Festive Mix". These are actual mixes done at the resort. I had full creative license over the feel and vibe of the musical content played so I made a point to mix it up daily so it wouldn't get stale. Keeping people wondering what to expect every day was a highlight for me – I even surprised myself because so many factors would affect the mix – guest count, time of day, the weather, etc. In Volume 1, it's more of a lounge/house vibe with a few signature Brian B twists. Be sure to give this a listen. You can visit the samples page of this website to hear it. Be sure to leave a comment and give it a heart. Also, feel free to share with others. The goal with releasing so many mixes this year is to show the diversity of events I'm DJ'ing. It's rare to find a DJ with such a wide musical range. Hope you enjoy!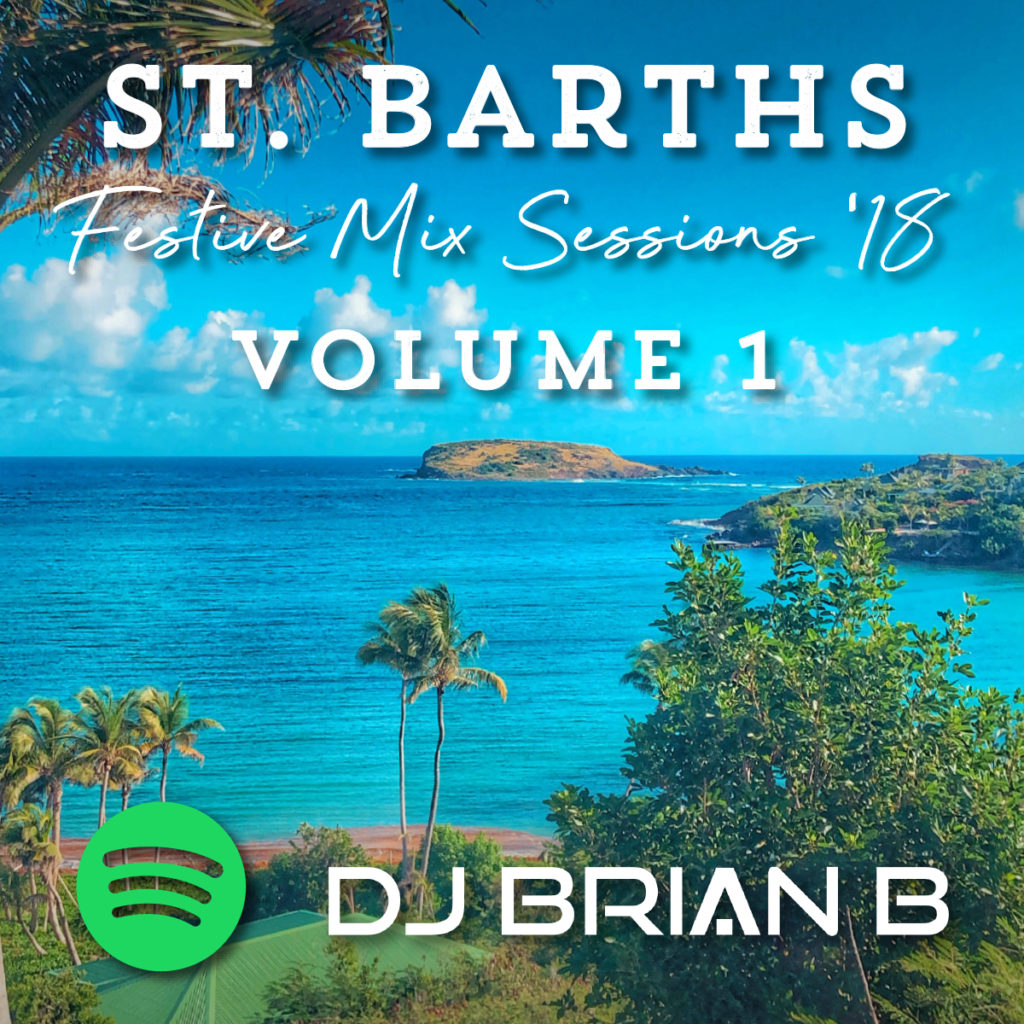 Guys, it is here – The Travel DJ Blend Podcast is officially live! I've been wanting to do this for no joke 2 or 3 years!!! Seriously, can't believe I finally am doing this. That old nemesis of mine – "fear of perception" had a stranglehold on me but 2019 is the year I bust through that. The "blend" is a what I do when I DJ. That is, mixing songs together. I hope to do this on this podcast – not only with the type of episodes but the content as well. I'll have mixes here (hoping to post 52 of them – once a week) as well as interviews, my takes on life and business, travel tips, etc. The audience this is intended for is pretty broad as well – obviously DJs will be get a lot of it, industry colleagues, clients, family and friends. It is available in 2 places – iTunes and Spotify. My goal here is to show transparency and realness but also help others and give you a 20 minute weekly dose of inspiration. If you walk away with those things, this will have all been worth it. Be sure to give it a listen to see if it's your cup of tea. If it is, give me a rating and a comment. Enjoy!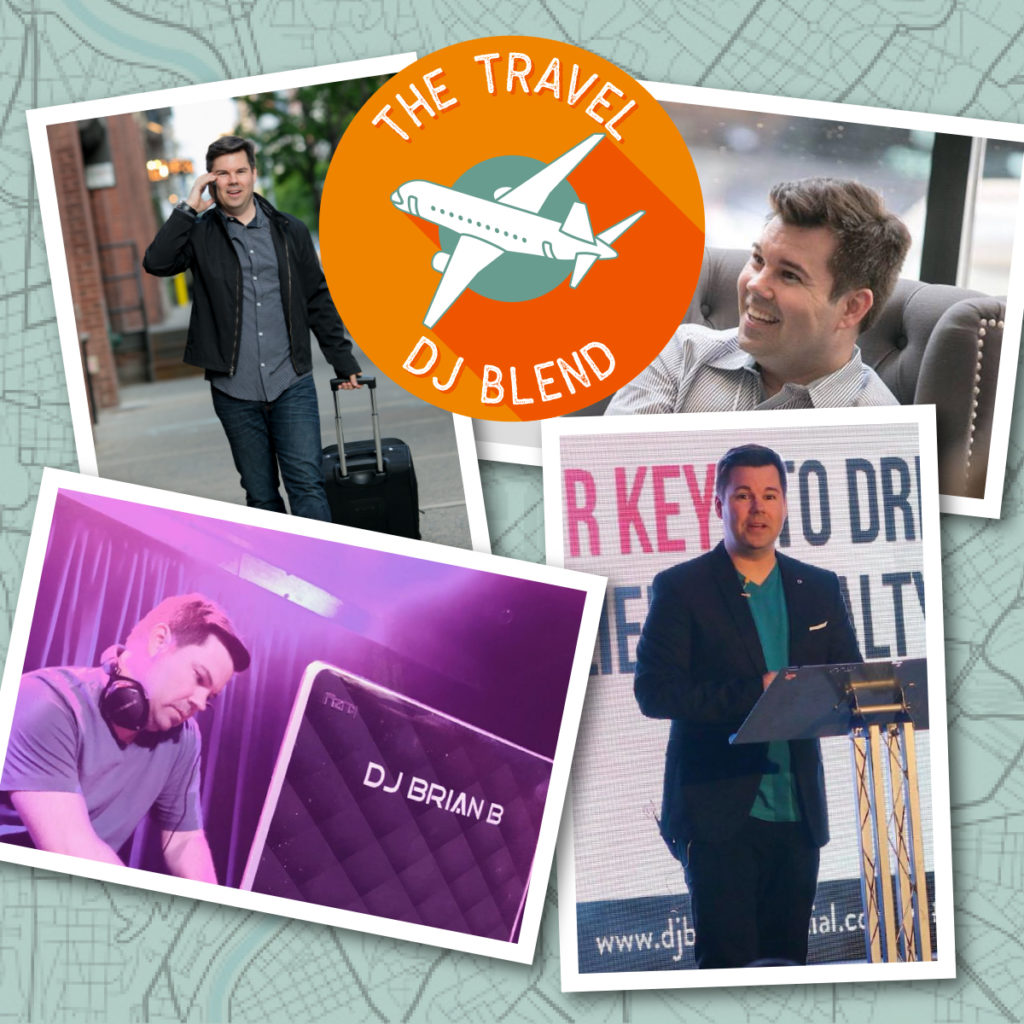 Looking for a fresh update to your music library? I got you. Just made my Winter 2019 Spotify Playlist public. This is updated just about every week so be sure to subscribe to and check back often. So far I've got one of my favorite artists I'm digging right now "Tom Misch" kicking off the playlist and then some signature Chromeo as well as an artist you will soon love – Funk LeBlanc. Some cool 80s covers are in the mix here as well a band that was my favorite find of 2018 – Outlya. I'm going to go listen right now! You should too.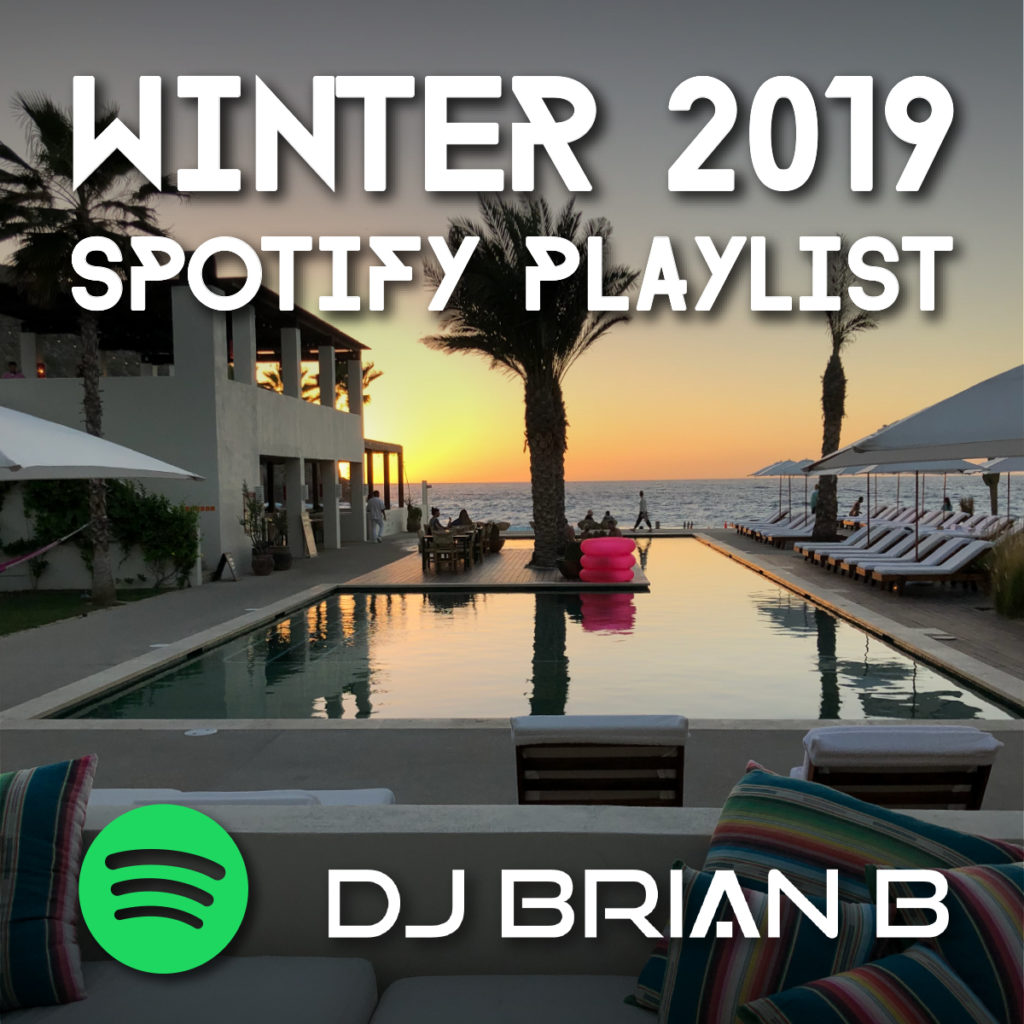 Subscribe To Newsletter
Categories