Home
/ Archive by category "Events"
Category Archives:
Events
Well, I got through my March 8th event before our world turned upside down. The rest of the events for March, April and most of May have now been postponed. This is an unprecedented time and we all have two choices – mope around feeling depressed or do something about it! I'm a glass half full type guy so I chose the latter. I don't do a ton of public events these days but April you get a chance to see and dance with me all month long….from the comfort of you own home. I'm LIVE-STREAMING! To keep it interesting, I'm flipping the format regularly. Go to my schedule page and there will be clickable links for the different set dates/times/locations OR….just follow me on IG or The BOOK and change your notifications to get pinged when I go live. We'll get through this people. Music is a powerful thing. Stay safe, keep the faith and I'll see you online.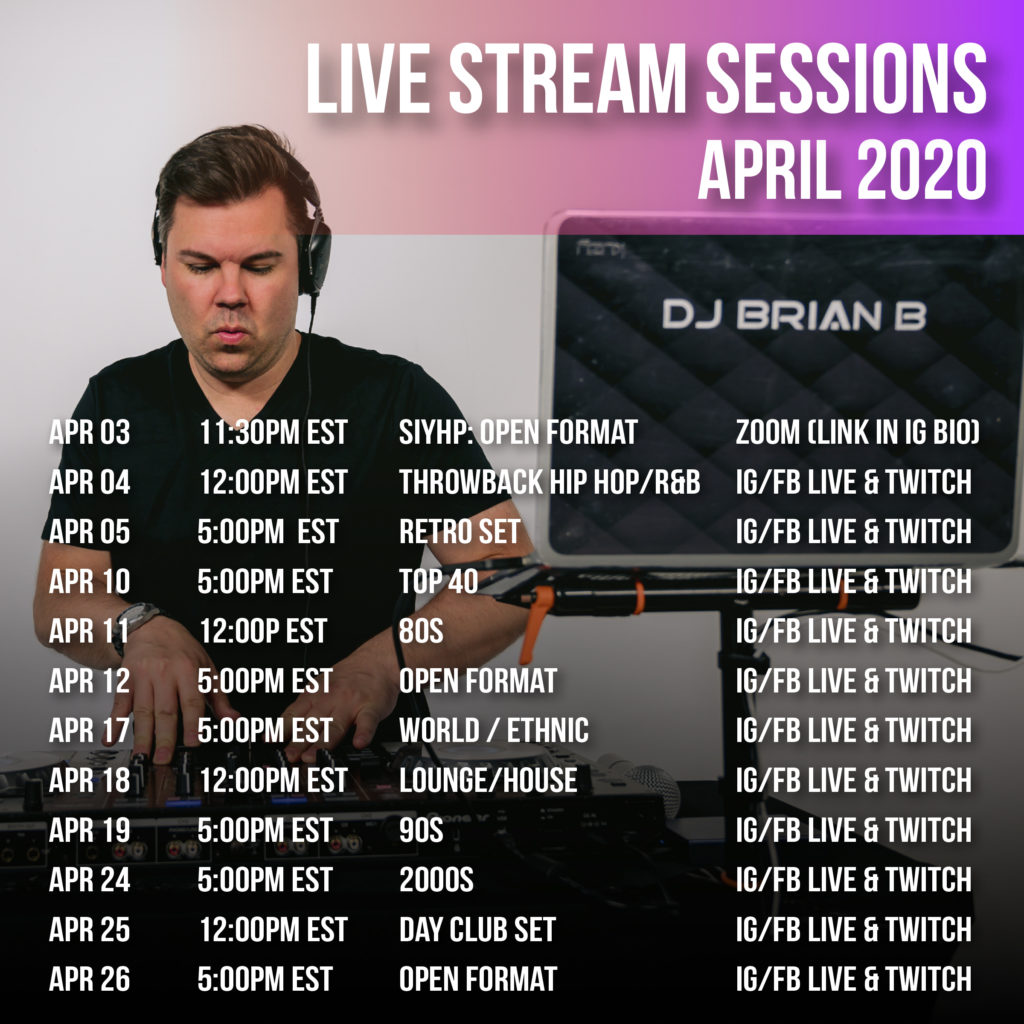 Somewhat mild winter weather so far in 2020. Let's hope it continues. I kick February 2020 off by DJ'ing a party in association with The Knot and Brittany Snow in NYC. Then it's the annual Valentine's Love Party with Marcia Selden Catering. From there, I head down to Longboat Key, Florida for my first wedding of 2020. I head back to Bloomingdale's on 59th Street for their annual wedding event. It's a Latin themed flair and open to the public. Come join me there – it's always a good time. My monthly Birthday Party Project Spotify playlist is live and ready to go – the theme this month is Emoji. I close out the month with a speaking engagement in Philadelphia with The Bridal Masterclass. Quite the mix of events this month – just the way I like it.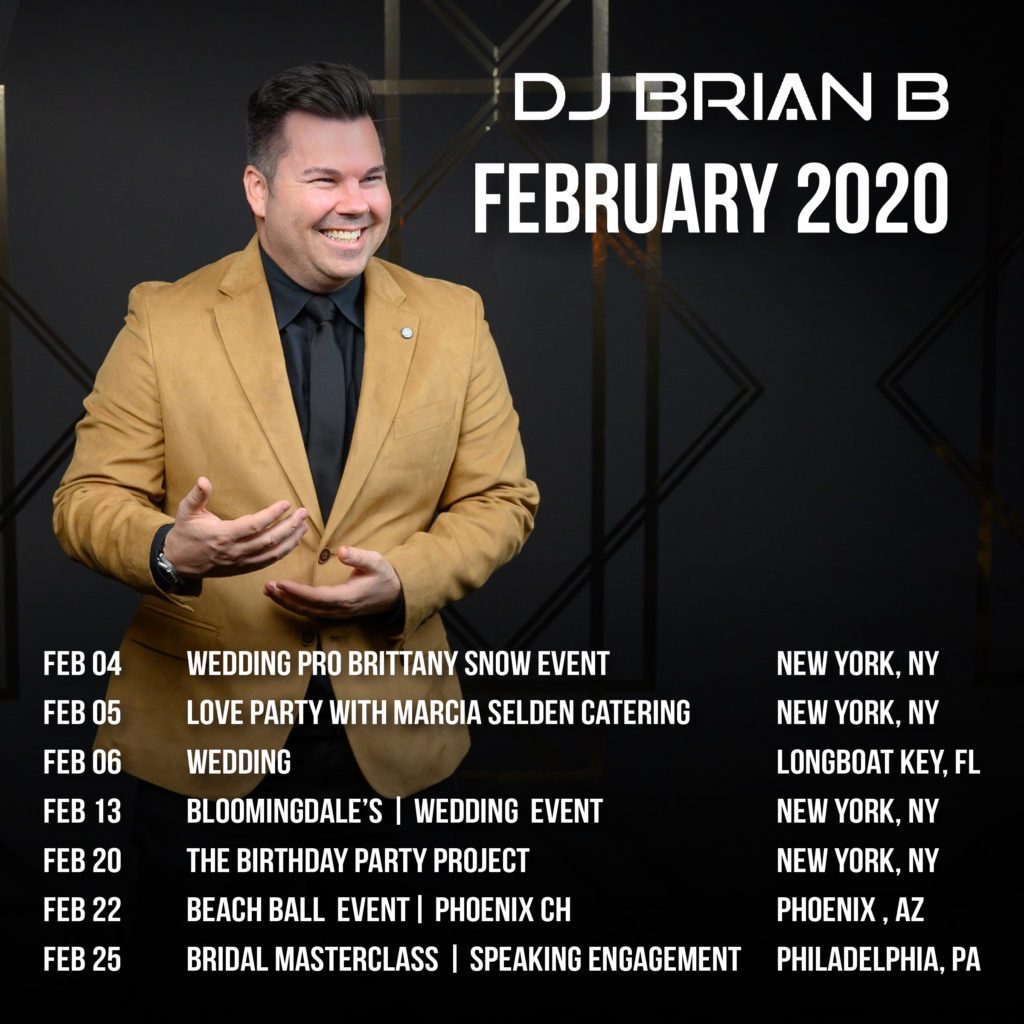 January is always an interesting month in my yearly schedule. Weddings don't typically kick in until February so it's generally a mix of corporate and social events. I'll be headlining the Hustle and Flow Welcome party in Orlando then it's up to the panhandle for a non-profit event. From there, I'm headed to Anaheim for the NAMM Show. I'll be hanging with the Pioneer DJ crew as well as recording a podcast episode for A Tribe Called Dad at the Electro-Voice booth. That weekend, I go up to West Hollywood for a private event with Simply Troy being held inside Tao. The following week I'll be the keynote speaker at the inaugural Chicago DJ Association meeting. Then I close out the month with The Birthday Party Project's 8th birthday in Dallas. Hope to see some of my friends across the US.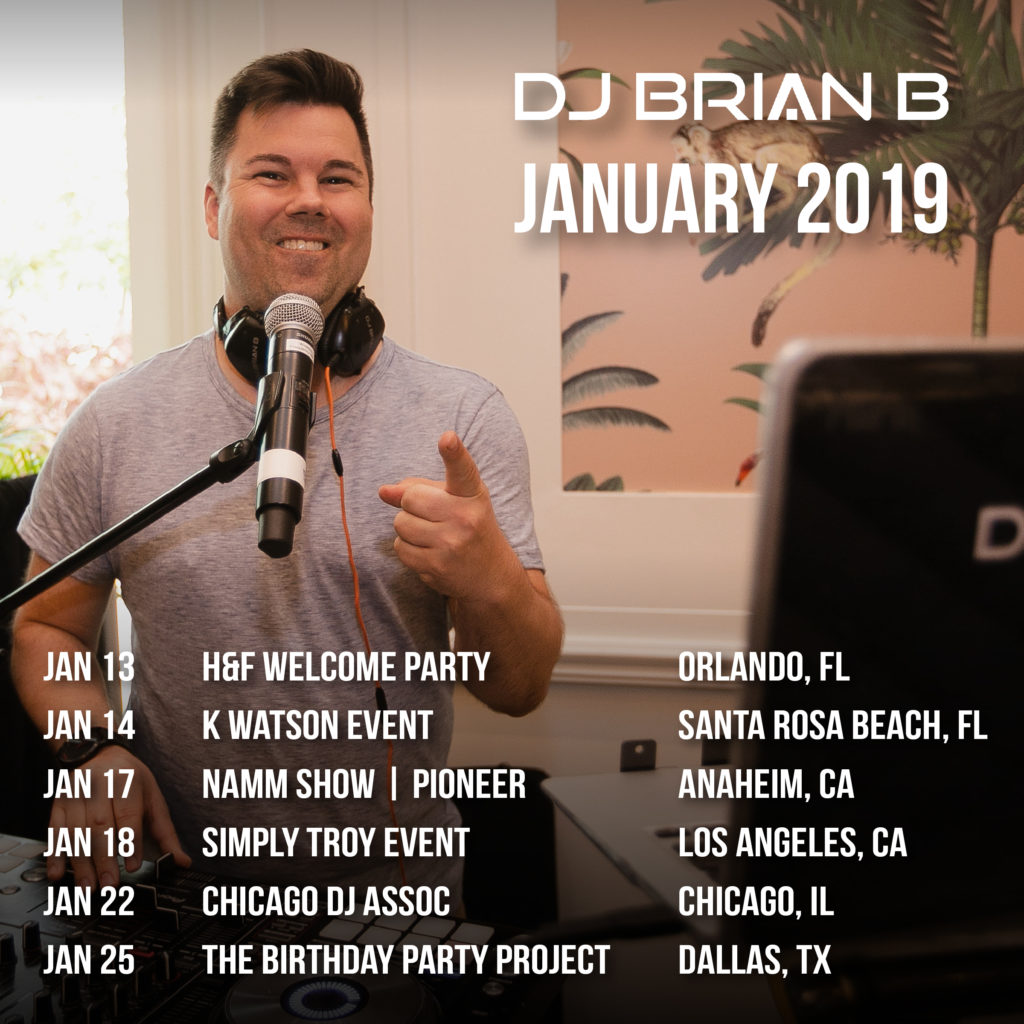 At the end of 2018, I had an incredible opportunity to partner with Le Sereno Hotel in St Barths and play during Festive for some VIP events (both public and private). Over the course of the next few weeks, I'm going to release a few volumes of my "St Barths Festive Mix". These are actual mixes done at the resort. I had full creative license over the feel and vibe of the musical content played so I made a point to mix it up daily so it wouldn't get stale. Keeping people wondering what to expect every day was a highlight for me – I even surprised myself because so many factors would affect the mix – guest count, time of day, the weather, etc. In Volume 1, it's more of a lounge/house vibe with a few signature Brian B twists. Be sure to give this a listen. You can visit the samples page of this website to hear it. Be sure to leave a comment and give it a heart. Also, feel free to share with others. The goal with releasing so many mixes this year is to show the diversity of events I'm DJ'ing. It's rare to find a DJ with such a wide musical range. Hope you enjoy!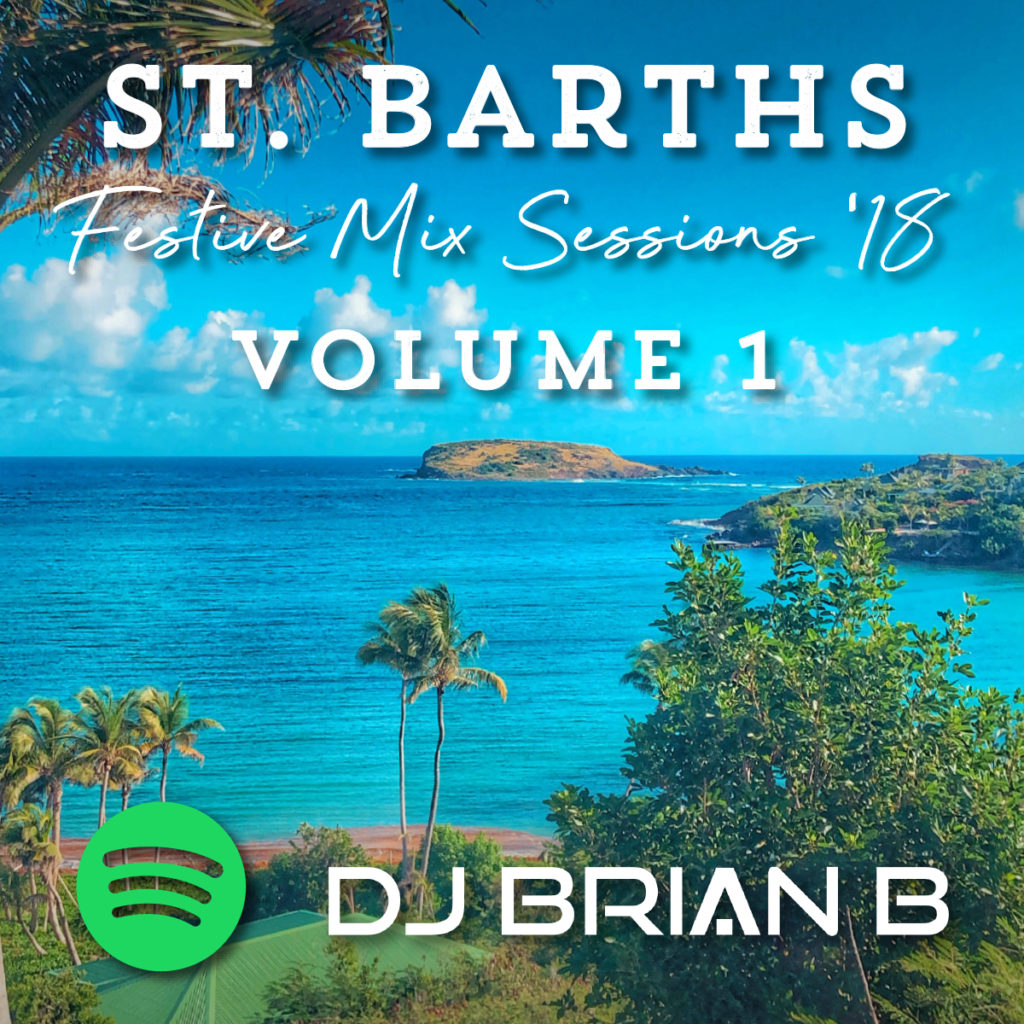 No rest for the weary – just the way I like it. Here's my DJ Brian B January 2019 Schedule. It may seem a bit light on the event side but that just means I've got some projects in the works that will soon be released (hint: podcast, new mixes, video series, etc.) as well as being able to connect with some of the my colleagues, site visits and writing for some industry publications.
As far as events, I'm flying back now from St Barths where I spent 2 weeks for Festive performing for a ton of super exclusive VIP parties (sorry, I'm under a NDA) and some public resort events for Le Sereno. Then I leave tomorrow morning for Naples, FL to DJ a wedding at the Ritz Carlton. Next week I'll be at Bloomindale's for the annual wedding event at the 59th Street flagship store. I've got another wedding in Monticello FL and then corporate and non-profit events the rest of the month. As always, be sure to check my schedule here as new events pop up all the time within the month.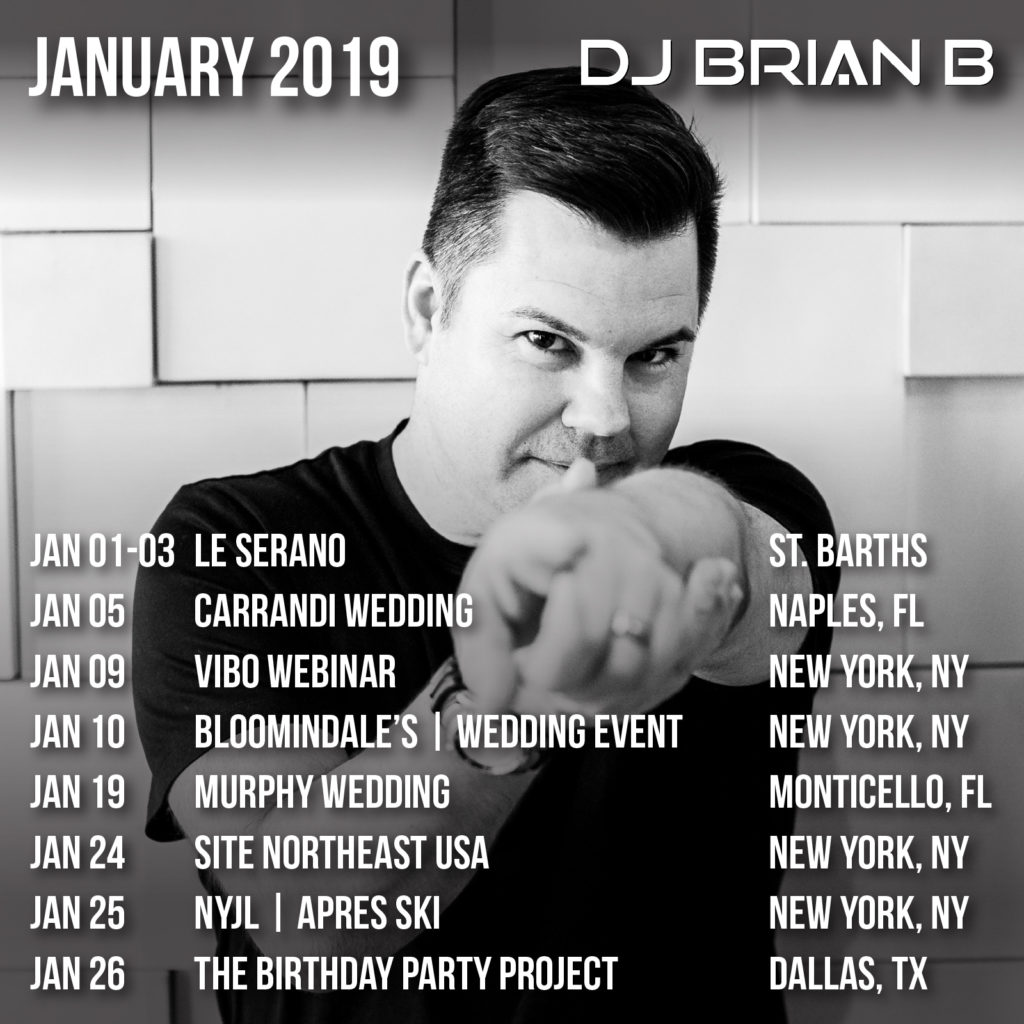 Posted in
Events
by
DJBrianB
| Tags:
Corporate Events
,
DJ Brian B
,
FL Wedding
,
Four Seasons Resort and Club Dallas at Las Colinas
,
Jacqueline Events
,
Nassau Inn
,
NJ Wedding
,
Norwood
,
Studio 241
,
The Birthday Party Project
,
The Knot Pro Workshop
,
The White Room
,
Wedding DJ
Some fantastic events on tap in the September 2018 DJ Brian B Schedule as we head into the Fall.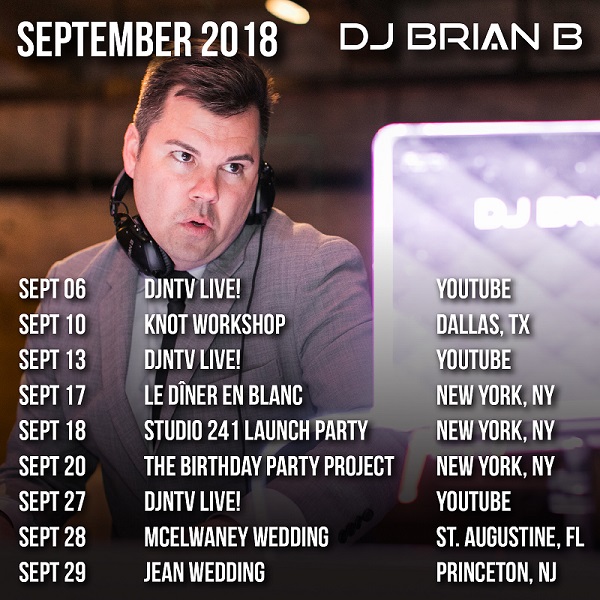 I start with the Knot Pro Workshop in Dallas, TX at the Four Seasons Resort and Club Dallas at Las Colinas. The event is being planned by Jacqueline Events. Then it's time to prep for 6,000 New Yorkers who will be partying at the infamous Le Dîner en Blanc – New York event. If you aren't familiar with this, you need to be. It's one of the most unique events I've ever been a part of. Following that is the Studio 241 Launch Party at the Norwood Club. The monthly "Birthday Party Project" is on September 20th. I finish the month with 2 weddings – one at the White Room in St. Augustine, FL and the very next night I'll be at the Nassau Inn in Princeton, NJ.
This Thursday the New York Junior League "Savor the Spring" features DJ Brian B. This event is one of the biggest for the non-profit. Brian B will be providing the soundtrack by mixing all the tracks for the expected 400 people in attendance. There is still a chance for you to be a part of it. Get your tickets here to support an amazing organization.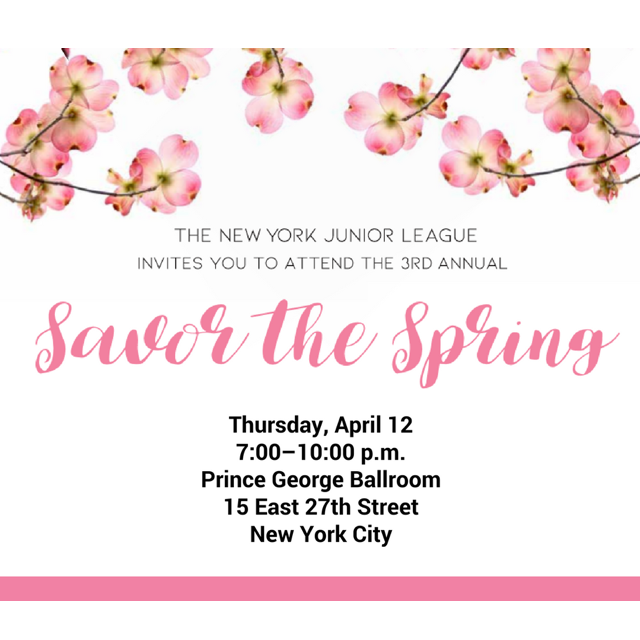 Late last year I received a call from Mitch Taylor who heads up the education content at Midwest DJs Live. He asked if I would be interested in speaking at DJ'ing at Midwest DJs Live 10 being held in Milwaukee, WI on April 30 – May 1. I hadn't actually ever been to the show personally due to scheduling conflicts but it was on my to do list. I, of course, said absolutely! This is one of those intimate regional shows but I gotta tell you, the value attendees are going to be getting is off the charts. Have you seen the lineup of incredible speakers? I was honored to be asked to open the show…day 2, that is. You probably won't get the inside joke on this unless you see Mike Walter's video on his Facebook page. Add to it that myself and Maria Matarelli will be spinning at the opening night party. Don't miss this. Tickets are still available. Get yours now.
The Europe destinations are in full effect for the April 2018 Brian B Event Schedule. However, before that journey begins, I'll be back for our Disc Jockey News YouTube Show (I've been off the air for 3 weeks due to events). Then it's time for the New York Junior League's "Savor The Spring" event. I leave for the Pro Mobile Conference on Friday, April 13th and won't be back on US soil until April 29th. I've been looking forward to this particular month for quite some time. Once the Pro Mobile Conference ends (I'll be one of the keynote speakers and mixing one of the parties), my next official private event is the Berg/Ickes Destination Italy wedding about 2 hours south of Rome at the Abbazia San Pietro In Valle. Then it's off to the first of 4 Engage Summits for 2018 in Sardinia, Italy. I'll be mixing all the music for the main sessions as well as being the MC. The month closes out with the beginning of the Midwest DJs Live conference where I'll be not only one of the Keynote speakers but also mixing the opening night party. I'm still trying to lock in some nightlife events in Europe. If you have any connections in Belgium, Germany or Austria, please e-mail me.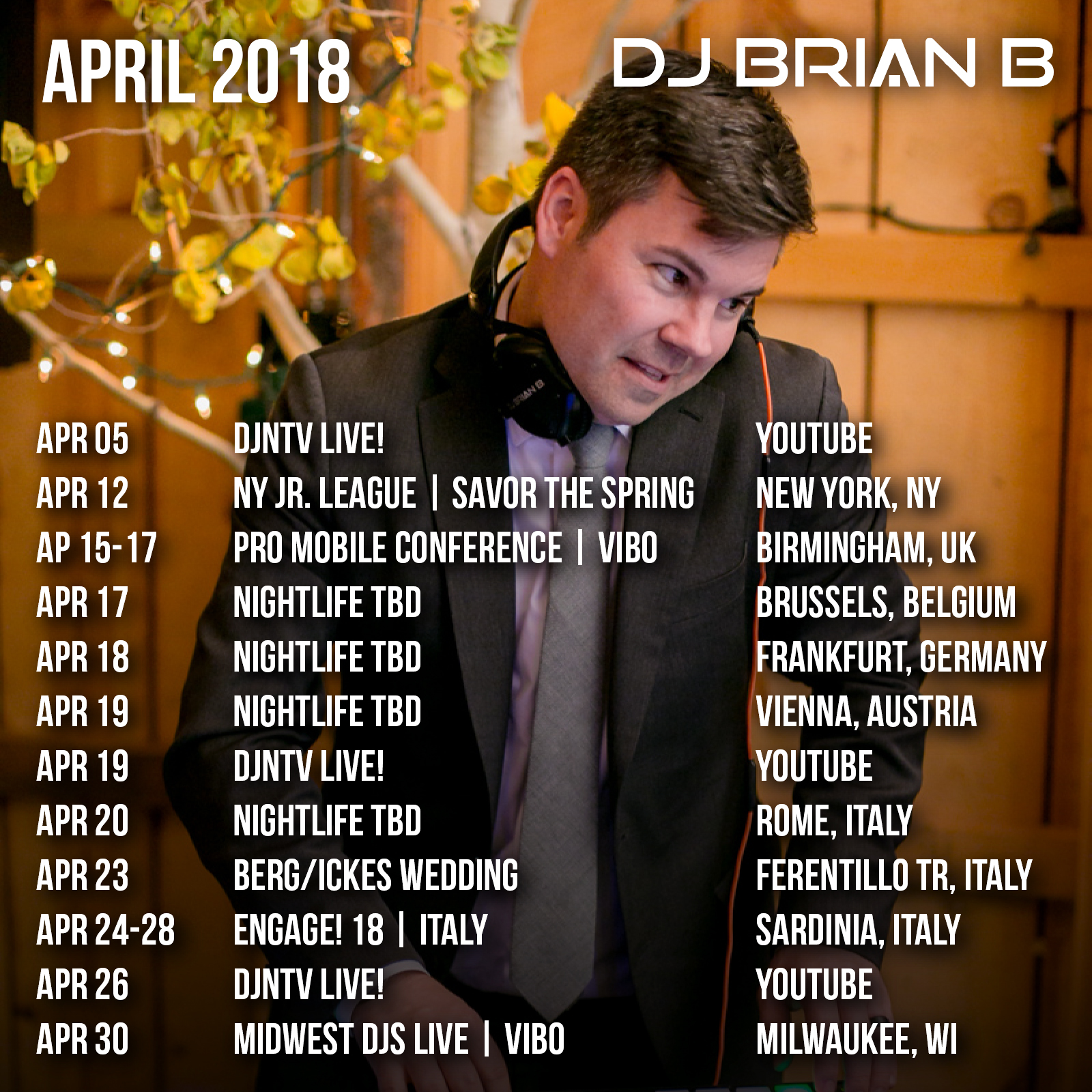 Every month I curate a playlist for The Birthday Party Project. April's upcoming theme: Superheroes. Without further ado, here's my Superheroes Kids Birthday Playlist Theme. Believe it or not this turned out to be much harder than I thought it would be. A lot of theme songs are "scores" and not exactly party-esque when we're doing an upbeat 1 hour party. There were a few I was able to find that worked (Battle Without Honor or Humility, Theme From Superman, Justice League Main Title, Guardians Of The Galaxy, Pray For Me from Black Panther) but I started playing off the word "heroes" to fill in the rest. Unfortunately, not a ton of current tracks with that type of theme. I went with "Heroes" by Alesso and Tove Lo and "Save The World" by Swedish House Mafia for some current selections. Even "The Man" lyrically seems to fit. That sprinkling of tracks gave the playlist enough of a superheroes bent. To fill in the rest, I added some current hits Like "God's Plan", "Thunder", "Havana", "Magenta Riddim" as well as some line dance material with "Watch Me Whip" and "Rolex". Let me know what you think.
Subscribe To Newsletter
Categories