Home
/ Archive by category "Tracks" (Page 3)
Category Archives:
Tracks
Today's music Monday pick today is this amazing Justin Bieber cover of Sorry by Tayler Buono.  The EZY Lima Remix really sets this off.  It's got an electronic vibe but stays true to the original.  The female vocal is money.  Enjoy!
First Music Monday pick of 2016.  This remix by DJ Spider of Adventure of a Lifetime by Coldplay is fantastic. The original is already amazing and funky but this takes it to another level.  I haven't heard a DJ Spider remix in some time so glad to have him back on the remix scene.  This is going to be a staple in my sets for a bit. What do you think?
https://youtu.be/BInJZUVcKA4
Anytime you try and and take on a remake of a classic like September by Earth, Wind & Fire, you better bring your A game. Throttle delivers with this mix. I love the fact that it still stays true to the original enough that the essence of the song isn't lost. The beginning percussion makes for an easy way to mix it in to virtually anything. If you're a fan of EWF like I am, you'll no doubt be glad to have the 411 on this one. Hope your enjoy my Music Monday pick for 11/23/15.
My music Monday pick for 11/16/15 is the Hills (RL Grime Remix) by The Weeknd.  I like this remix for a ton of reasons.  First, it has that constant double-time beat which is way easier to find songs to mix into but then it goes into the regular tempo once the lyrics kick in.  Also, the drop is fantastic!  It gives you ability to put a progressive spin on a mainstream track without getting too far away from the original.
My Music Monday pick for 11/9/15 is the Andy Grammer hit Honey I'm Good – Mike Cruz Tribal Mix.  The radio edit has been out since December of 2014 but it didn't really take off on the charts until this past Fall.  I had been looking for a remix for quite a while that would give the song a bit more shelf-life and I finally found one. Enter in the Mike Cruz Tribal Mix.  it's a fantastic remix because it still stays true to the original enough that you can use it at mainstream parties.  However, It's one of those transitional tracks where you can keep the mainstream vibe mainstream or take the party a little more progressive if you decide you want to go that route.  As a DJ, having those types of options available is important when you are in the mix.  Those types of tracks are rare finds so this one is definitely a keeper. What do you think?  No music video was released of this remix so I've posted the Soundcloud audio file below. #musicmonday
[soundcloud url="https://api.soundcloud.com/tracks/209915579″ params="auto_play=false&hide_related=false&show_comments=true&show_user=true&show_reposts=false&visual=true" width="100%" height="450″ iframe="true" /]
So one of my DJ crew, DJ Shawn Frady, has a bride this weekend who requested this wedding song, When I'm With You by Ben Rector. I had never heard of this track or artist before. Wow, I was blown away both musically and lyrically with this one. I've posted the "lyrics" version of this song because I think they are that good.  The bride also picked another track by this artist which was also fantastic. If you haven't heard of this artist, put him on your radar for sure.
There's no doubt that Hotline Bling by Drake is one of the hottest songs out right now (thanks to the video). But the amount of Hotline Bling Covers that are out there are just as on fire. Just today, I heard a Justin Bieber version. Last week there was the Kehlani and Charlie Puth take. Even the first cover I heard by Disclosure and Sam Smith is epic. I've posted all 3 versions below. What's your favorite version? Have you heard a cover or remix that I should be aware of? Let me know!
I knew it wouldn't be long until we got him back as a Music Monday pick. Sorry by Justin Bieber is my 10/26/15 Music Monday selection. While his first single release off the new album, What Do You Mean, was a 125 Beat Per Minute (BPM) dance banger, this comes in at 100 BPM. What do this mean? Expect a ton of mashups and remixes both at this tempo and high energy dance tempos! Lyrically, the track is personal plea for his transgressions. Since I am hired as a wedding DJ a ton, one may wonder if I would play this at that type of an event. Absolutely I would! Of course, it would be later in the night. I think it has a catchy hook and will be another to climb the charts VERY quickly. Props to the Jack U guys for once again infusing those EDM sounds into this track.
It's been a whirlwind of a month but finally got a chance to slow down and publish my South Walton Fashion Week 2015 Official Spotify Playlist which includes about 90% of the material I used (the other 10% isn't on Spotify or are my own custom remixes). If you've never DJ'd a fashion show, let me give you some insight. Generally, you work with 1 designer for months and collaborate on a single show. SWFW is unlike anything you've ever seen. We had 31 runway shows over a 3 day period. I didn't get the luxury of having months to work with them – I literally had 3 hours the day before the show to see all 31 designer's pieces and then spent the remaining 21 hours coming up with the soundtrack for each designer's show (with some help from the designers of course). What was really interesting is how organic it became. A designer would hear something I'd play one night and want me to incorporate a certain sound or feel into their upcoming show so I'd go back and re-work their sets. ODESZA was by far the most popular artist with the designers that I played. There's something about that duo's work that just seemed to really fit the feel of the show. Anyway, I hope you enjoy. I'd love to get your feedback.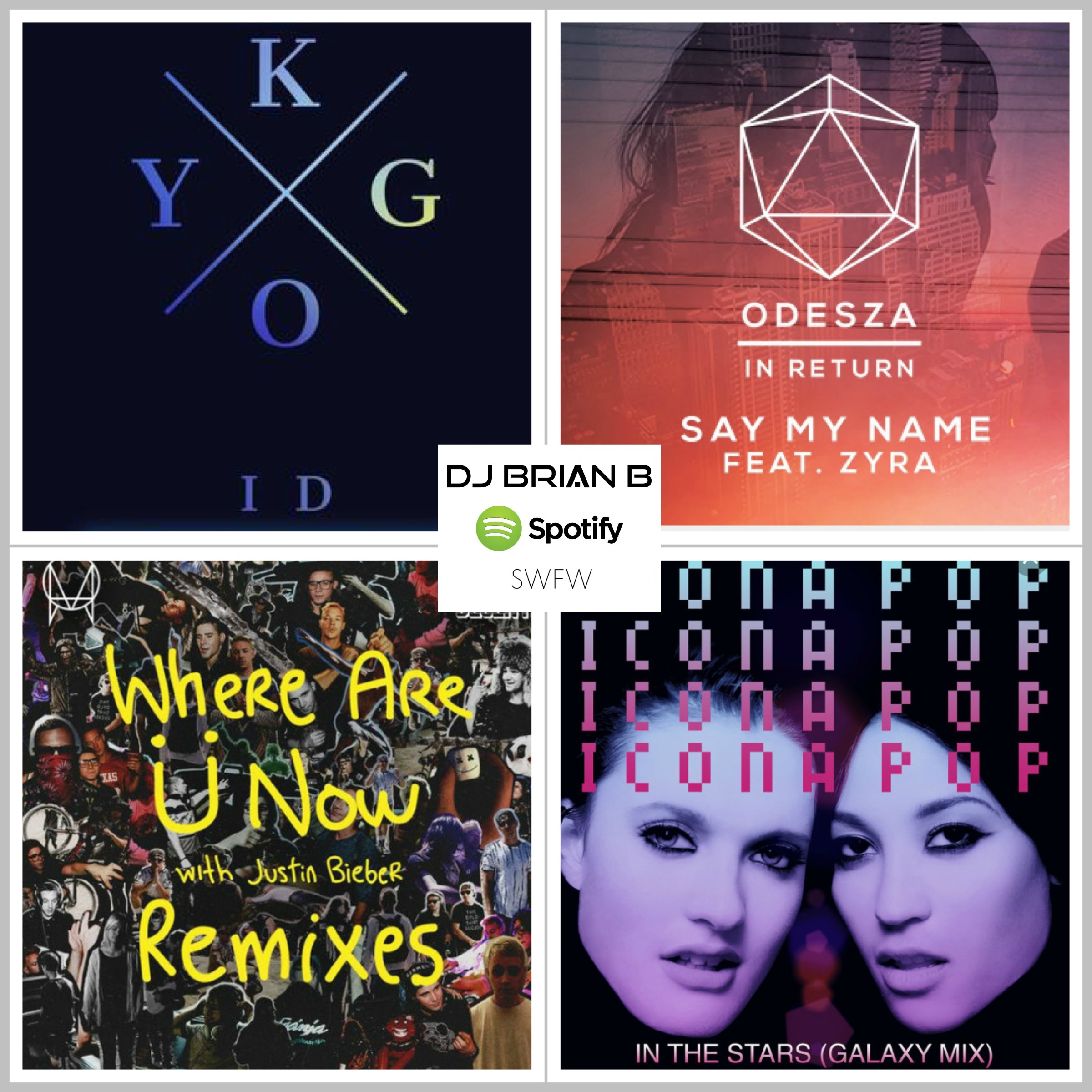 It's almost here – South Walton Fashion Week (SWFW) starts THIS Thursday. As I'm about to head out there from NYC, I've been on the lookout for some tracks that will work well. One track I'm digging right now is Say My Name by Odesza. While the original version is not your mainstream dance floor hit track necessarily, the vibe of the musicality and the vocal are SO GOOD! I've been looking at a lot of this duo's work and I can guarantee a few of their tracks will get played on the runway for this fashion show. If you like this tune, a few other tracks I'd recommend of theirs are For Us, Bloom, White Lies, and Always This Late.  Maybe because it's late at night, but listen to these tunes with the light down and tell me you can't envision this on a runway.  Wish me luck! The official SWFW spotify list to be posted soon 🙂
Subscribe To Newsletter
Categories