Latest News
Absolutely loved this! #giveback #thingsthatmatter #sundance
This week's Friday 5!
*Just Another Night – Icona Pop
*Human – Krewella
*Goodness Gracious (The Chainsmokers Remix) – Ellie Goulding
*Thundergod – DJ Danny Howard & Futuristic Polar Bears
*Hey Brother (Syn Cole Remix) – Avicii
This week's Spotify Friday 5!  A lot of variety this week.
*Sopa De Caracol [Merengue Version] – Elvis Crespo feat. Pitbull & Juan Magan
*White Lies – Max Frost
*Paris – Magic Man
*Sun Shine Down – Promise Land feat. Alicia Madison
*Loyal (West Coast Version)  – Chris Brown, Lil Wayne, Too $hort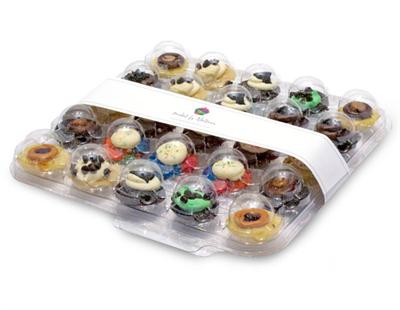 Our DJ Brian B website officially launched today and to celebrate we're giving away free cupcakes to a lucky winner. Just comment below about your thoughts on the site or whatever else is on your mind and some Baked By Melissa cupcakes might arrive on your doorstep. Winner to be announced January 16th.
Nationally Acclaimed DJ Brian B Launches New Website Allowing Event Agencies to Market & Reserve Services Directly
Visitors will find scheduling availability and extensive samples at www.djbrianbofficial.com
New York, NY – DJ Brian B, one the most requested private event DJs nationwide, has announced the launch of his new website, www.djbrianbofficial.com.
From the home page, you can instantly see his booking availability up to a year in advance as well as quickly navigate to samples of his work, biography, press photos and the newly offered, "production services". The entire website is built around the DJ Brian B brand. Continue Reading…
This week's Friday 5! In case you're new to following me here, every Friday I list 5 tracks (usually new releases) that I'm diggin' that week. I also have a Spotify playlist that you can follow with every song that I've posted since I started this. For this week here's what I got:
*Thunder Clatter – Wild Cub
*Talk Dirty – Jason Derulo, 2 Chainz
*Falling For You – Bellatrax, Sophia May
*Rise Together – Greg Cerrone, Koko LaRoo
*Clappin – Trevor Simpson
What a great start to this week…two more events confirmed for me in 2014.
*Billy Domenech and Amber Ferguson are having their reception at the Sandestin Golf & Beach Resort in Destin, FL on April 4, 2014.
*David Goble and Peggy Geppert are tying the knot in Watersound, FL on October 25, 2014.
Thanks for letting me share in your day. We'll have a blast together. Hope your friends and family are ready to have a great party!
So pumped for my first event of 2014 today! Myself and Jesse Burton Drums are providing entertainment for Jeremy Kerr and Julie Hoplamazian's wedding reception at the New York Marriott At The Brooklyn Bridge in Brooklyn, NY. We'll also be sharing the entertainment time with an Armenian band. What a way to kick off the new year!
Happy New Year everyone! My first Friday 5 of 2014!!
*Turn Down For What – DJ SNAKE, Lil Jon
*Instant Crush – Daft Punk, Julian Casablancas
*Helium – Chris Lake, Jareth Music
*Love Me Again – John Newman
*Miami 82 (Avicii Radio Edit Remix) – Syn Cole
Loving this remix with the change in tempo. It just may make the year end podcast.

Subscribe To Newsletter
Categories