Home
/ Posts tagged "Mobile Beat"
Tag Archives:
Mobile Beat
It was August of 2017 when I met the founder of Vibo, Michael, who had come to the US from Israel with a plan to launch the newest innovation in the DJ industry. When he gave me a demo of this product, I instantly knew it had potential. Over the last few months, I've been working with him and his team in developing it and the product is launching OFFICIALLY at the Mobile Beat Show next week in Las Vegas, NV. I've officially put my name behind the product because I know it will not only help Djs but clients as well. Check out the teaser video here.
Want to see this in depth? I'll be giving a 45 minute live demonstration at Mobile Beat on Monday, March 12th at 12:45PM in one of the demo rooms. Vibo will also be on the tradeshow floor all week. Trust me, get this product NOW and not only be ahead of the rest of your competition but take your client care to another level. Your brides and grooms will love you for it.
Posted in
Events
by
DJBrianB
| Tags:
A Riot Of Color
,
David Beahm Experiences
,
Destination Wedding
,
Disc Jockey News
,
John Gandy Events
,
Mobile Beat
,
SXSW
,
The Birthday Party Project
,
Wedding DJ
,
WIPA
,
YouTuber
I'm hoping Spring is around the corner because these cold temperatures are getting ridiculous out here in NYC. Good news, I've got a Turks & Caicos trip on the March 2018 Brian B Event Schedule. This month is chalk full of events. I'll be working with John Gandy Events for the first time in 2018. Other events include a return to the Norwood Club, Mobile Beat with VIBO, SXSW in Austin, Texas, The Birthday Party Project, a David Beahm Experiences event, WIPA, and of course Disc Jockey News TV (every Thursday at 9PM EST).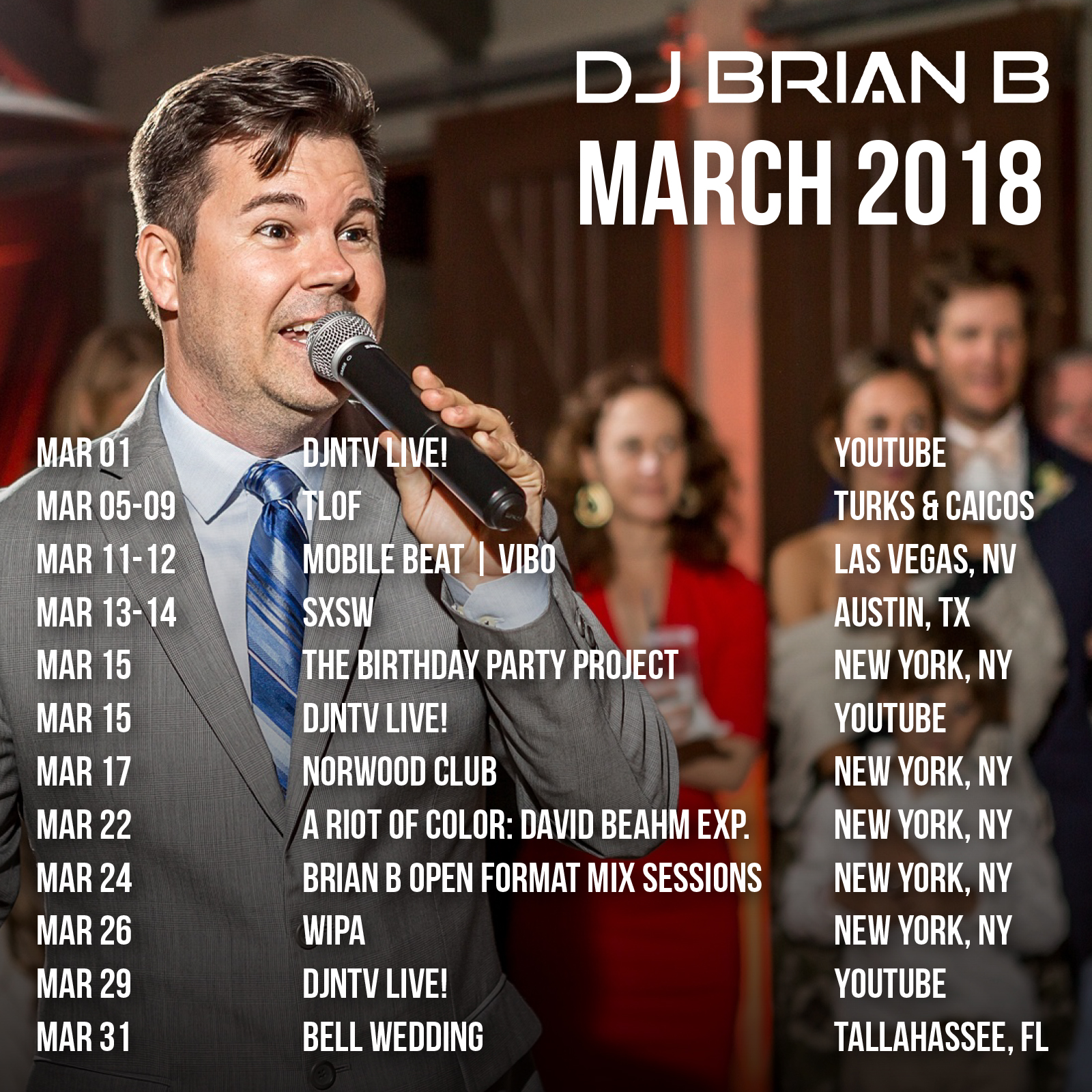 Subscribe To Newsletter
Categories