Home
/ Posts tagged "Destination Wedding"
Tag Archives:
Destination Wedding
The Europe destinations are in full effect for the April 2018 Brian B Event Schedule. However, before that journey begins, I'll be back for our Disc Jockey News YouTube Show (I've been off the air for 3 weeks due to events). Then it's time for the New York Junior League's "Savor The Spring" event. I leave for the Pro Mobile Conference on Friday, April 13th and won't be back on US soil until April 29th. I've been looking forward to this particular month for quite some time. Once the Pro Mobile Conference ends (I'll be one of the keynote speakers and mixing one of the parties), my next official private event is the Berg/Ickes Destination Italy wedding about 2 hours south of Rome at the Abbazia San Pietro In Valle. Then it's off to the first of 4 Engage Summits for 2018 in Sardinia, Italy. I'll be mixing all the music for the main sessions as well as being the MC. The month closes out with the beginning of the Midwest DJs Live conference where I'll be not only one of the Keynote speakers but also mixing the opening night party. I'm still trying to lock in some nightlife events in Europe. If you have any connections in Belgium, Germany or Austria, please e-mail me.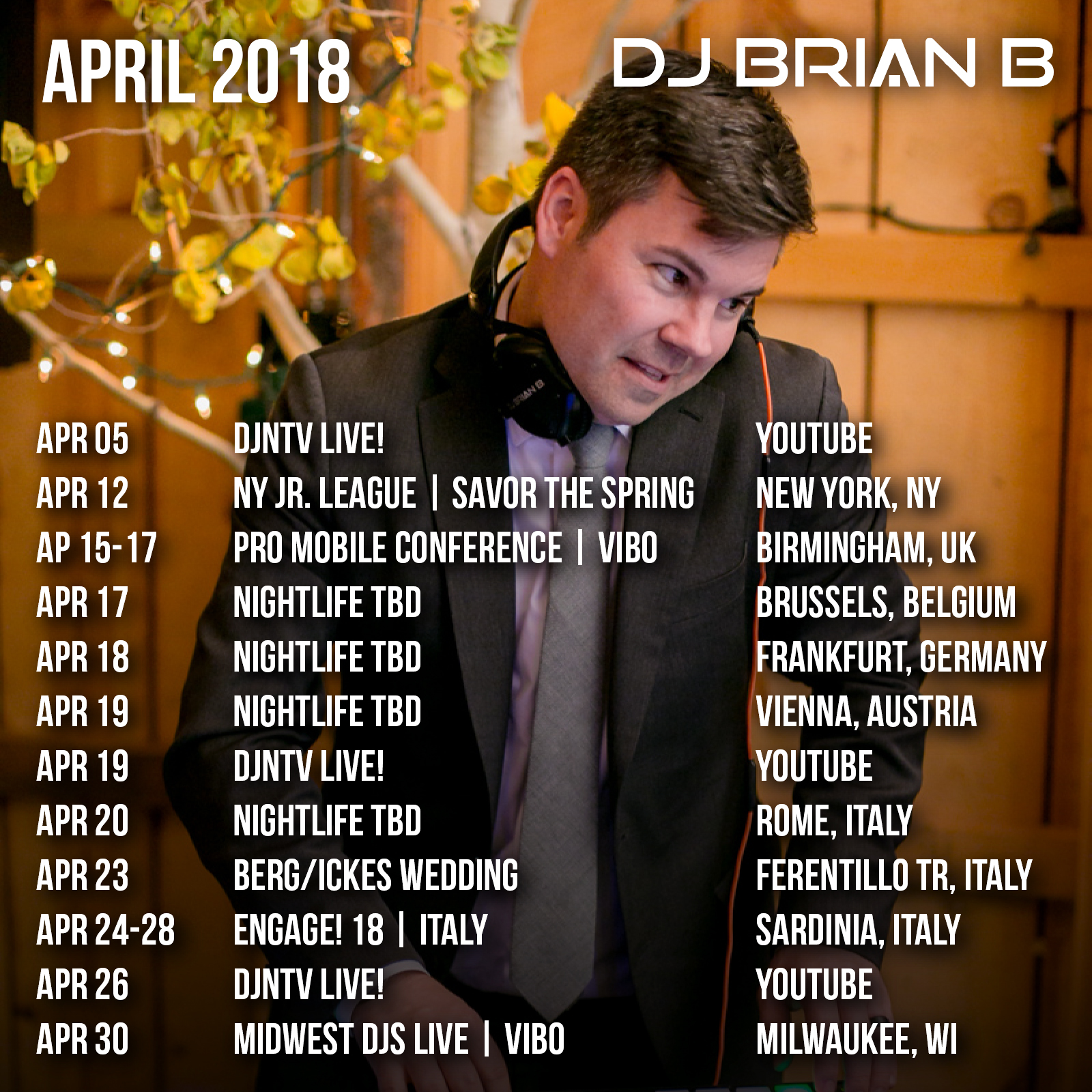 Last year I met Brooke Boyd, a destination photographer, who runs Brooke Boyd Photo + Film. We were working a destination wedding in Alys Beach, FL. As the event concluded, she mentioned she was getting married in Mexico at the Blue Diamond Luxury Boutique Hotel and wanted to see if I was available for her wedding. Unfortunately, I was already booked. She ended up booking a local band but wanted to incorporate me somehow. I offered to make a few band break DJ Mix compilations for them to use throughout the wedding instead of them having to use a Spotify playlist. Since she shoots weddings for a living, she's seen and heart it all. She didn't want any cliche wedding songs – even the cool ones (Bruno Mars, MT, etc.). She loves 90s and classic rock and it was important to her that it was all upbeat. I also needed to make sure to NOT duplicate any tracks the band might play. Mission accomplished. Here's the first of 3 15 minute band break mixes below. Interested in something like this for your wedding? Contact me.
Posted in
Events
by
DJBrianB
| Tags:
A Riot Of Color
,
David Beahm Experiences
,
Destination Wedding
,
Disc Jockey News
,
John Gandy Events
,
Mobile Beat
,
SXSW
,
The Birthday Party Project
,
Wedding DJ
,
WIPA
,
YouTuber
I'm hoping Spring is around the corner because these cold temperatures are getting ridiculous out here in NYC. Good news, I've got a Turks & Caicos trip on the March 2018 Brian B Event Schedule. This month is chalk full of events. I'll be working with John Gandy Events for the first time in 2018. Other events include a return to the Norwood Club, Mobile Beat with VIBO, SXSW in Austin, Texas, The Birthday Party Project, a David Beahm Experiences event, WIPA, and of course Disc Jockey News TV (every Thursday at 9PM EST).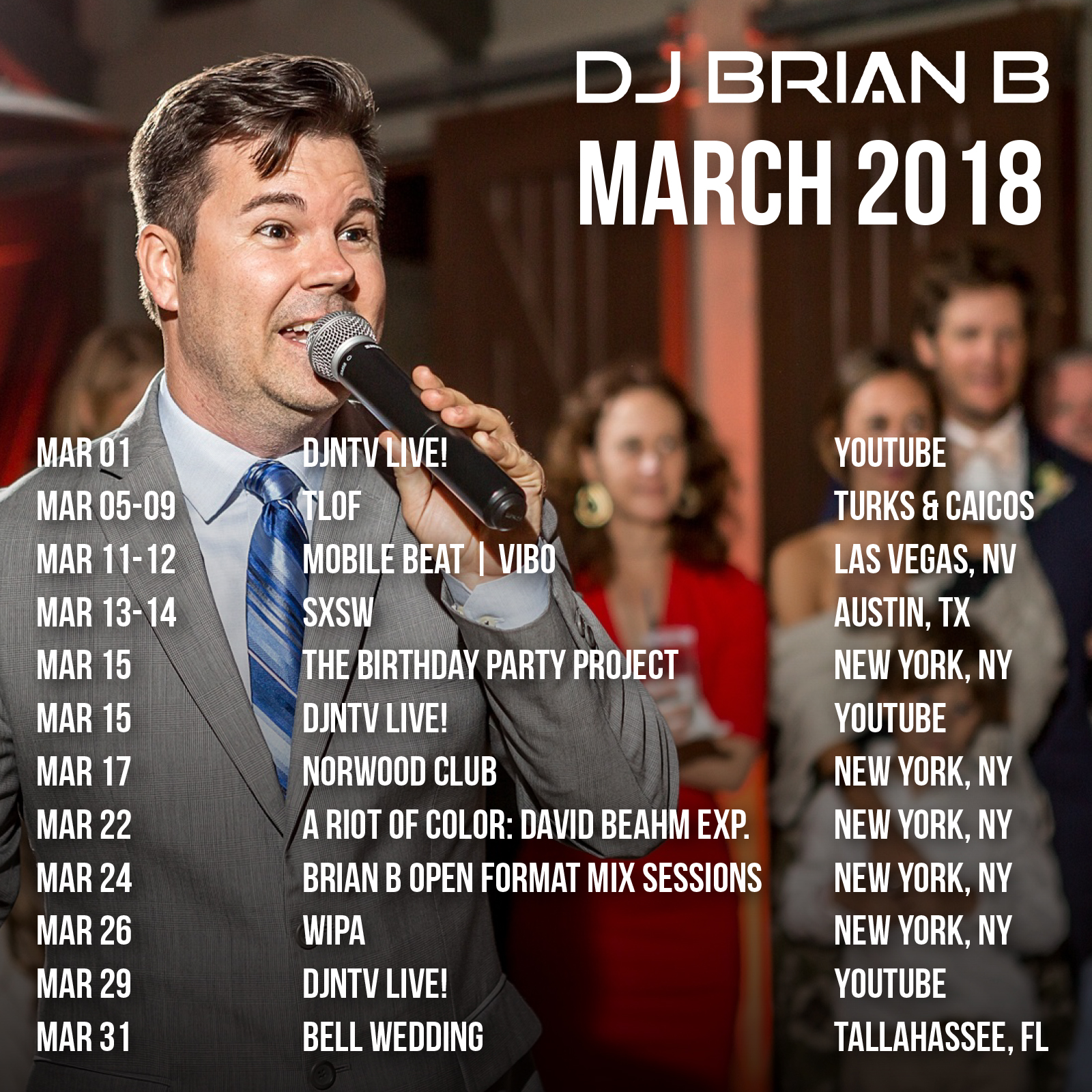 Hot off the presses ~ the February 2018 Brian B Event Schedule. I'm continuing my YouTube show with KC every Thursday night at 9PM EST. I'll be back at the Norwood Club in NYC early on in the month which is always a good time. I'll be playing LIVE at the Birthday Party project at all 3 NYC locations. I've got a corporate event with the American Bar Association as well a destination wedding to round out the month. Be sure to watch for a new mix to drop this month on my samples page.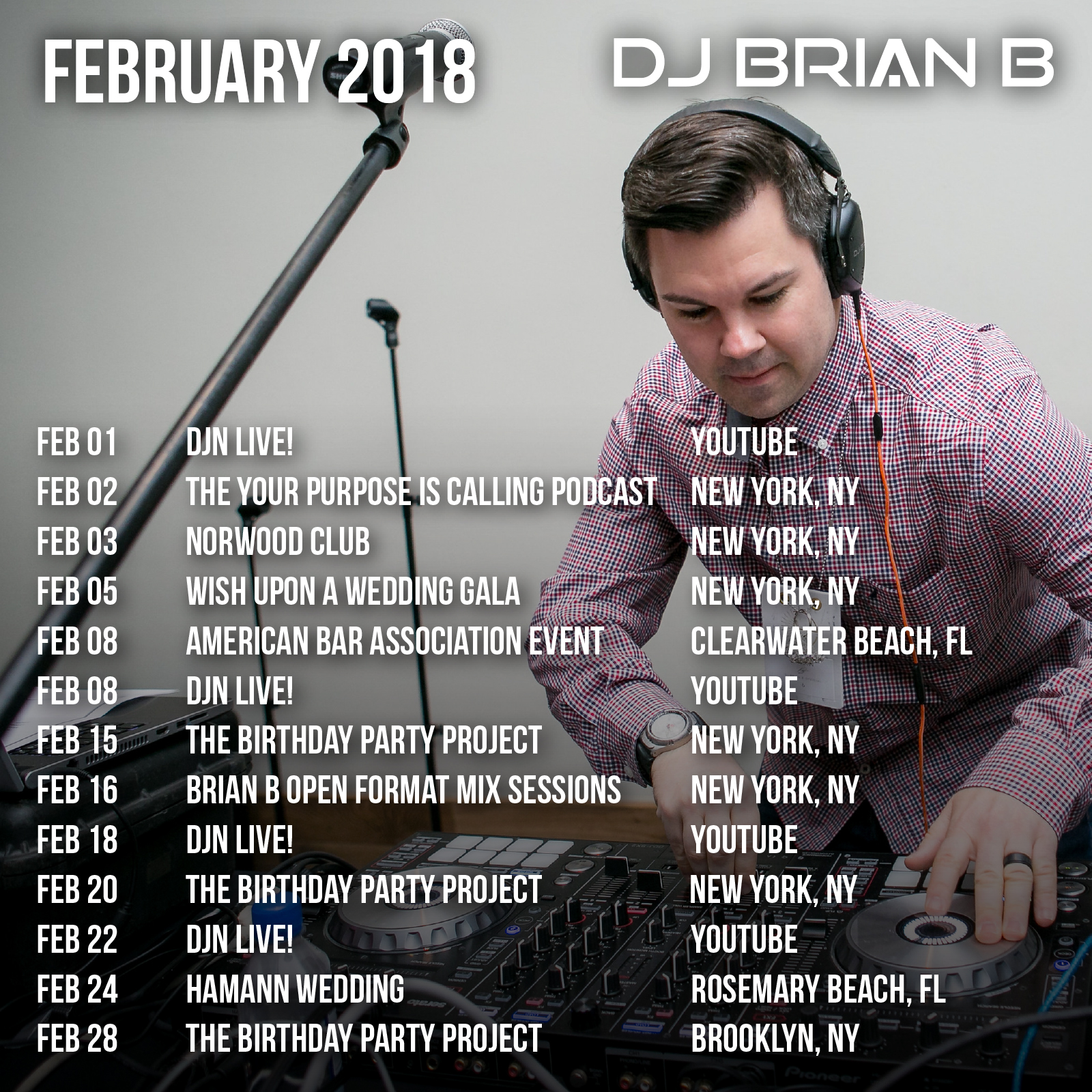 This image is First Dance Perfection. Rosemary Beach Weddings are some of my favorites. This was from a wedding I did this past Spring on the Western Lawn. Destination weddings – there is just something about them that makes them feel so special and different from your local wedding.
This was an intimate wedding and the bride/groom were so captivating. I always encourage my clients to invest in our production style lighting. It really makes the pictures pop not to mention the dance floor experience so much better once we get into the party. Fantastic capture by Lauren Kinsey. Looking forward to getting back out there in the Fall.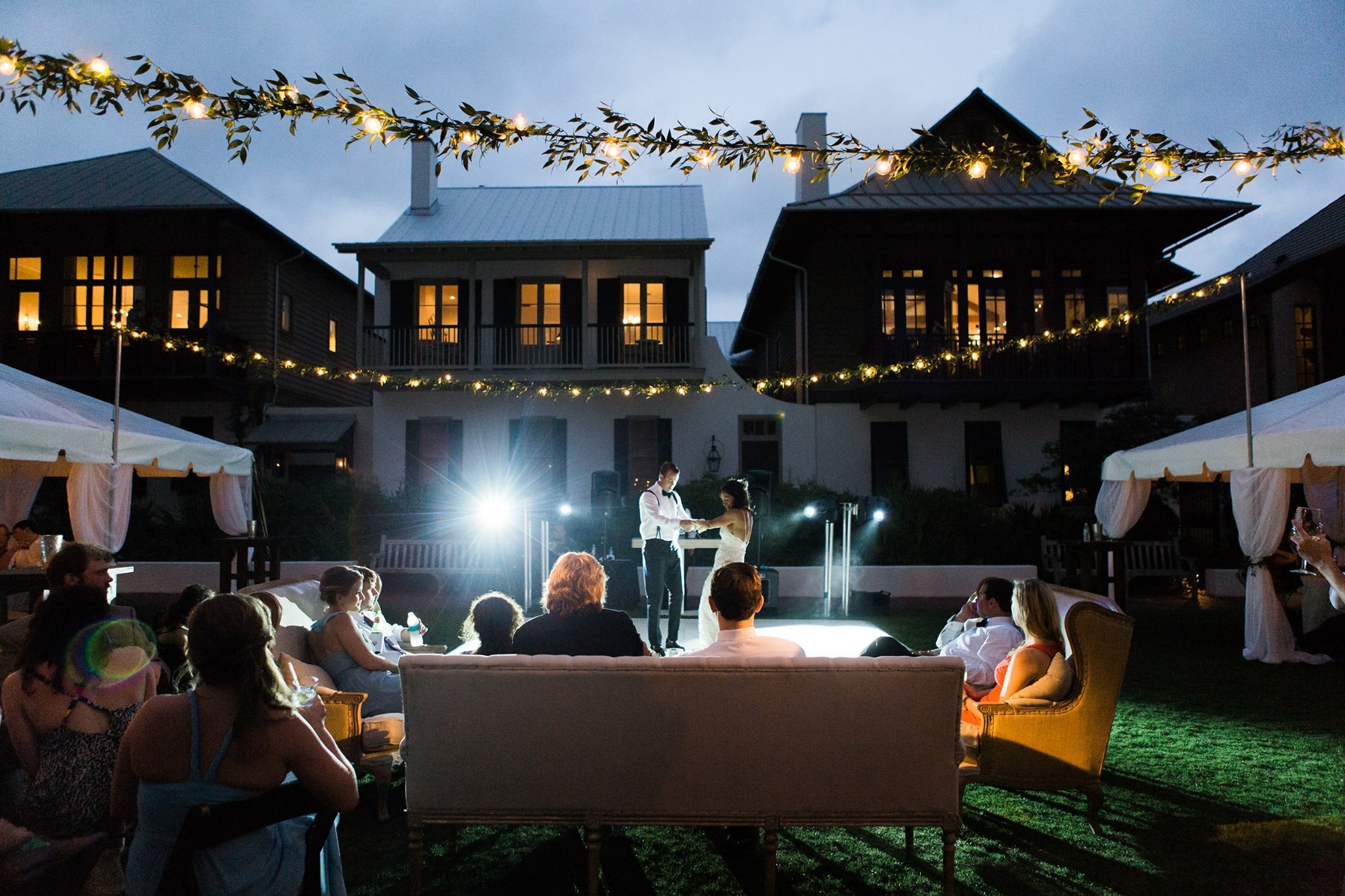 sdfd
Favorite Events for 2015: #1 (tie) – This Seaside wedding shouldn't have been a surprise but it really was! You see, when you have a fantastic vendor team (shout-outs to It's A Shore Thing, Florals By The Sea, and Dear Wesleyann Photography), an amazing couple and a crowd that wants to celebrate them, you should expect magic. I had a sense that it would be a "good" event based on the vibe I got from the bride and groom when we did our planning call, but when the entire crowd started dancing during cocktail hour, I knew I was in for a "great" night. It was such a fantastic wedding and this Dallas-based crowd threw down! Congrats Alex and Steven! Wish you both nothing but the best. Photo cred: dear wesleyann.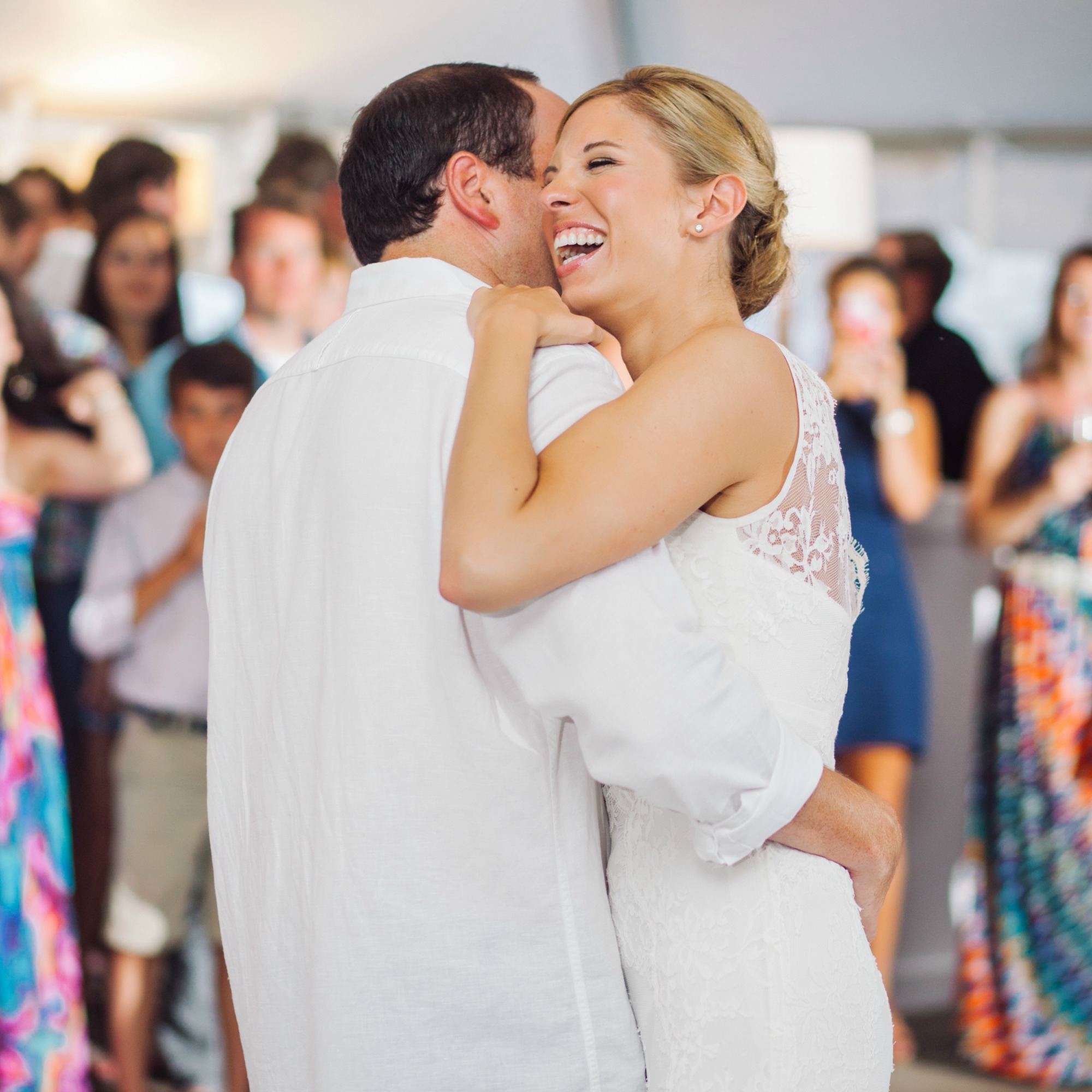 Favorite Events for 2015: #1 (tie) – So last year (2014), I DJ'd one sister's wedding (Brittney) and it ended up being one of my favorites of the year. I had a good feeling that when it was Ashley's turn this year that it could be déjà vu with a similar outcome.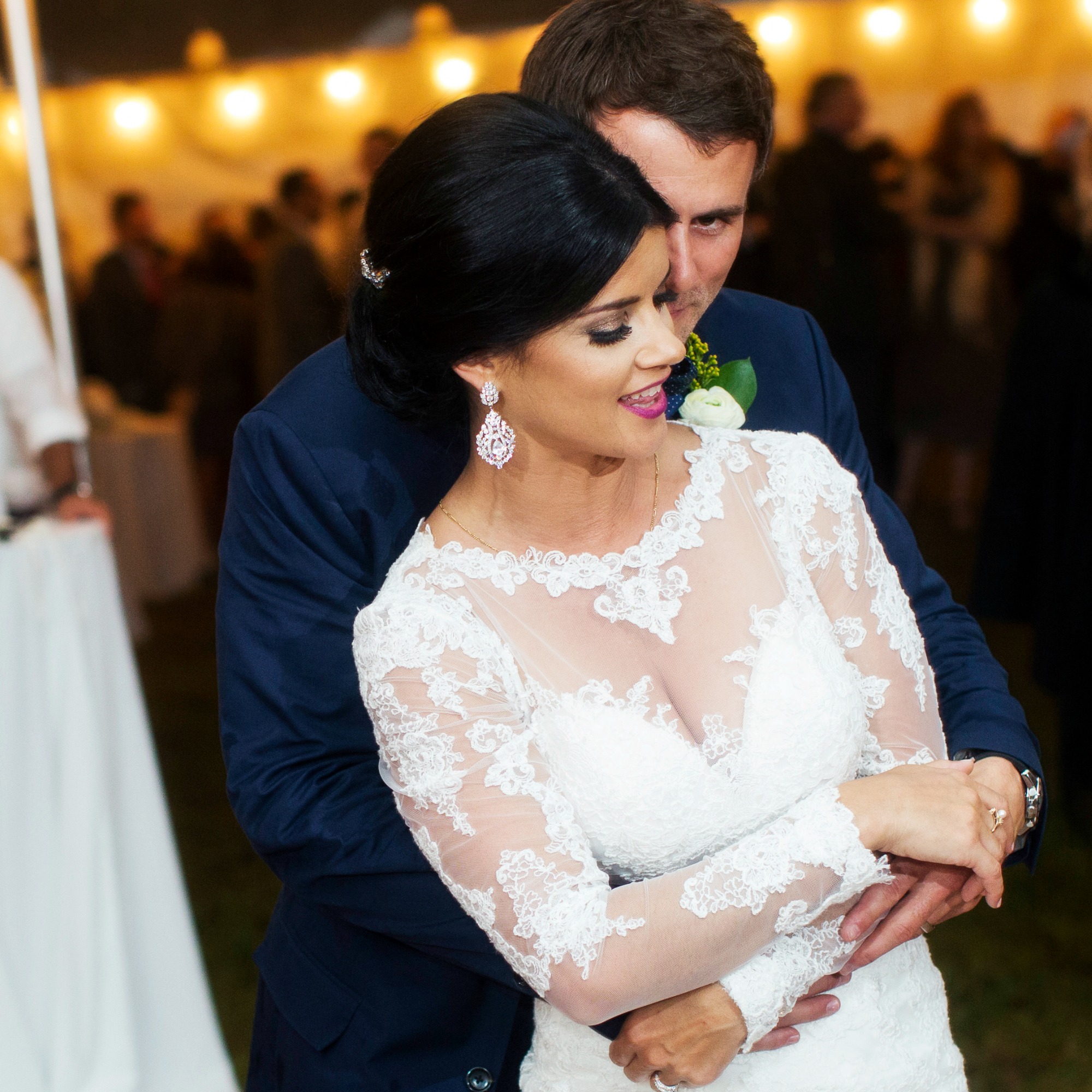 This Louisiana Fall wedding in St. Francisville had all the makings for a fantastic event – 200+ people, private residence, stunning couple, professional dancers in attendance, and a Louisiana based crowd! Then it happened. The rain started at 5:00PM (just before the ceremony). However, precautions were taken and tents were in place. You could see a slight trepidation in the guest's eyes as to how this was going to turn out. Ashley and her now husband, Garic, didn't bat an eye. They set the tone and danced their way on to the dance floor during the grand entrance and it was on! The dancing and partying was non-stop and literally drowned out the rain, which continued until about 2 minutes before the end of the evening when everyone had to walk back out (perfect timing). From a DJ perspective, it was such a blast. Not only did we have a stellar vendor team in place (shout-out to KB Cooke Weddings) that made my job easy but musically, I was able to go all over the place genre-wise and this crowd was into it! Such a fantastic wedding! Photo Cred: Collin Riche Photo
Subscribe To Newsletter
Categories