Home
/ Archive by category "Events" (Page 3)
Category Archives:
Events
I don't know why I was looking so serious but I appreciate the DJ Brian B official Instagram wedding love I received from some guests at my wedding this past weekend at the Queens County Farm Museum.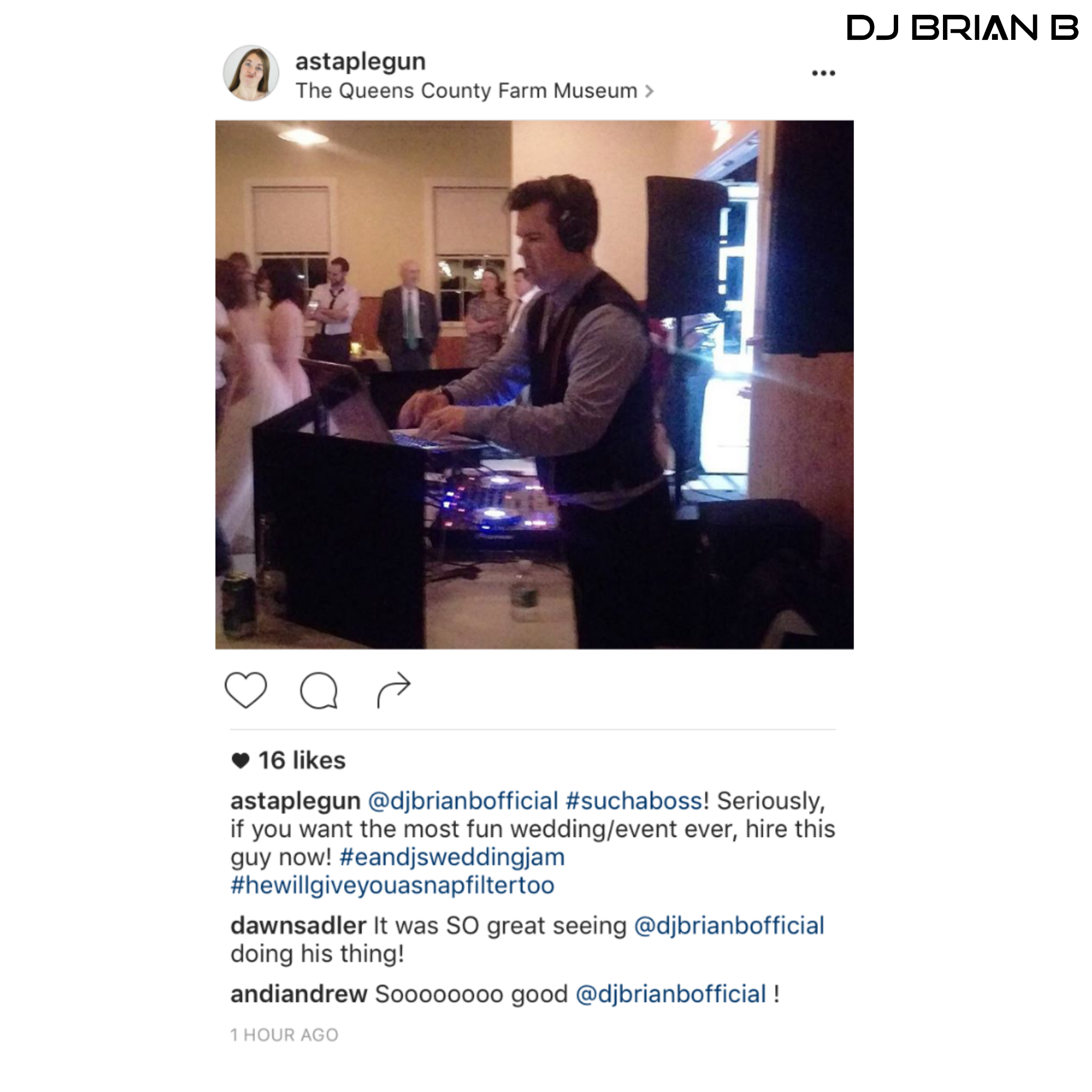 When your couple chooses Justin Timberlake's "Can't Stop the Feeling" as the exit song to their CEREMONY, that's a good indication that the night is going to be off the hook.  It did not disappoint.  From the first song of cocktail hour through the last song of the night, this crowd was amped! Seriously, one of the best crowds of the year.  They genuinely had a lot of love for the bride and groom and they wanted to make sure this was a party for the ages.  Non-stop dancing the entire night.
The Engage Conference at the Breakers Day 2 kicked off in amazing fashion. Breakfast had a New Orleans flair with beignets and all kinds of amazing looking breakfast foods. Of course, we were serenaded by a jazz band who ended the breakfast with the 2nd line. Once breakfast concluded, We all moved to the a different ballroom than day 1 for for the main sessions.  Let me just tell you that the room set-up was incredible!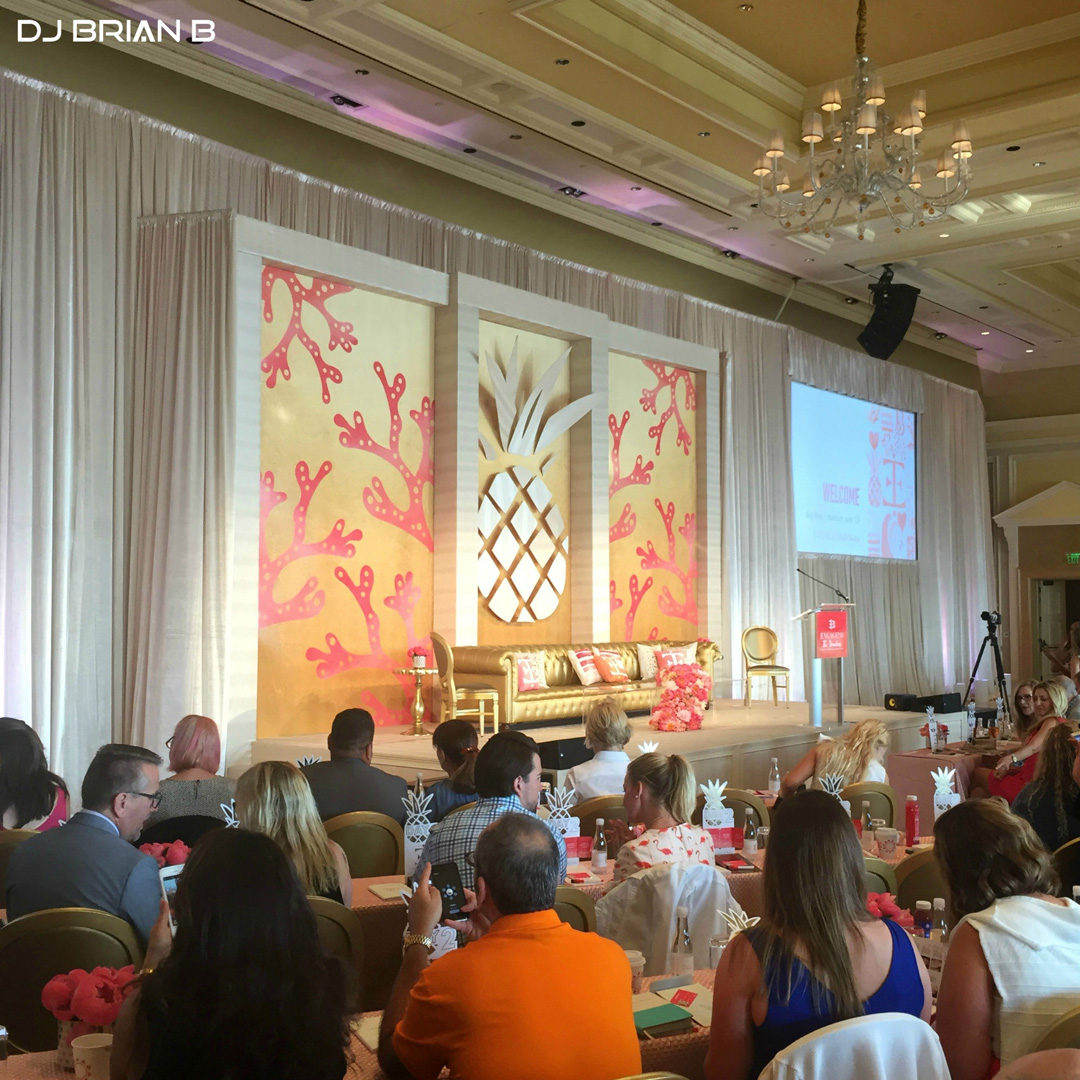 World renowned event designer Preston Bailey opened day 2's sessions and he was followed by heavy hitters like Cindy Novotny, Mindy Weiss, Lynn Easton and many others. The breaks were full of surprises – a choir, cool looking foods, etc. I met some amazing people at lunch who I hope to remain in contact with well after the conference. That evening we went to dinner and were randomly assigned seats based on our badges. The nightcap was a fun dessert party. I wish I could say I stayed for the late night festivities but I had to get back to the room and knock out some work before a full day 3 of Engage.
So when you get on your flight to the elite Engage Conference at The Breakers, you know you're in for a good week when you have Marcy Blum sitting next to you. This was my first time to The Breakers after hearing amazing things about this particular property. Wow, it did not disappoint. Great first impressions – from having one of the managers greet you at the door, to the lobby decor, to the small little service details. As usual, Engage had a stellar first day of general session speakers. For me, however, the best part was reconnecting with all of the best of the best in this wedding industry. It's rare that you find an industry of trend-setters who are so humble, gracious and willing to help one another. That is what you find here.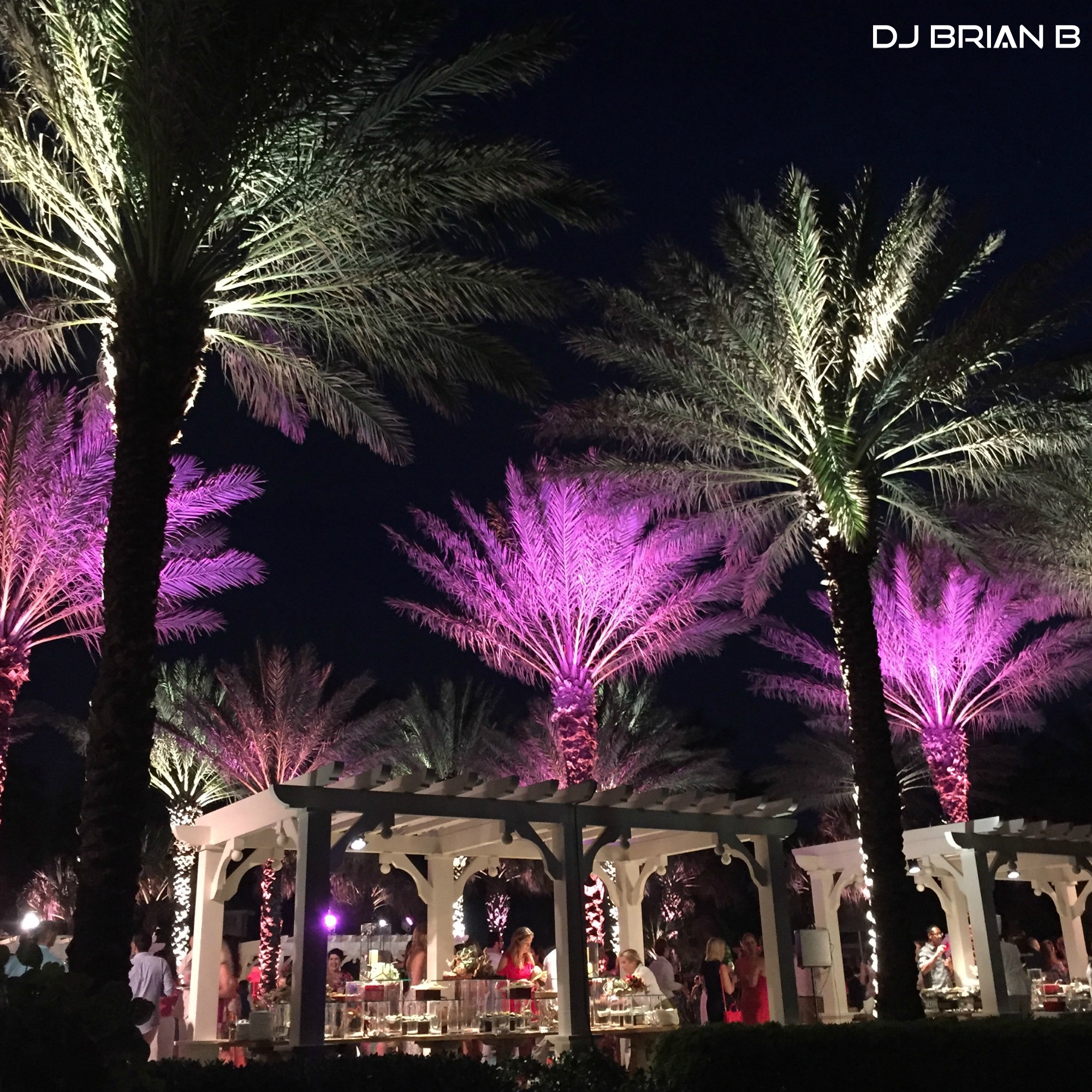 The evening pool event was fantastic. This shot above is from those festivities.  Amazing decor, fantastic food, jaw dropping entertainment and the best of the best in the wedding industry in attendance.  I can't wait to see what day 2 holds. It is allowing me to recharge a bit and re-think how I can continue to bring the best in excellence to my amazing clients.
The DJ Brian B June 2016 schedule is officially inked.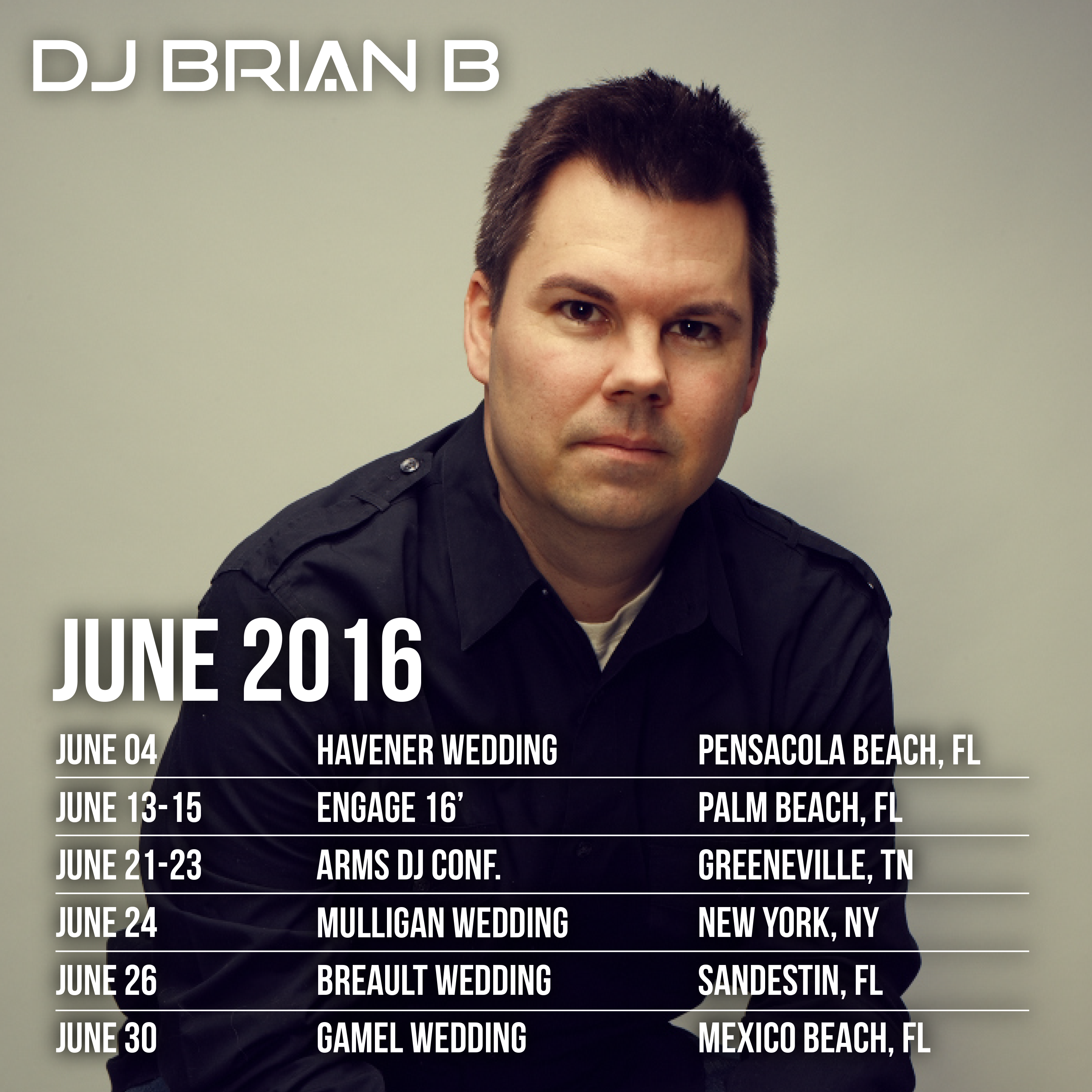 In between some fantastic weddings, I typically use the summer months to network and refocus for the 2nd half of the way.  Going the Engage Conference is always a highlight of my year (I'm a 2 baller this year!).  This is the best of the best in the wedding industry and not only do I get to reconnect with some fantastic industry folks, but I know I'll have some fantastic takeaways.  This will be my first time to the Arms DJ Conference.  I'm looking forward to this mid-america conference.  Hope to see you on a stop soon!
Favorite Events for 2015: #1 (tie) – This Seaside wedding shouldn't have been a surprise but it really was! You see, when you have a fantastic vendor team (shout-outs to It's A Shore Thing, Florals By The Sea, and Dear Wesleyann Photography), an amazing couple and a crowd that wants to celebrate them, you should expect magic. I had a sense that it would be a "good" event based on the vibe I got from the bride and groom when we did our planning call, but when the entire crowd started dancing during cocktail hour, I knew I was in for a "great" night. It was such a fantastic wedding and this Dallas-based crowd threw down! Congrats Alex and Steven! Wish you both nothing but the best. Photo cred: dear wesleyann.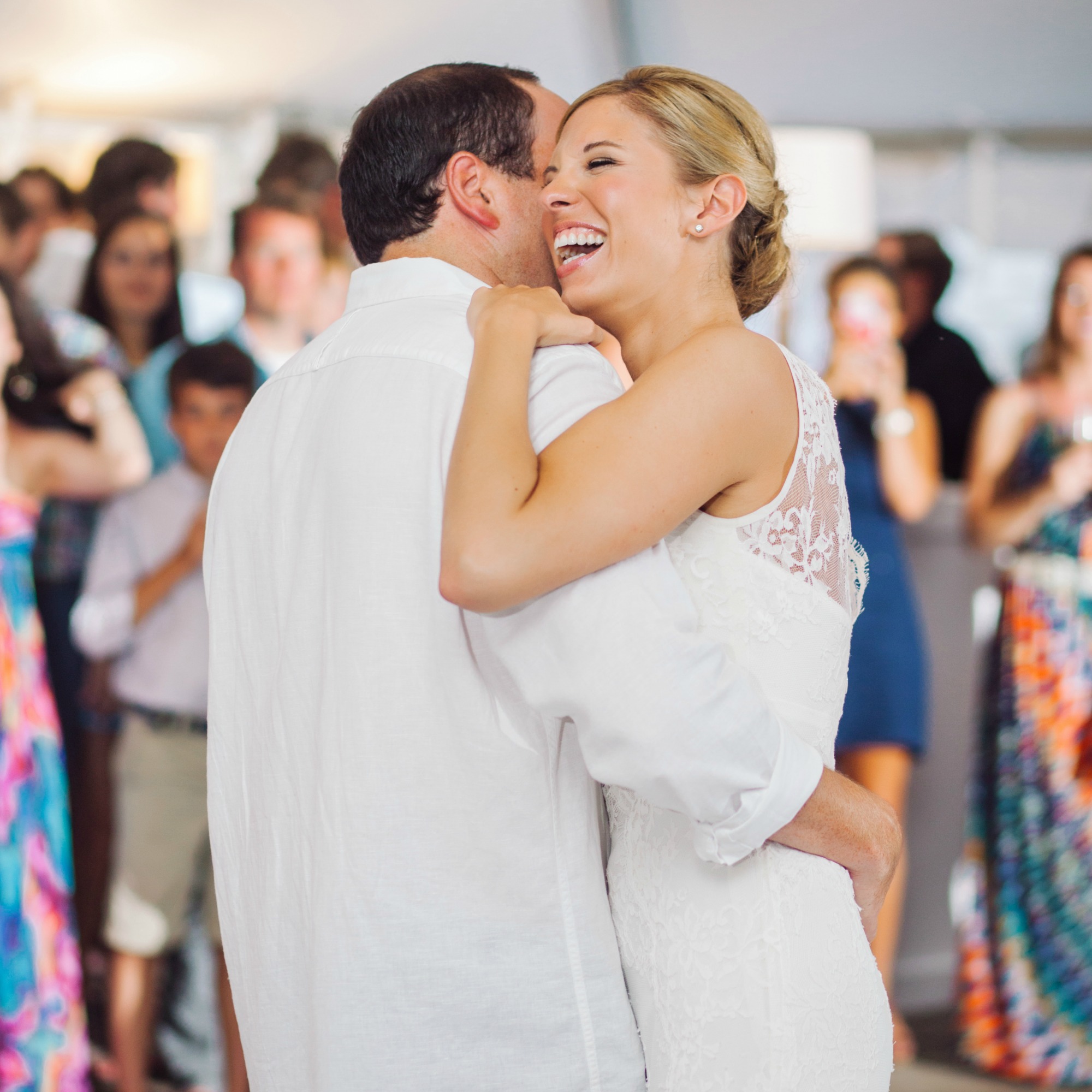 Favorite Events for 2015: #1 (tie) – So last year (2014), I DJ'd one sister's wedding (Brittney) and it ended up being one of my favorites of the year. I had a good feeling that when it was Ashley's turn this year that it could be déjà vu with a similar outcome.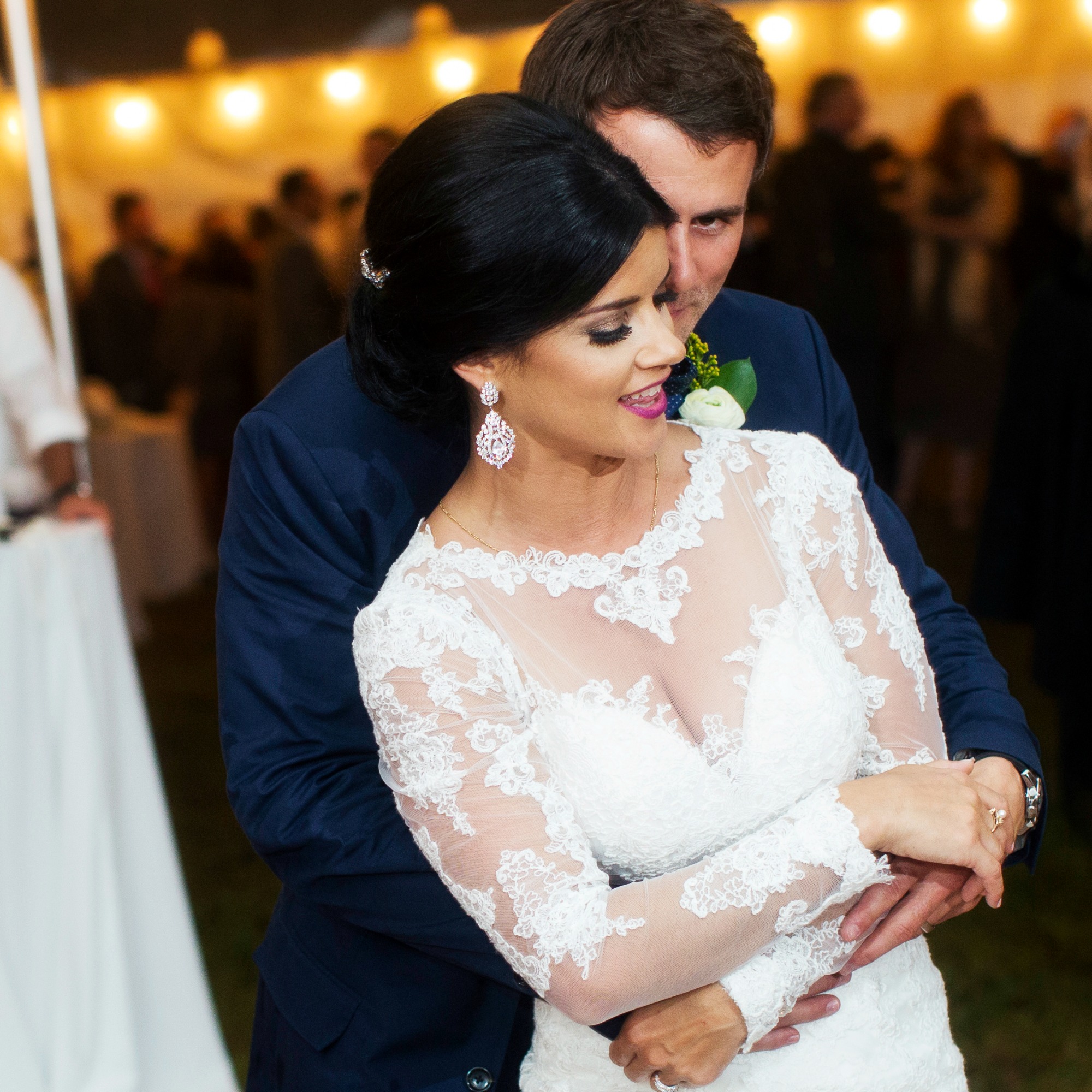 This Louisiana Fall wedding in St. Francisville had all the makings for a fantastic event – 200+ people, private residence, stunning couple, professional dancers in attendance, and a Louisiana based crowd! Then it happened. The rain started at 5:00PM (just before the ceremony). However, precautions were taken and tents were in place. You could see a slight trepidation in the guest's eyes as to how this was going to turn out. Ashley and her now husband, Garic, didn't bat an eye. They set the tone and danced their way on to the dance floor during the grand entrance and it was on! The dancing and partying was non-stop and literally drowned out the rain, which continued until about 2 minutes before the end of the evening when everyone had to walk back out (perfect timing). From a DJ perspective, it was such a blast. Not only did we have a stellar vendor team in place (shout-out to KB Cooke Weddings) that made my job easy but musically, I was able to go all over the place genre-wise and this crowd was into it! Such a fantastic wedding! Photo Cred: Collin Riche Photo
Favorite Events for 2015: #2 – This is the 3rd year in a row (out of 3) that I've been the featured Fashion Show DJ for South Walton Fashion Week in conjunction with Monark Events, Cultural Arts Alliance of Walton County and B-Boy Productions. Every year they raise the bar with this event and this year was no exception. As the DJ for all 30 designer showcases in 2015, it was a ton of work compressed into 4 days. This event pushes me as a DJ because the vibe has to fit each designer individually and you're creating a vibe to walk to; not necessarily a dance party which forces you to think differently when programming the music. All of that leads to being a more well-rounded DJ. Photo courtesy of Pure7 Studios.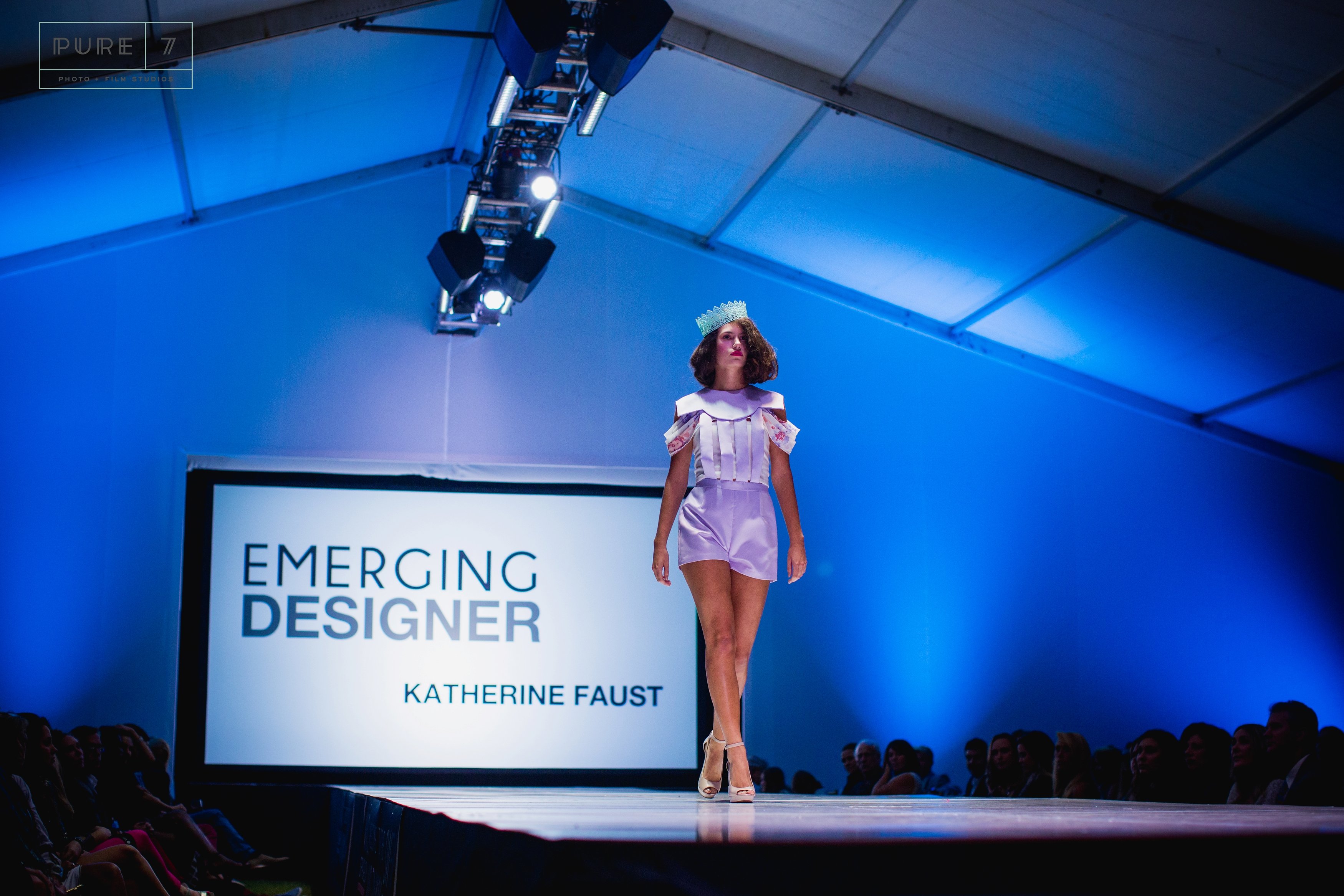 Favorite Events for 2015: #3 – This is the 2nd year in a row I've been selected as the Cancun corporate event DJ for Advisors Excel in conjunction with Genesco Sports Enterprises. They fly in all of their employees plus 1 to Cancun, Mexico for a weekend of celebrating the past year. This particular year I not only played the main event party but also the pool day. I'm humbled to be a part of this event year after year and can't wait to do it even bigger next year.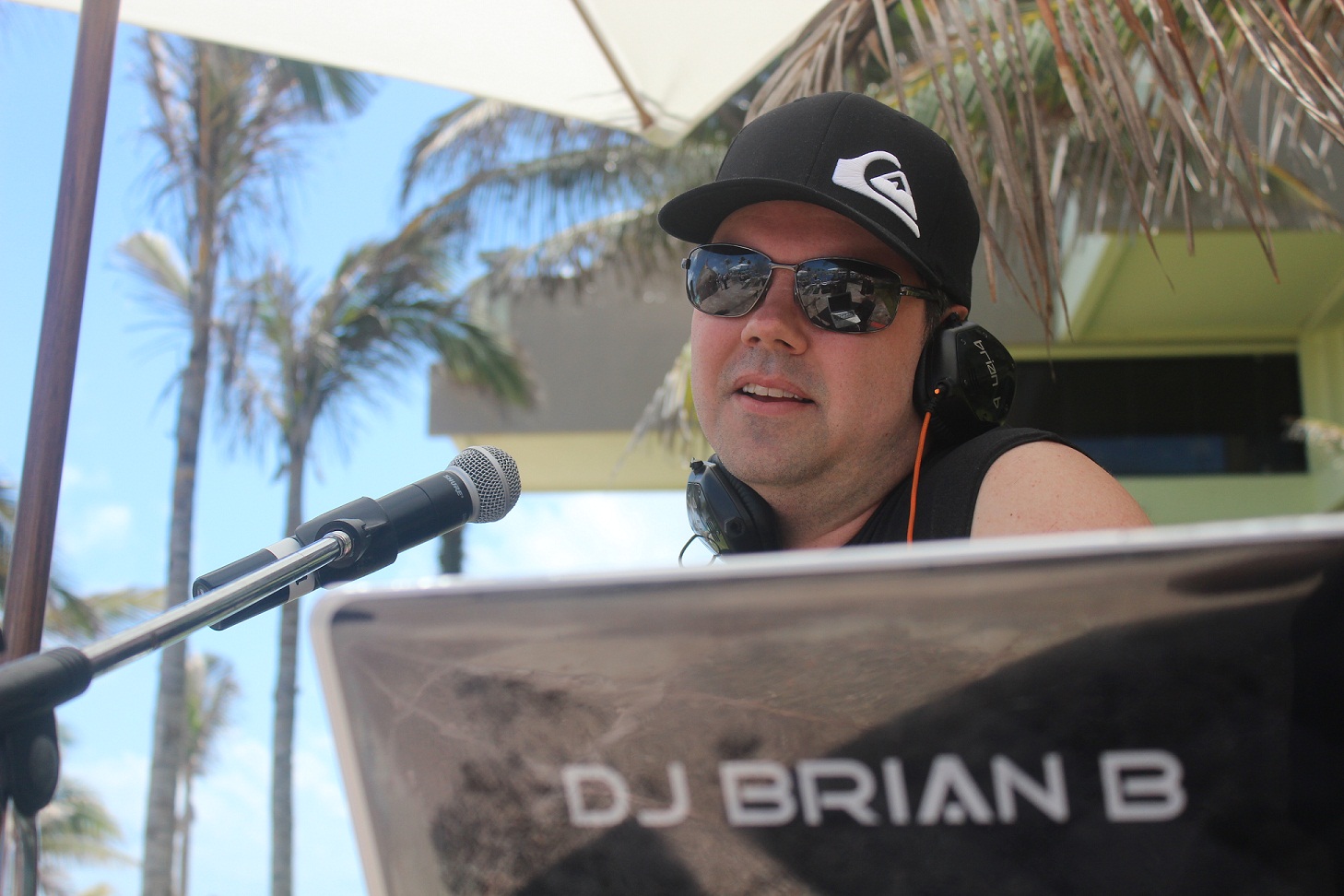 It's been a whirlwind of a month but finally got a chance to slow down and publish my South Walton Fashion Week 2015 Official Spotify Playlist which includes about 90% of the material I used (the other 10% isn't on Spotify or are my own custom remixes). If you've never DJ'd a fashion show, let me give you some insight. Generally, you work with 1 designer for months and collaborate on a single show. SWFW is unlike anything you've ever seen. We had 31 runway shows over a 3 day period. I didn't get the luxury of having months to work with them – I literally had 3 hours the day before the show to see all 31 designer's pieces and then spent the remaining 21 hours coming up with the soundtrack for each designer's show (with some help from the designers of course). What was really interesting is how organic it became. A designer would hear something I'd play one night and want me to incorporate a certain sound or feel into their upcoming show so I'd go back and re-work their sets. ODESZA was by far the most popular artist with the designers that I played. There's something about that duo's work that just seemed to really fit the feel of the show. Anyway, I hope you enjoy. I'd love to get your feedback.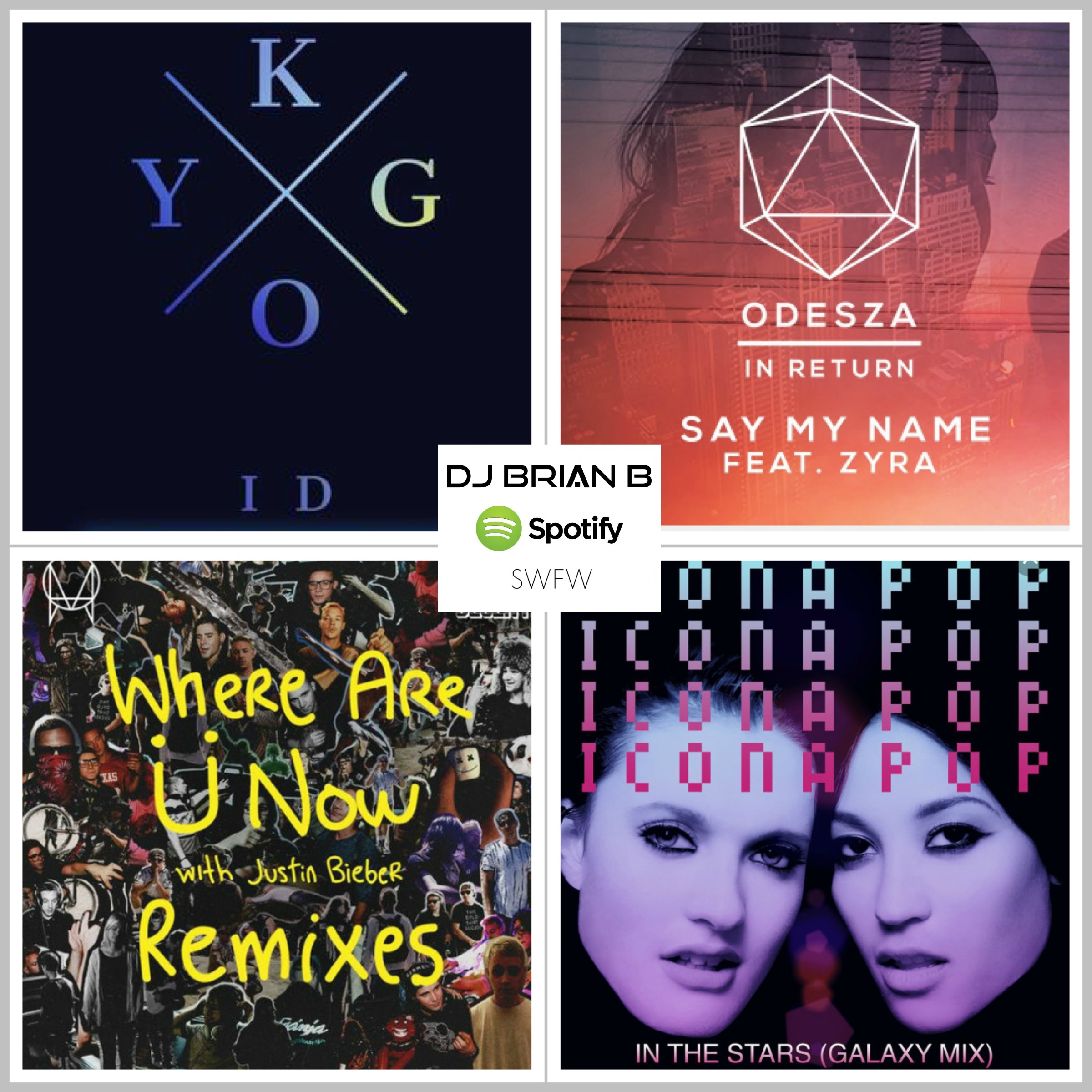 I know it's only October but the holidays are seriously JUST around the corner. Are you in need of a NYC Holiday Party DJ? While I typically am jet-setting around the country for my events that time of year, I would love to stay a little more local this holiday season. With the amount of tourists in town, don't risk bringing in somebody who doesn't live in Manhattan. The amount of last minute calls I get to cover for those DJs stuck in traffic trying to get into the City are too many to count.
Good event DJs are hard to find, especially when looking for someone who isn't going to come across as cheesy for your holiday party. While some will just play the standard and bland holiday tunes with a game or two thrown in and call it a day, I will work with you to make sure your event stands out and is talked about at the office water cooler the next week. No embarrassing cheesy line dances. If you've experienced a party with me already, you'll get that same non-stop dancing energy from the time open dancing starts until they make us close the doors. No matter the make-up of your company or wide age range in attendance, we'll make sure each guest has a great time. Having raffles or giveaway? Our custom "audio stingers" never disappoint. So whether you have 80 or 1000 people on your guest list, contact us and let's get your event on the calendar. We rock them all the same. With only 3 weekends in December prior to Christmas, the dates are going to fill up fast. Don't miss out!
Subscribe To Newsletter
Categories