Home
/ Archive by category "Events" (Page 3)
Category Archives:
Events
The DJ Brian B Official August 2016 schedule is inked!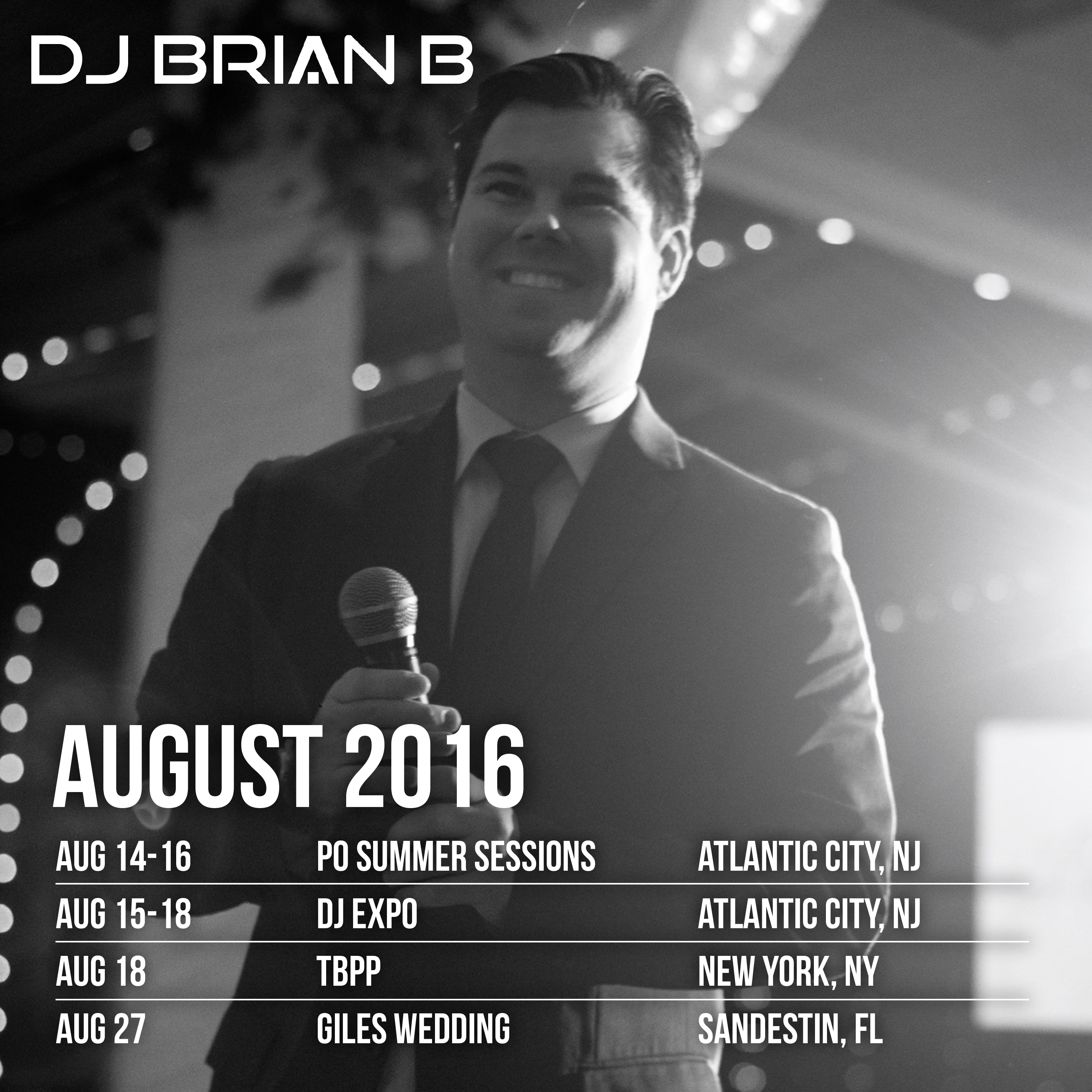 In all of my regular markets, August is generally too hot for outdoor events. So it's corporate event season indoors until the end of the month.
On tap this month, I start with the Promo Only Summer Sessions, an industry conference for mixshow radio DJs. It gives us a glimpse of some of the upcoming musical acts soon to break in radio. Cary Vance and the folks at Promo Only Promotions do a fantastic job with this one.
Then it's the DJ Expo near the AC boardwalk which is geared for the private event and club DJs. I've been attending that show since 1997 – 19 years! It was one of my first industry shows I ever went to. This year is special because I'll actually be speaking for the first time. I've put a ton of time into my presentation which I've titled "The Client Experience Matters". It was important to me to put my hat in the ring as a presenter and give back to the industry that has done so much for me.
I get back to New York and will be volunteering for The Birthday Party Project. Last month was an incredible experience and I'm looking forward to increasing my presence at as many of these as I can. If you're in NYC, join me!
I conclude the month with the Giles Wedding at the Sandestin Golf & Beach Resort in Sandestin, FL. The bride and I have been going back and forth on things for a few weeks now and I'm really looking forward to this luxury wedding. The B-Boy Productions, Inc. crew will be handling the majority of the event and I will be unveiling my latest DJ set-up. So pumped to show it off.
This image is First Dance Perfection. Rosemary Beach Weddings are some of my favorites. This was from a wedding I did this past Spring on the Western Lawn. Destination weddings – there is just something about them that makes them feel so special and different from your local wedding.
This was an intimate wedding and the bride/groom were so captivating. I always encourage my clients to invest in our production style lighting. It really makes the pictures pop not to mention the dance floor experience so much better once we get into the party. Fantastic capture by Lauren Kinsey. Looking forward to getting back out there in the Fall.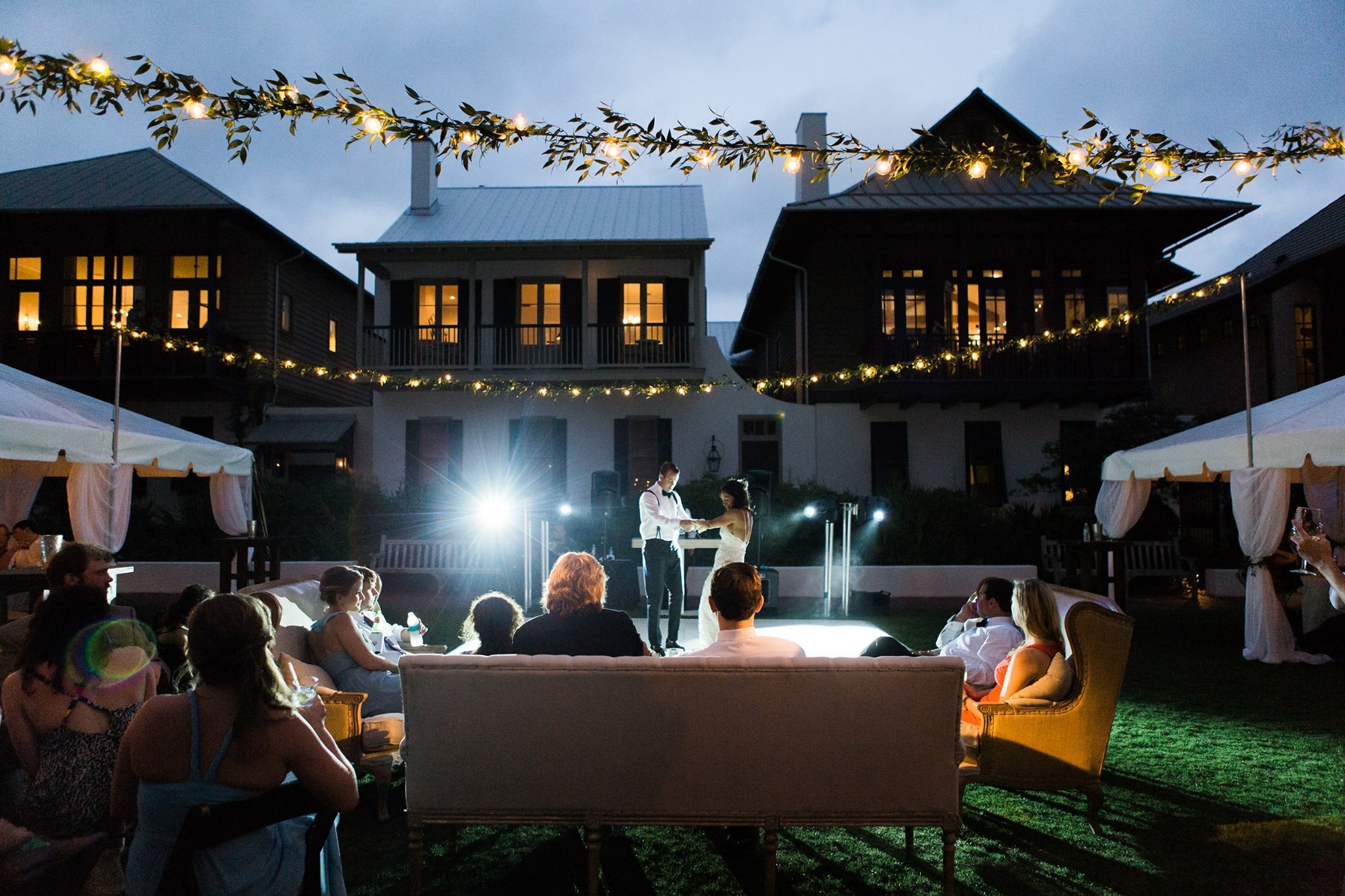 sdfd
About a month ago, I was introduced to The Birthday Party Project. Their mission is to bring joy to homeless children through the magic of birthdays. Every month, they put together a themed birthday celebration. All of the kids are invited to the party and those that have a birthday that specific month get a few special gifts. This is such a big deal because 75% of homeless children never get a chance to experience a birthday party. This non-profit has been around just 15 months and has been expanding like crazy. They've produced over 500 parties in that time frame.
I've been looking for a charity to partner with within the event space. Although I've done everything from cancer walks to galas to animal causes, I never felt a true connection to any of them. Being a part of a party though is right in my wheelhouse. I do it just about every weekend so it makes for a perfect fit. Seeing industry powerhouses Ed Libby & Co. Events and Ceci New York made it a no brainer. Now, when you book me, 5% of my booking fee will go towards this charity unless you specify a qualified 501(c)3 that you have a passion for.
Last night, I had an opportunity to volunteer at my first party in NYC. Along with Win NYC, the NYC based partner agency for the Birthday Project, it was an incredible experience. To see the joy on these kids' faces when we arrived and sense their anticipation of a party was very rewarding. One boy commented to me, "I've been waiting for this all month." I'm looking forward to sharing this project with my fellow DJ community and seeing others, like me, support such a phenomenal cause. Here's a quick picture from the party. #joychangeslives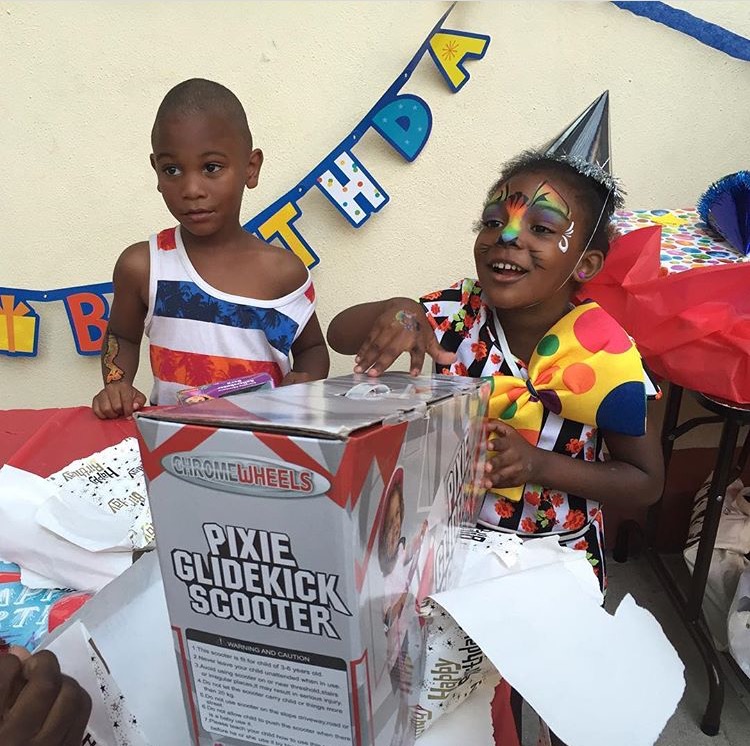 I don't know why I was looking so serious but I appreciate the DJ Brian B official Instagram wedding love I received from some guests at my wedding this past weekend at the Queens County Farm Museum.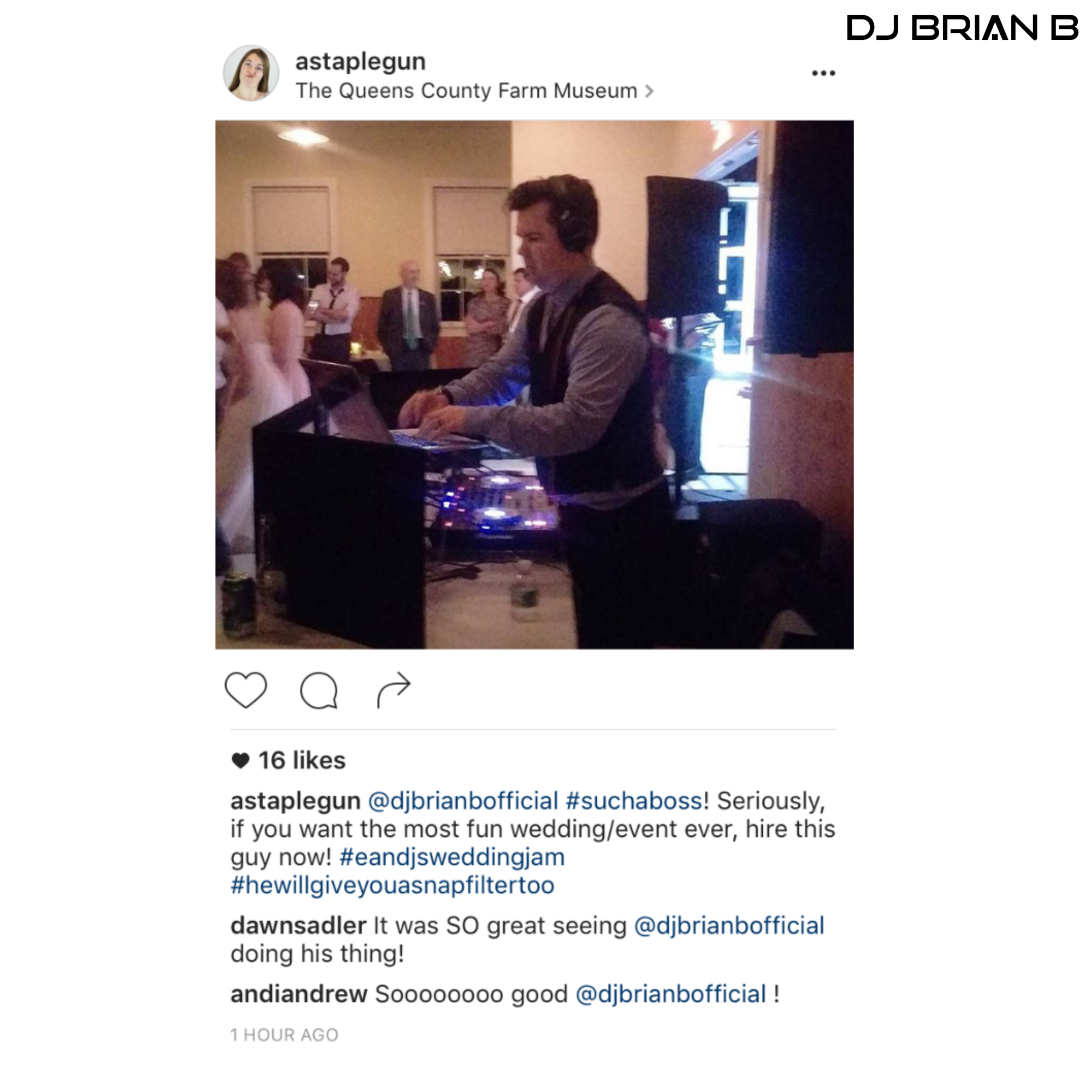 When your couple chooses Justin Timberlake's "Can't Stop the Feeling" as the exit song to their CEREMONY, that's a good indication that the night is going to be off the hook.  It did not disappoint.  From the first song of cocktail hour through the last song of the night, this crowd was amped! Seriously, one of the best crowds of the year.  They genuinely had a lot of love for the bride and groom and they wanted to make sure this was a party for the ages.  Non-stop dancing the entire night.
The Engage Conference at the Breakers Day 2 kicked off in amazing fashion. Breakfast had a New Orleans flair with beignets and all kinds of amazing looking breakfast foods. Of course, we were serenaded by a jazz band who ended the breakfast with the 2nd line. Once breakfast concluded, We all moved to the a different ballroom than day 1 for for the main sessions.  Let me just tell you that the room set-up was incredible!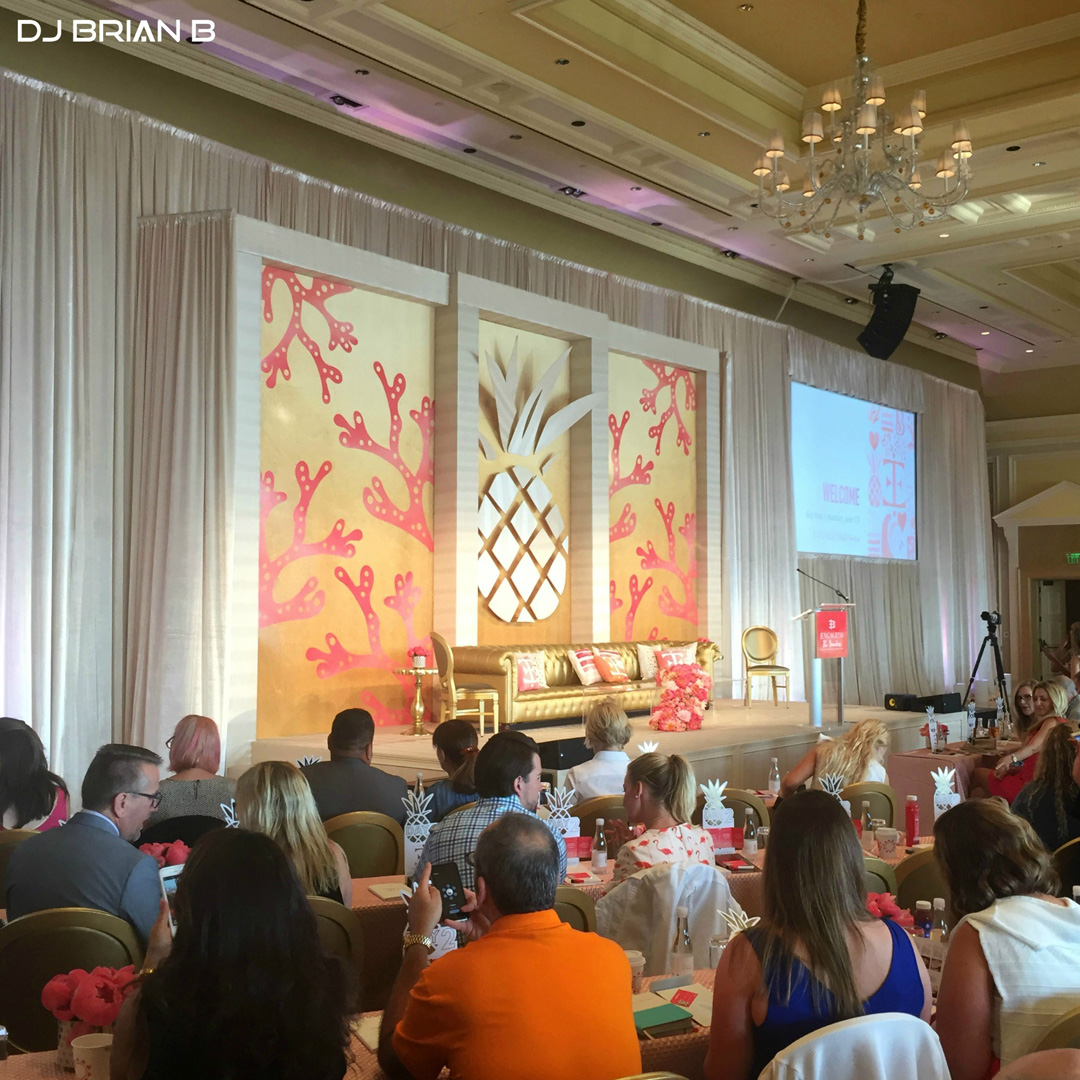 World renowned event designer Preston Bailey opened day 2's sessions and he was followed by heavy hitters like Cindy Novotny, Mindy Weiss, Lynn Easton and many others. The breaks were full of surprises – a choir, cool looking foods, etc. I met some amazing people at lunch who I hope to remain in contact with well after the conference. That evening we went to dinner and were randomly assigned seats based on our badges. The nightcap was a fun dessert party. I wish I could say I stayed for the late night festivities but I had to get back to the room and knock out some work before a full day 3 of Engage.
So when you get on your flight to the elite Engage Conference at The Breakers, you know you're in for a good week when you have Marcy Blum sitting next to you. This was my first time to The Breakers after hearing amazing things about this particular property. Wow, it did not disappoint. Great first impressions – from having one of the managers greet you at the door, to the lobby decor, to the small little service details. As usual, Engage had a stellar first day of general session speakers. For me, however, the best part was reconnecting with all of the best of the best in this wedding industry. It's rare that you find an industry of trend-setters who are so humble, gracious and willing to help one another. That is what you find here.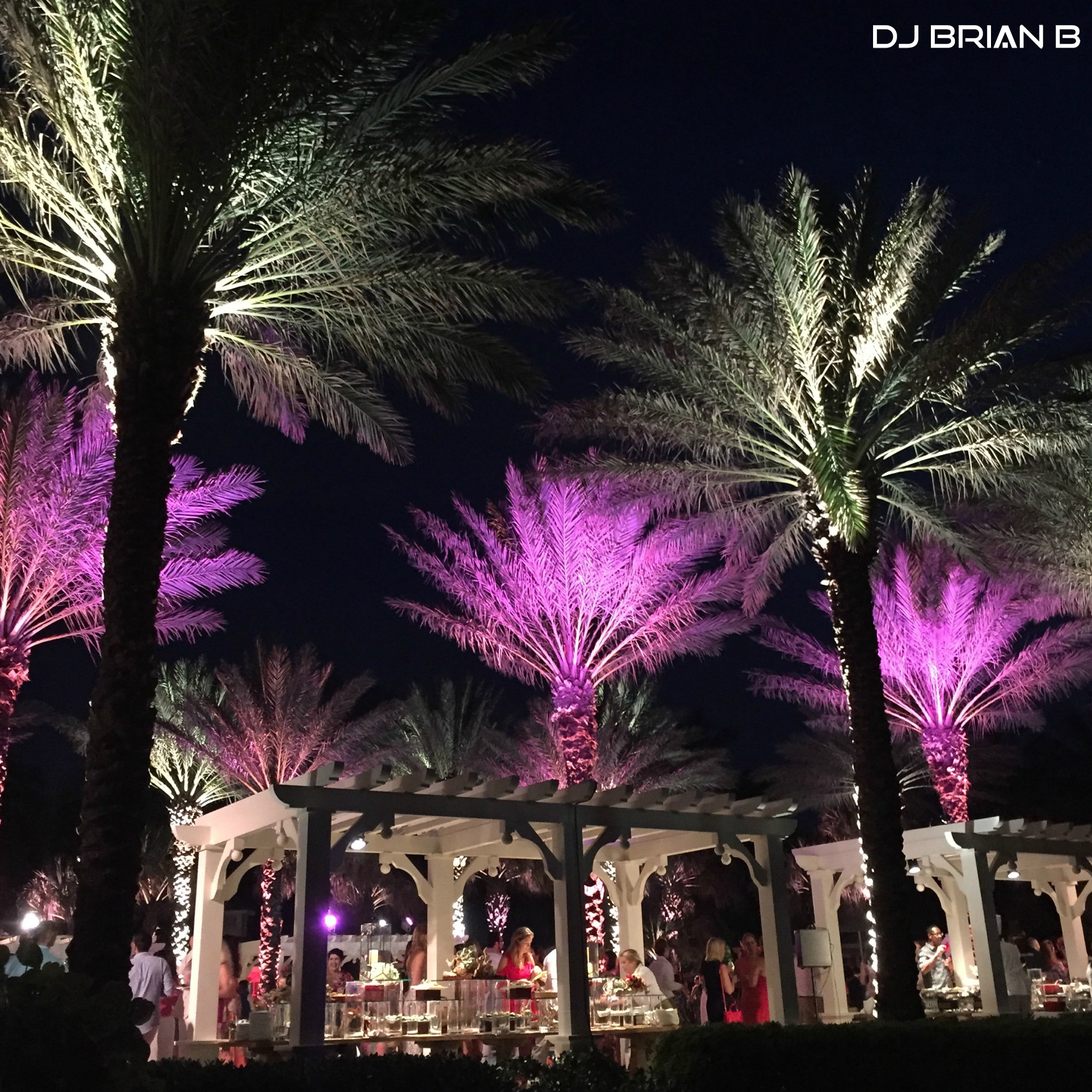 The evening pool event was fantastic. This shot above is from those festivities.  Amazing decor, fantastic food, jaw dropping entertainment and the best of the best in the wedding industry in attendance.  I can't wait to see what day 2 holds. It is allowing me to recharge a bit and re-think how I can continue to bring the best in excellence to my amazing clients.
The DJ Brian B June 2016 schedule is officially inked.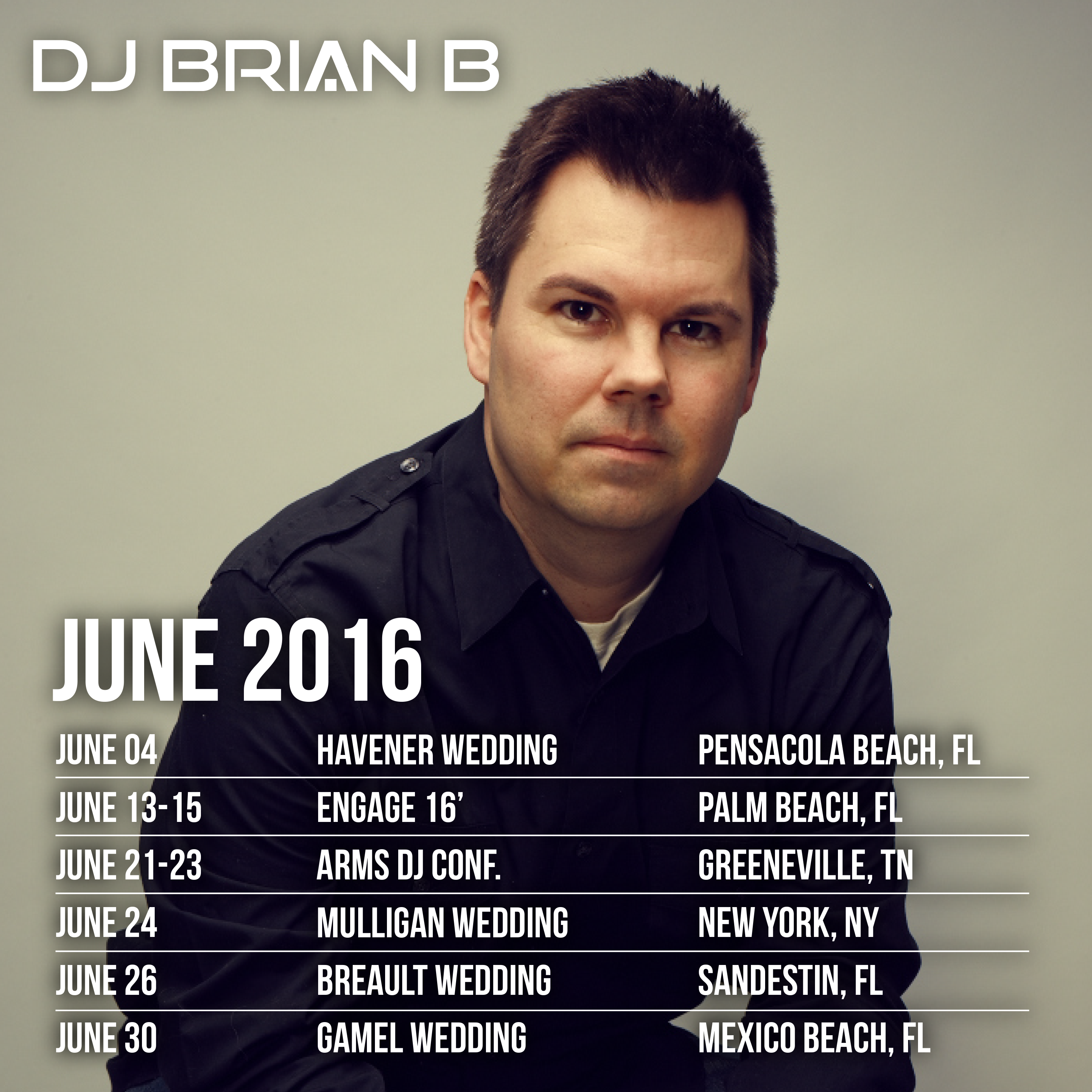 In between some fantastic weddings, I typically use the summer months to network and refocus for the 2nd half of the way.  Going the Engage Conference is always a highlight of my year (I'm a 2 baller this year!).  This is the best of the best in the wedding industry and not only do I get to reconnect with some fantastic industry folks, but I know I'll have some fantastic takeaways.  This will be my first time to the Arms DJ Conference.  I'm looking forward to this mid-america conference.  Hope to see you on a stop soon!
Favorite Events for 2015: #1 (tie) – This Seaside wedding shouldn't have been a surprise but it really was! You see, when you have a fantastic vendor team (shout-outs to It's A Shore Thing, Florals By The Sea, and Dear Wesleyann Photography), an amazing couple and a crowd that wants to celebrate them, you should expect magic. I had a sense that it would be a "good" event based on the vibe I got from the bride and groom when we did our planning call, but when the entire crowd started dancing during cocktail hour, I knew I was in for a "great" night. It was such a fantastic wedding and this Dallas-based crowd threw down! Congrats Alex and Steven! Wish you both nothing but the best. Photo cred: dear wesleyann.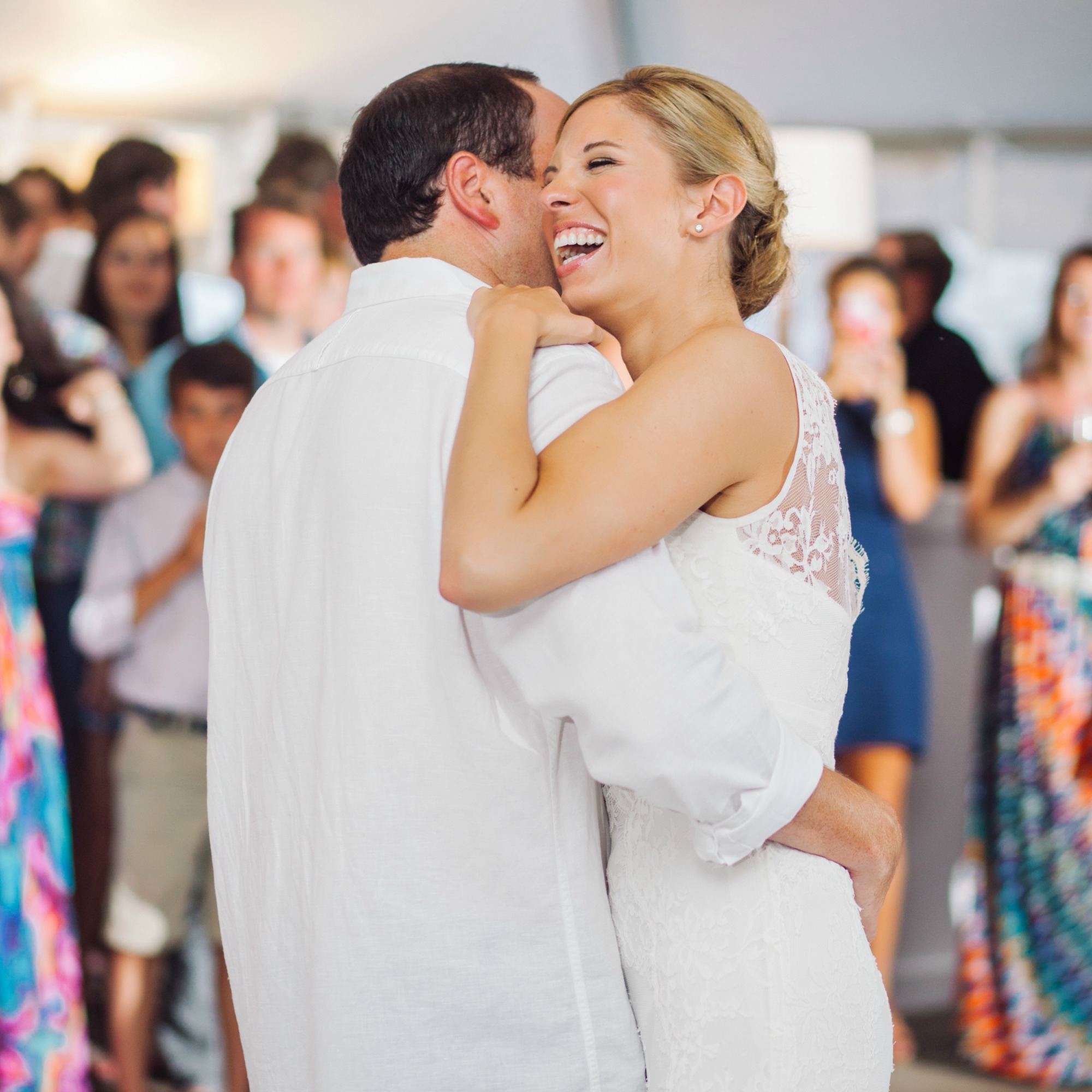 Favorite Events for 2015: #1 (tie) – So last year (2014), I DJ'd one sister's wedding (Brittney) and it ended up being one of my favorites of the year. I had a good feeling that when it was Ashley's turn this year that it could be déjà vu with a similar outcome.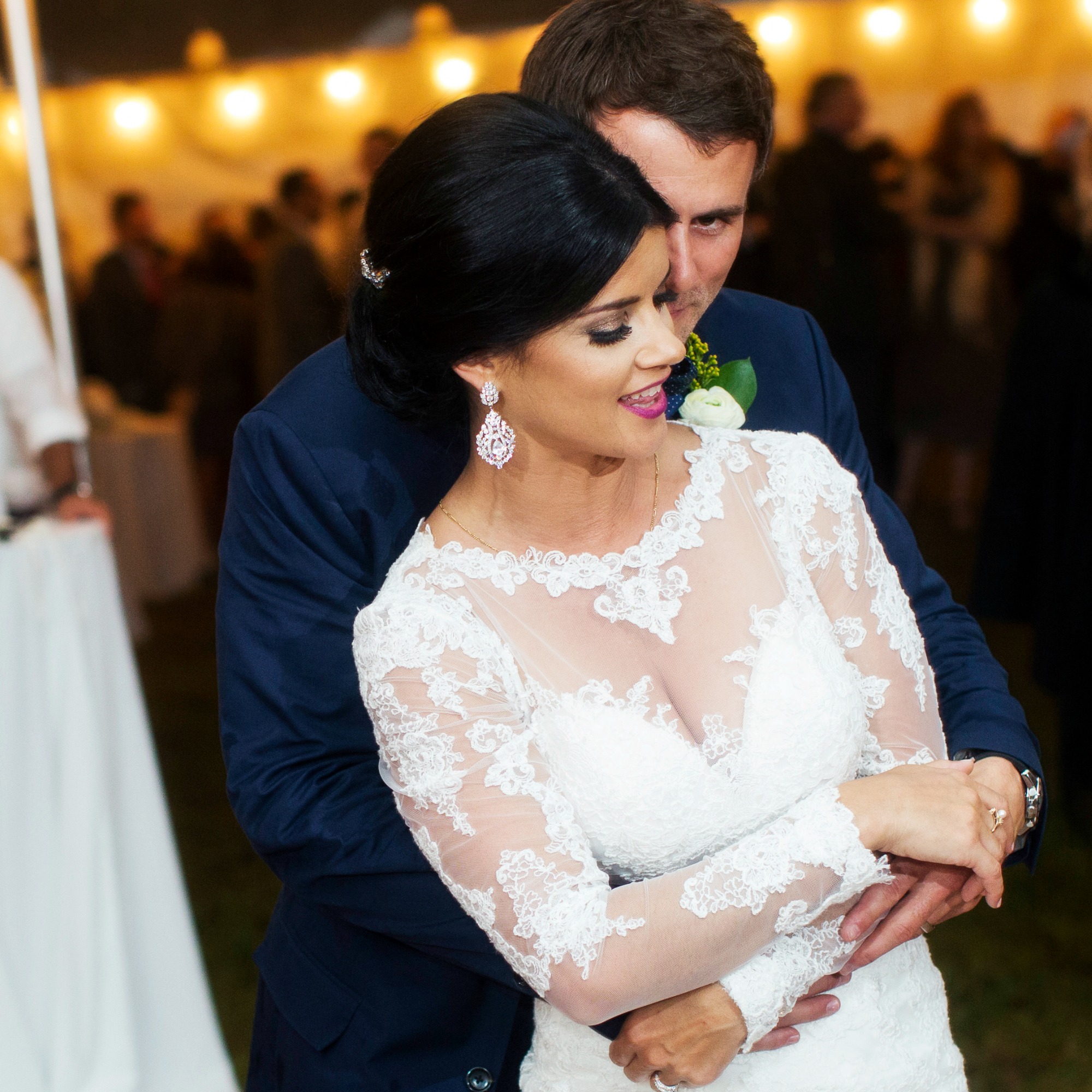 This Louisiana Fall wedding in St. Francisville had all the makings for a fantastic event – 200+ people, private residence, stunning couple, professional dancers in attendance, and a Louisiana based crowd! Then it happened. The rain started at 5:00PM (just before the ceremony). However, precautions were taken and tents were in place. You could see a slight trepidation in the guest's eyes as to how this was going to turn out. Ashley and her now husband, Garic, didn't bat an eye. They set the tone and danced their way on to the dance floor during the grand entrance and it was on! The dancing and partying was non-stop and literally drowned out the rain, which continued until about 2 minutes before the end of the evening when everyone had to walk back out (perfect timing). From a DJ perspective, it was such a blast. Not only did we have a stellar vendor team in place (shout-out to KB Cooke Weddings) that made my job easy but musically, I was able to go all over the place genre-wise and this crowd was into it! Such a fantastic wedding! Photo Cred: Collin Riche Photo
Favorite Events for 2015: #2 – This is the 3rd year in a row (out of 3) that I've been the featured Fashion Show DJ for South Walton Fashion Week in conjunction with Monark Events, Cultural Arts Alliance of Walton County and B-Boy Productions. Every year they raise the bar with this event and this year was no exception. As the DJ for all 30 designer showcases in 2015, it was a ton of work compressed into 4 days. This event pushes me as a DJ because the vibe has to fit each designer individually and you're creating a vibe to walk to; not necessarily a dance party which forces you to think differently when programming the music. All of that leads to being a more well-rounded DJ. Photo courtesy of Pure7 Studios.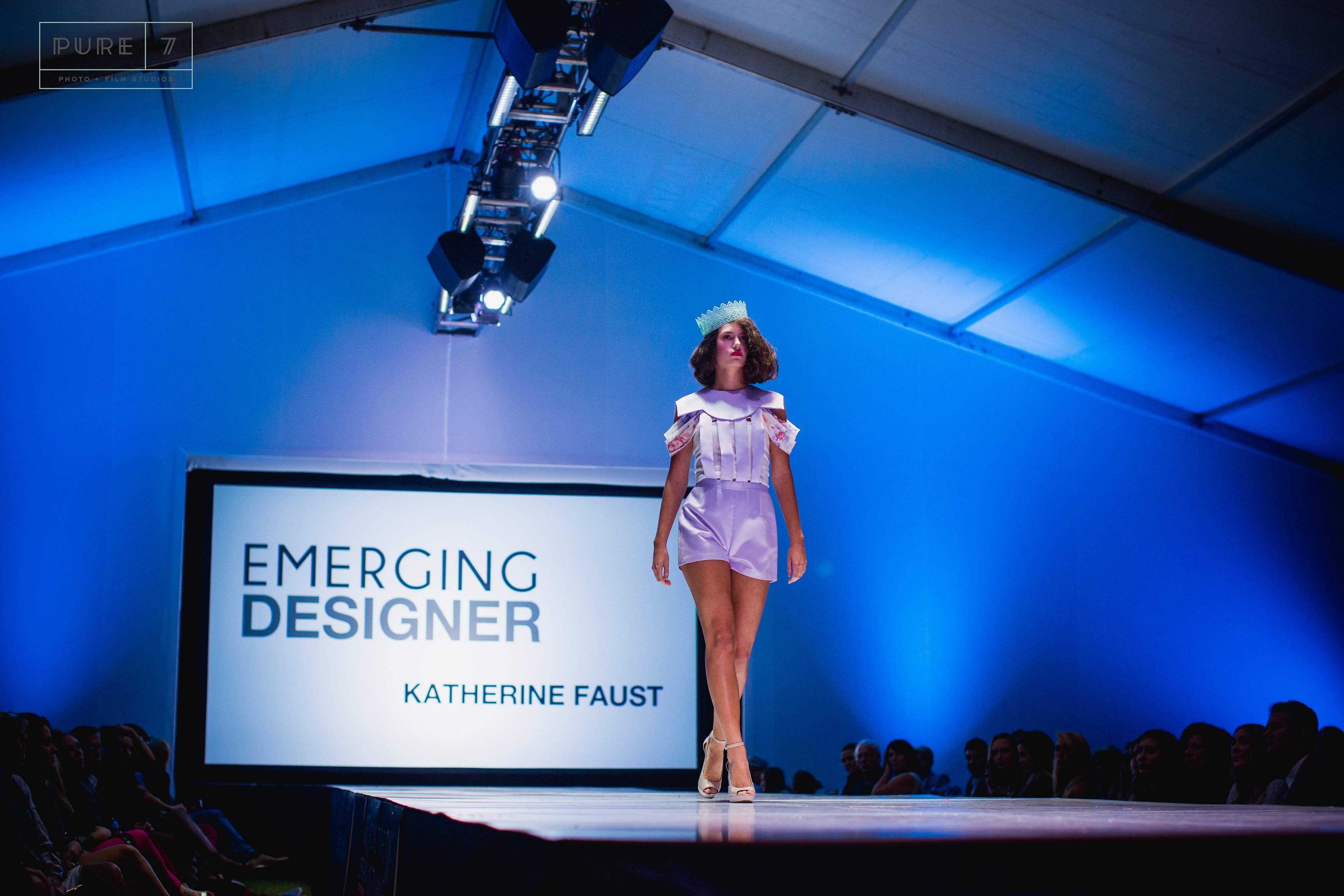 Subscribe To Newsletter
Categories