Latest News
Last night I attended the Wish Upon A Wedding New York Gala held at the Four Seasons Hotel New York Downtown. The silent auction raised a ton of money for the charity, which provides weddings and vow renewals for couples facing terminal illness and serious life altering circumstances, regardless of sexual orientation. It's rare when my wife is able to attend events of mine – so glad when it happens.
Hot off the presses ~ the February 2018 Brian B Event Schedule. I'm continuing my YouTube show with KC every Thursday night at 9PM EST. I'll be back at the Norwood Club in NYC early on in the month which is always a good time. I'll be playing LIVE at the Birthday Party project at all 3 NYC locations. I've got a corporate event with the American Bar Association as well a destination wedding to round out the month. Be sure to watch for a new mix to drop this month on my samples page.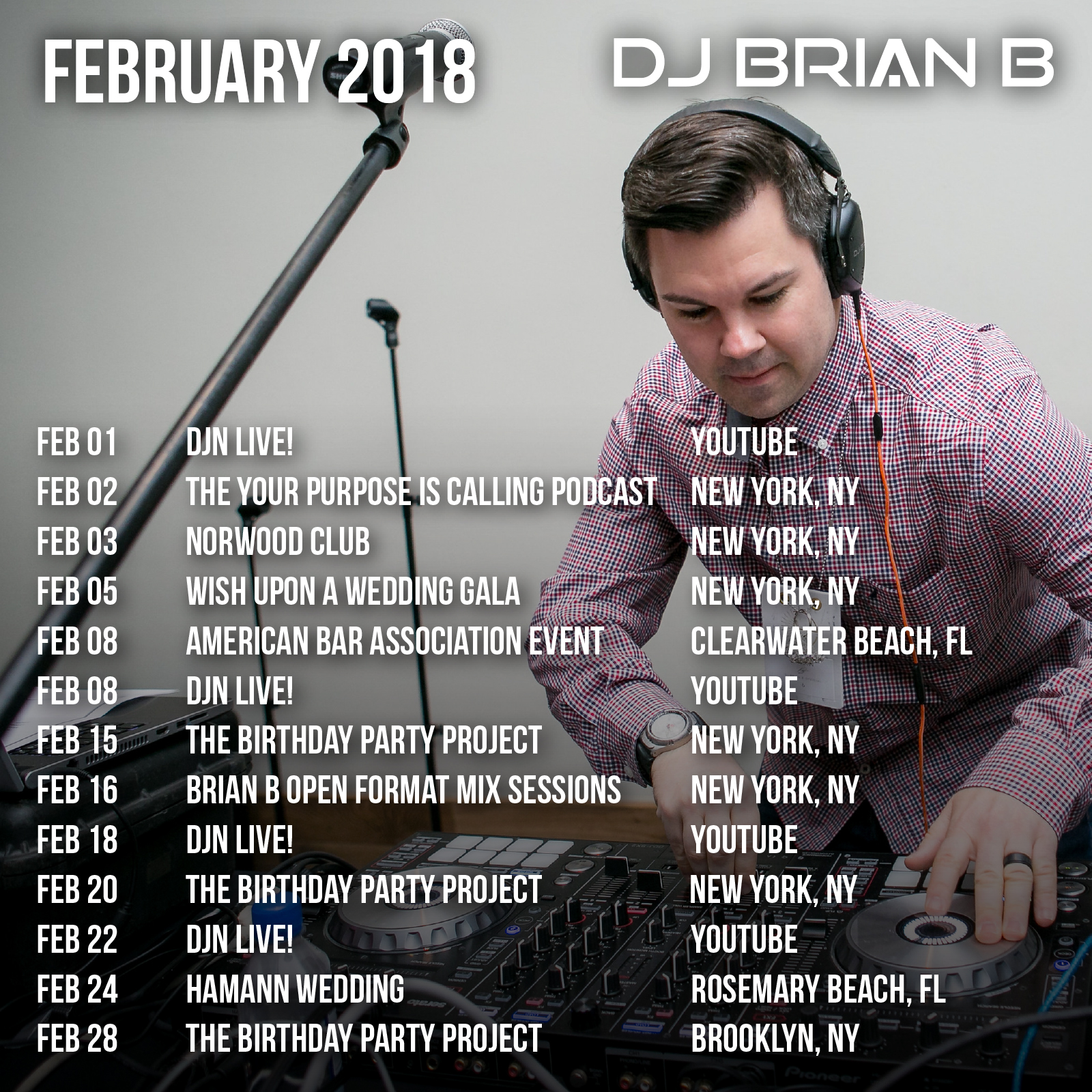 Need some new music to start off the new year? I got you covered. The official DJ Brian B Winter Spotify Playlist 2018 is live. Listen to it here. As usual, this is is a bunch of tracks that I've been digging in the last month or so. I add to it regularly, so really, do yourself a favor and subscribe to my channel. I've some really good groove tracks that you won't want to miss. Let me know what you think.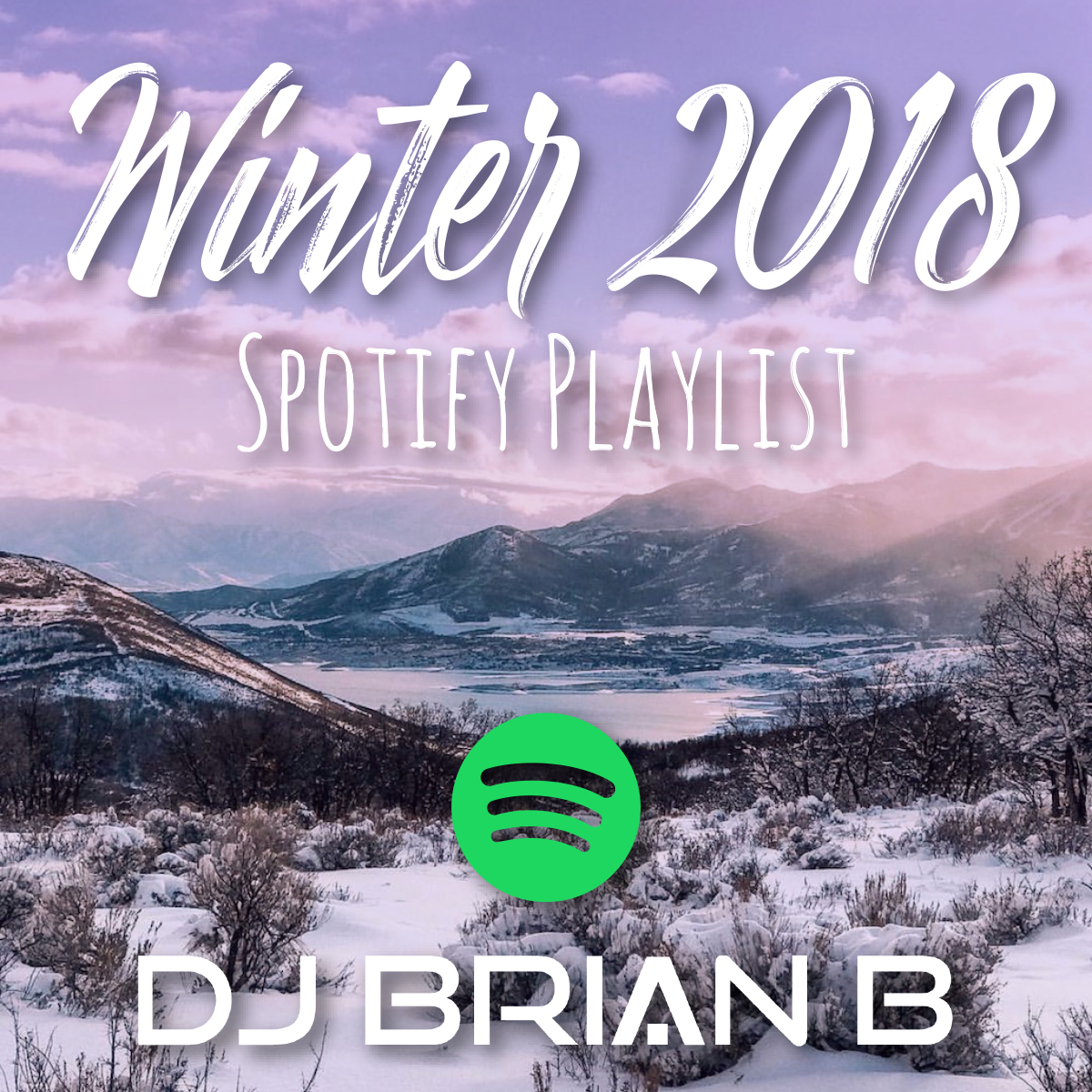 The official January 2018 Brian B Event Schedule is lock and loaded. Typically, the Winter is quiet in the DJ industry. I've got a little bit of everything going on – industry shows, corporate events, a wedding, a mix show, some non-profit events and the start of a weekly YouTube show for Disc Jockey News. No slow down in sight. Check my calendar here to see which ones are public events. I'd love to see you!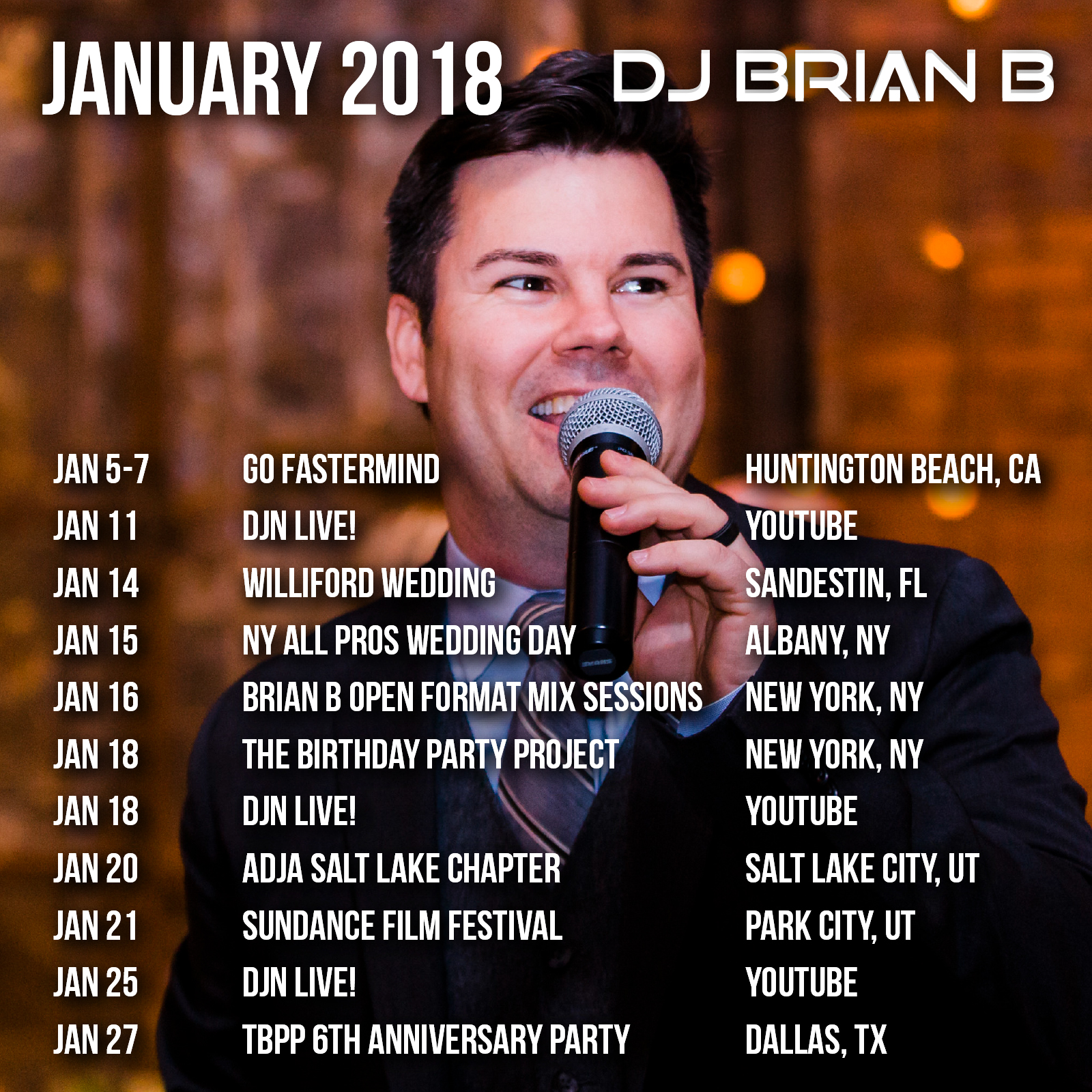 During Italy Engage! 17, the music heard as attendees walked in to the main sessions, between speakers and in route to the breaks was intentionally curated and mixed live in the room by yours truly.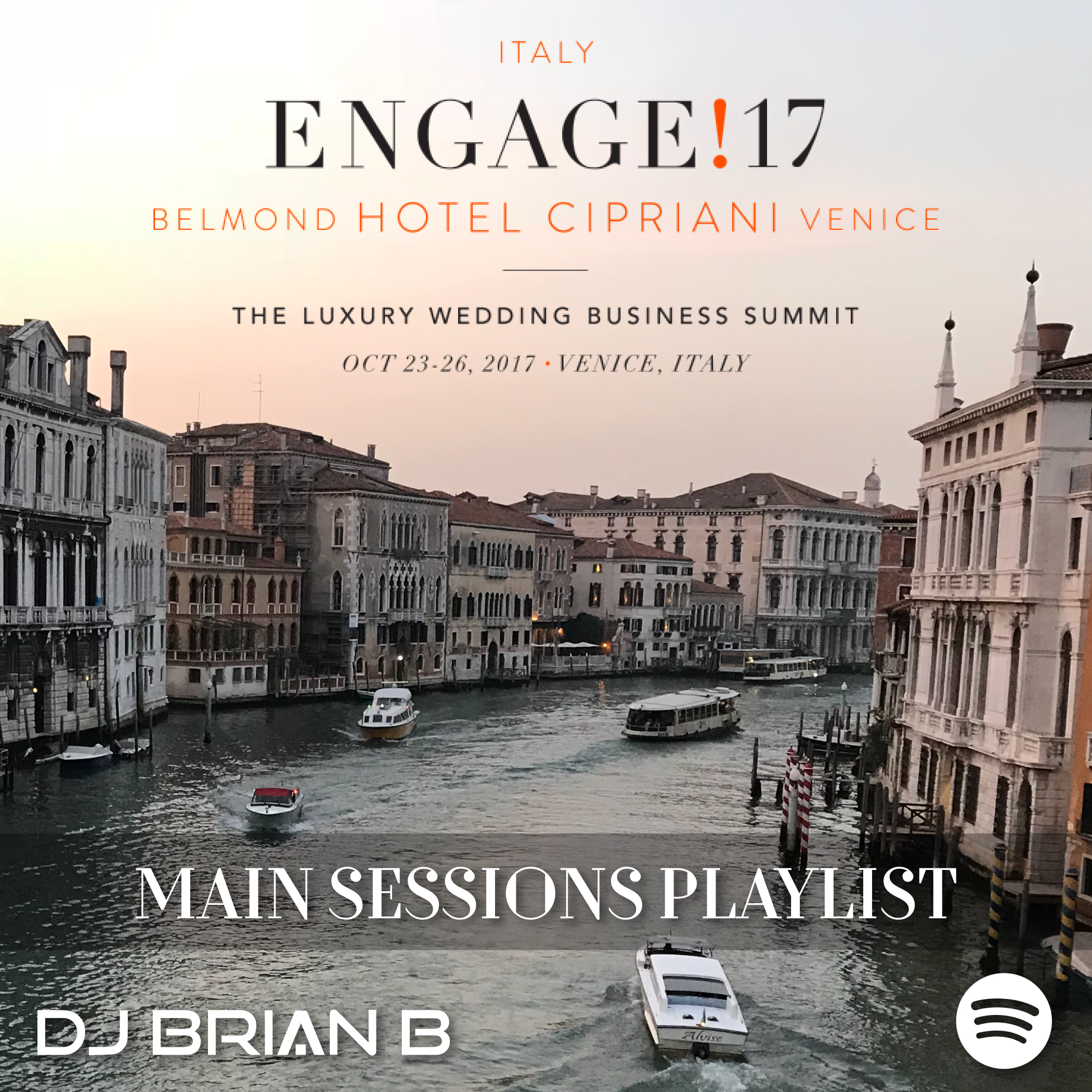 I took the location, the season/time of year and the speaker's presentation topics all into consideration as I came up with the summit's soundtrack. I've posted it all on Spotify for your listening pleasure. Click here to be transported to Venice, Italy. Enjoy!
I was the Austin Wedding DJ for a former planner and friend of mine who was recently got married in Texas. Humbled by these kind words. I love to travel and DJ private events – especially weddings. Thanks Jen for the amazing review! Can't wait to see you and Tim in this next stage of life as parents! Want to see more of my reviews? Go here. #weddingwednesday #djlife #traveldj #luxurywedding #texaswedding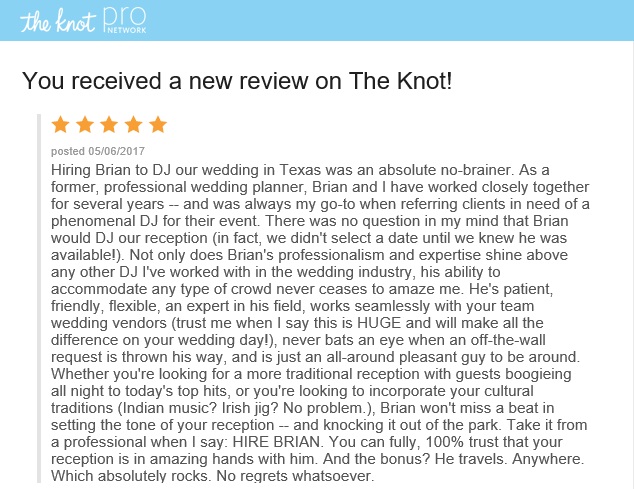 It's that time of year. I'm working on my official DJ Brian B holiday playlist on my Spotify and want your input. What are your favorite holiday tracks of the season? They can be old or new. Comment below or send me a note on my social networks. I'll check them out and if I like them, they just may make the cut into my annual holiday playlist.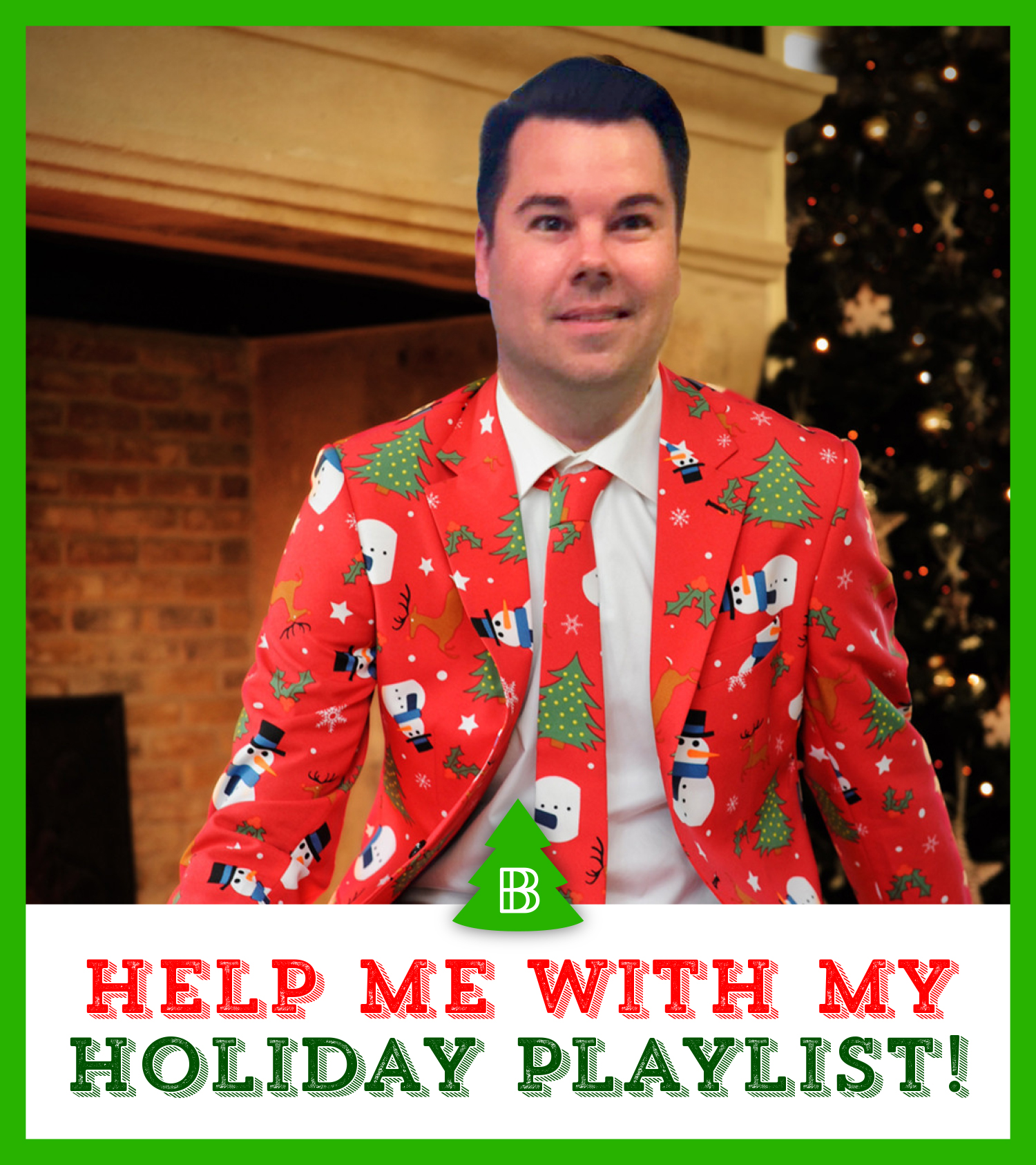 Here it is! The Fall Back Into Summer Mix 2016 is officially released. I've been working on this for about 2 weeks and finally had a chance to put the finishing touches on it.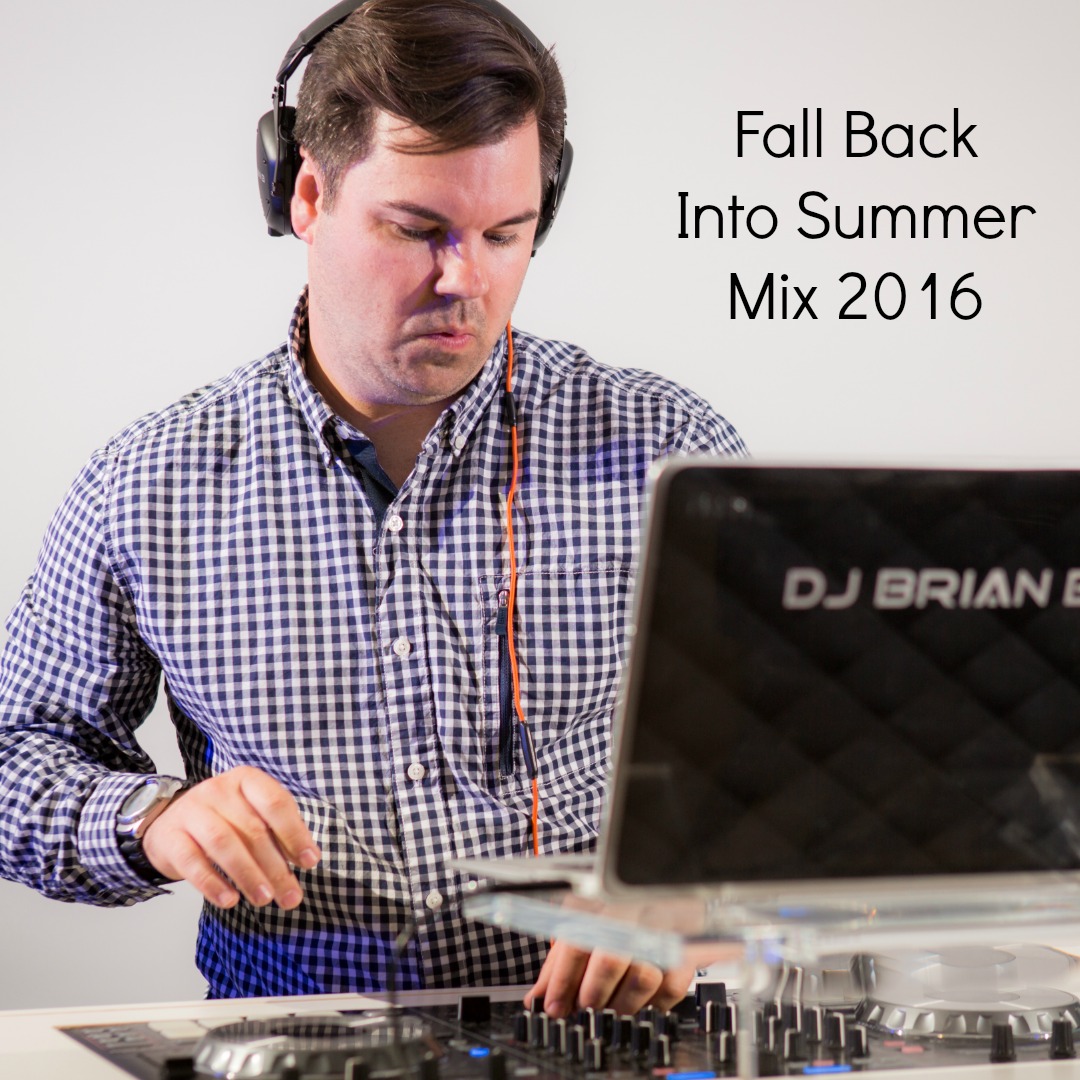 The Summer produced some fantastic tracks so I thought it would be good to start there and make our way through to some of the latest Fall hits. I've put together 40 mainstream pop and dance tracks in a 90 minute mix. Included in the mix are some of my custom mashups and edits along with a few throwback party classics. You can use this for anything – workouts, pre-game, house parties, commutes, or background "work" music. Let me know what you think!
After a whirlwind of an October, it'll be nice to have a little bit of a breather in November. With that here's my November 2016 Schedule.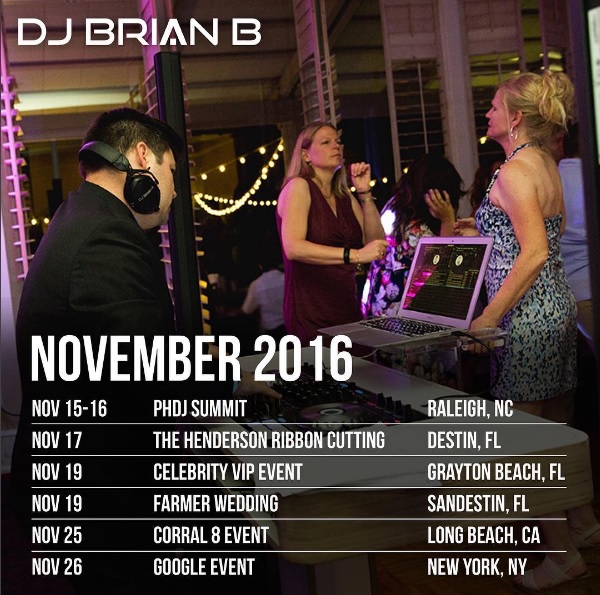 I'll be heading to Raleigh for 2.0 of the PHDJ Summit. This is with some of the finest DJs in the country and we'll be sharing some things to help each other out. I love getting a chance to do this. From there, I'll be headed to Destin, FL to entertain at The Henderson Beach Resort's ribbon cutting. Staying in the panhandle, I'll be the headliner for the Farmer wedding in Sandestin. Once it ends, I'm off to a celebrity VIP event late night. Obviously, I have to keep this under wraps until it's over. The annual Corral 8 holiday event in SoCal kicks off my holiday party season. This non-profit does a ton for kids and I'm always grateful to be asked back year after year. Then I jet back to NYC for a Google Event.
In between all of that, I plan on working on a mix to be released later in the month. It's been a minute since I put something out there so I'm due! Hope to see you at a party soon.
The official DJ Brian B October 2016 Schedule is inked! I kick it off tomorrow and I couldn't be more ready to crush some events.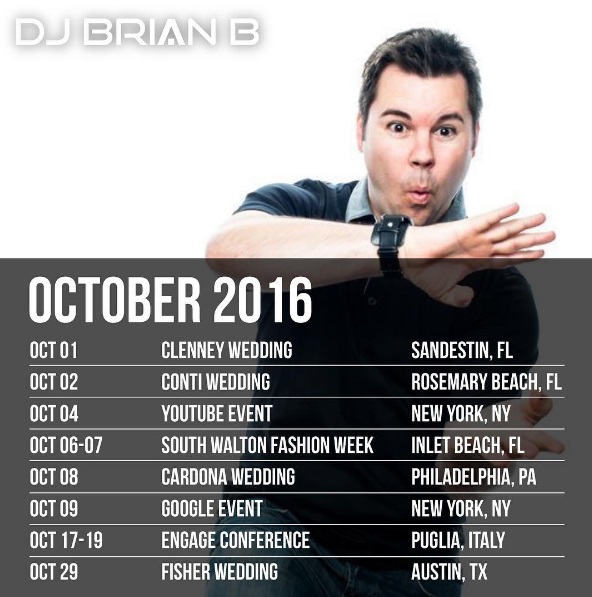 This always ends up being the busiest month of the year for me. For a lot of the country, the humidity is OVER (praise God!) and the weather is perfect. Tons of weddings outside, a few corporate events, South Walton Fashion Week (which is open to the public) and the Engage Conference in Italy! Let's get this month started already.
Subscribe To Newsletter
Categories